City of Portland, Oregon Supports Permanent Supportive Housing Development Downtown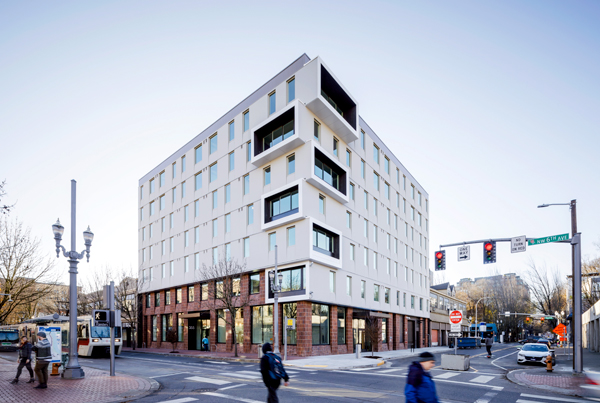 The Starlight is a 100-unit affordable housing development centrally located in Portland's Old Town, a walkable downtown neighborhood served by buses, street cars, and light rail. Photo credit: Central City Concern
In December 2022, the Starlight, a development with 100 affordable units targeted primarily to residents transitioning out of homelessness, opened in downtown Portland, Oregon. Developed by Central City Concern (CCC), a local nonprofit focused on eradicating homelessness, the Starlight offers its residents access to supportive services onsite and in the immediate vicinity along with culturally specific programming for Native American and African-American residents. Services are provided by both CCC and its service partner, the Native American Rehabilitation Association (NARA). The city of Portland helped fund the project through various sources, including revenue from its dedicated affordable housing bonds.
Development Process
As a part of its effort to increase affordable housing in the city of Portland, the Portland Housing Bureau (PHB) decided to develop permanent supportive housing on the site of a dilapidated apartment building in the city's downtown. In 2018, PHB purchased the site, then known as The Westwind, for $3 million. Initially built as a hotel in the early 1900s, the property had fallen into disrepair over the years. In 2019, after a competitive bidding process, PHB awarded CCC the opportunity to redevelop the site and provided funding for the Starlight's construction and operation. Once PHB relocated the remaining residents of the existing apartments, it transferred the property to CCC, and, after an 18-month development process, the Starlight began leasing in December 2022.
Roughly one-third of the Starlight's $33 million development cost, including the initial purchase, was funded through revenue from Portland's dedicated $258 million affordable housing bond, which city voters approved in 2016. Another $6 million came from other city and county capital sources. An additional $13.5 million came from 4 percent low-income housing tax credit (LIHTC) equity. The project also received grants for its sustainable design features, including $78,000 from Oregon's Multifamily Energy Program; nearly $84,000 from Portland General Electric's Renewable Development Fund; and nearly $14,000 from the Energy Trust of Oregon, a nonprofit organization that promotes affordable clean energy. Local housing authority Home Forward contributed project-based Section 8 vouchers for the permanent supportive housing units. Multnomah County's Joint Office of Homeless Services helps fund an annual operating subsidy of $700,000 for support services.
The Apartments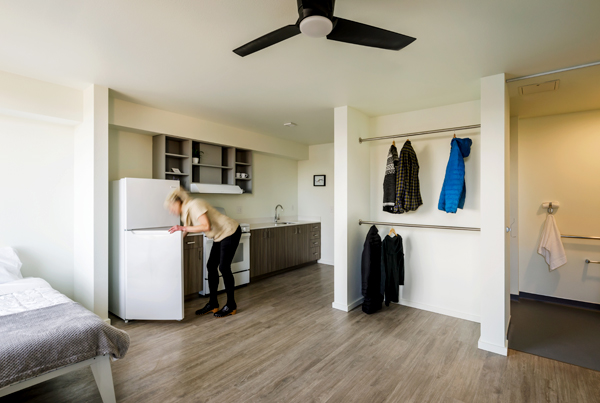 Seventy of the units are reserved for residents who had experienced homelessness, while 22 serve other individuals making up to 30 percent of the area median income (AMI) and 8 serve those making up to 50 percent of AMI. Photo credit: Central City Concern
The 7-story building has 28 studios and 72 single-room occupancy (SRO) units. The studios are slightly bigger than the SRO units and have full bathrooms; SRO residents can access shower rooms on their floor. Eight apartments are reserved for households earning up to 50 percent of the area median income (AMI), and 22 are reserved for those earning less than 30 percent of AMI. The remaining 70 units are permanent supportive housing supported by project-based vouchers. All residents of the permanent supportive housing units have experienced chronic homelessness, and many have a disabling condition. The Joint Office of Homeless Services' coordinated access system refers individuals who are eligible for the permanent supportive housing units, 40 of which are targeted to people of color. Mary-Rain O'Meara, CCC's senior director of community development, believes that African-American and Native American individuals experiencing homelessness have not always risen to the top of the coordinated access list. CCC works with the Joint Office of Homeless Services to ensure that African-American and Native American individuals are equitably served.
The Starlight's common areas include a gym, courtyard, community room, and laundry room. The Starlight has ground-level commercial space with room for a neighborhood-based retail service; CCC envisions a public-facing, food-focused partnership in this space. The ground floor also features an art studio that offers guided workshops and is available for residents' use. The building's energy and water conserving features helped it earn an Earth Advantage Platinum rating. Through support from Portland General Electric's Green Future program, the building has a 40 kilowatt photovoltaic solar panel array on the roof that is expected to help reduce carbon dioxide emissions in the community by 36,432 pounds annually.
Located in the Old Town neighborhood of downtown Portland, the Starlight is close to many goods and services. Several restaurants, grocery stores, retail outlets, parks, and healthcare providers — including some operated by CCC — are within walking distance of the development. The Starlight is served by the streetcar system, Metropolitan Area Express light rail, and several high-frequency bus routes.
Servicing the Community
Residents of the 70 permanent supportive housing units receive onsite services through one part-time and three full-time case managers. NARA has assigned one case manager to the 20 units that are prioritized for Native American residents and one to the 20 units prioritized for African-American residents. Sarah Holland, the senior director of supportive housing and employment services at CCC, says that the case managers are members of those respective communities, which reassures many residents of color, who report that they are more likely to trust and feel comfortable with a case manager who "knows how it feels." These case managers can also direct residents to CCC's culturally specific programs such as Flip the Script, which helps previously incarcerated African-American individuals transition back into the community.
Case managers help orient new residents and ensure that they have furniture and other necessary household items. The case managers then help residents develop a support plan. CCC staff generally check in once or twice weekly to address each resident's unique needs; they also help residents obtain health insurance, government benefits, and referrals to other CCC services.
Residents of all 100 units can access CCC's offsite services. One of the organization's clinics is just a few blocks from the Starlight, providing residents easy access to quality healthcare. The clinic focuses on primary care and offers routine health screenings. Clinic staff can also treat injuries, perform minor medical procedures, manage chronic illnesses, and provide mental health counseling. The adjoining recovery center offers mental health care and addiction treatment. Residents can receive one-on-one counseling and access a nearby pharmacy.
CCC also offers job training and other employment services to residents. At the Employment Access Center, which is also located in Old Town, support staff offer job coaching, vocational and computer training, résumé help, and access to online tutorials. The organization even provides opportunities for some residents to learn on the job through paid apprenticeships for in-house positions. Some of these trainees eventually become full-time employees of CCC.
Strong City Support
Although several public and private partners supported the Starlight, O'Meara credits the city of Portland for the development's success. In addition to purchasing and transferring the site and providing funding, the city streamlined the development process by guaranteeing all funding components upfront. Except for the LIHTC equity, all the major funding sources, including those from the Joint Office of Homeless Services, were granted as part of the city's application. "When we went in as the developer applicant, our award included all of those components, which is such an essential piece of making this type of project really successful," O'Meara says. "We know from the beginning not only what we will be able to utilize from the capital perspective, but we also know [that] there are so many vouchers going into the building and that we will be able to hire a specific number of service staff to support the residents." The city continues to support other supportive and affordable housing developments with funding from its bond as well as a larger metropolitan area-wide bond. For example, another developer is using city bond revenue to renovate another aging residential building downtown. This project, the Joyce, will offer 66 units for residents transitioning out of homelessness.
Central City Concern. 2022. "Celebrating the Grand Opening of the Starlight," blog, 6 December. Accessed 27 January 2023; Correspondence with Mary-Rain O'Meara, 1 February 2023; Central City Concern. n.d. "Starlight." Accessed 27 January 2023; City of Portland. 2022. "The Starlight." Accessed 26 January 2023; Interview with Mary-Rain O'Meara, 17 January 2023. ×
Interview with Mary-Rain O'Meara, 17 January 2023; Correspondence with Sarah Holland, 23 January and 1 February 2023; Correspondence with Mary-Rain O'Meara, 27 January 2023. ×
Correspondence with Sarah Holland, 23 January 2023; Interview with Mary-Rain O'Meara, 17 January 2023. ×
Correspondence with Mary-Rain O'Meara, 27 January 2023; Interview with Mary-Rain O'Meara, 17 January 2023; Central City Concern. n.d. "Old Town Clinic: Health Care." Accessed 27 January 2023; Central City Concern. n.d. "CCC Recovery Center." Accessed 27 January 2023. ×
Interview with Mary-Rain O'Meara, 17 January 2023; Central City Concern. n.d. "Jobs." Accessed 27 January 2023; Central City Concern. n.d. "Employment Access Center." Accessed 27 January 2023. ×
Interview with Mary-Rain O'Meara, 17 January 2023; Correspondence with Mary-Rain O'Meara, senior director of community development, Central City Concern, 1 February 2023; Jim Redden. 2023. "Portland, Metro housing bond show progress," KOIN, 17 January. Accessed 31 January 2023; Portland's Housing Bond. n.d. "Progress." Accessed 27 January 2023; City of Portland. 2022. "The Joyce." Accessed 27 January 2023. ×