The Atlantis Apartments Provide Affordable, Accessible Units for Residents With Disabilities in Denver, Colorado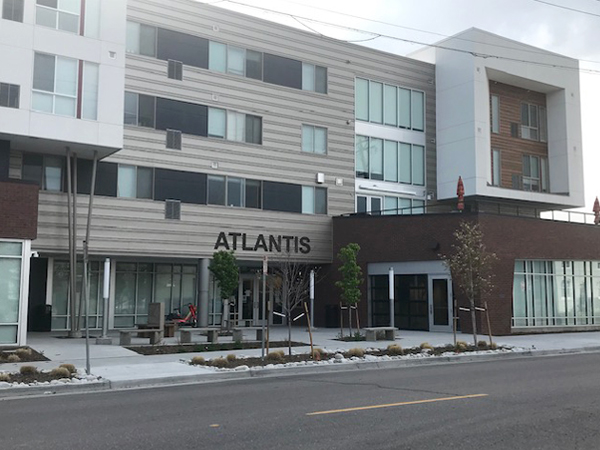 The Atlantis Apartments, 60 units of affordable and accessible rental housing in an integrated community setting, meets a need for persons with disabilities in Denver, Colorado. Credit: Pat Coyle
Denver, Colorado, like many communities across the United States, has struggled to address the affordable housing needs of people with disabilities because housing that is both affordable and accessible to people experiencing physical, sensory, intellectual, or developmental disabilities is in short supply. The Atlantis Apartments, a 4-story development with 60 units of affordable housing in Denver's Baker neighborhood, addresses this gap by providing homes that are both accessible and adaptable for people with disabilities. The apartments are part of a multiphase project by the community foundation of Atlantis Community, Inc., a nonprofit social services organization that, along with partner organization American Disabled for Attendant Programs Today, has been advocating for the rights of people with disabilities both nationally and in its hometown of Denver for nearly five decades. Consistent with the developer's mission, the Atlantis Apartments helps people with disabilities live independently with the assistance of supportive services in a community setting. In addition to its residential units and common spaces intended for service provision and community gatherings, the building hosts office space for Atlantis Community, Inc., and a museum that commemorates the history of the civil rights movement for people with disabilities.
The Atlantis Apartments
The Atlantis Apartments, which opened in September 2020, consists of 60 one- and two-bedroom units. Forty-five units are affordable to households earning between 30 and 60 percent of the area median income (AMI), and 15 units are reserved for extremely low-income residents with disabilities earning at or below 30 percent of AMI. Rents for 16 of the units are subsidized by vouchers from the Section 811 Project Rental Assistance Program. The development was fully occupied within 60 days of opening.
The units are designed to be both accessible and adaptable for residents with disabilities. According to Pat Coyle, executive director of the Atlantis Community Foundation, all the units incorporate universal design concepts and comply with the standards of the Americans with Disabilities Act, with seven of the units designated as totally accessible for residents with any kind of disability. The remaining 53 units are completely adaptable, with features such as removable cabinetry underneath the kitchen sinks to accommodate a wheelchair. Other interior features of the apartments include ovens that open from the side, bathrooms with grab bars and benches, and accessible lighting controls. The primary wall in each unit is angled to provide a sense of openness, doors are accessed electronically with key fobs, and floors are laminated wood to allow residents with mobility impairments to move around easily.
The building's common spaces encourage interaction and community integration among all residents regardless of disability. Community amenities include a computer lab with software for tenants who are hearing or sight impaired, an exercise room with equipment adapted for users with disabilities, and an outdoor terrace on the second floor that connects to an indoor community room. An interior bike storage room is used to repair broken wheelchairs and contains a stainless steel tub that operates as a dog wash for service dogs. In addition to the second-floor community room that is used as a classroom, a community room on the first floor near the organization's offices features a fully equipped kitchen for training residents in independent skills such as cooking. A museum on the first floor of the Atlantis Apartments, which Coyle believes will open before the end of 2021, commemorates both the organization's history and the larger movement for the civil rights of people with disabilities.
Services and Connections That Enhance Independent Living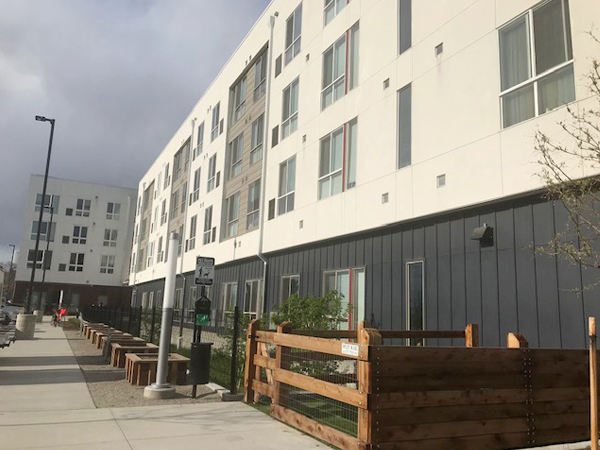 Common spaces at The Atlantis Apartments are intended to foster community interaction and meet the needs of persons with disabilities. Credit: Pat Coyle
Residents have access to an array of onsite services and connections to resources in the community to enhance independent living skills. Atlantis Community, Inc., believes in helping people with disabilities acquire the necessary skills to live successfully outside of an institutional setting. According to Coyle, case managers support residents in acquiring their benefits as part of a service plan, and independent skills training and workshops foster greater independence and self-sufficiency. Residents also benefit from the development's proximity to public transit, including a bus hub and the Alameda station of the Regional Transportation District's light rail system. Plans for most in-person services, including life skills courses, have been put on hold because of the COVID-19 pandemic, but the organization expects to resume this programming once restrictions are lifted. Coyle says that Atlantis is working with Bayaud Enterprises, a nearby employer that specializes in vocational training for people with disabilities, to offer job training for residents as well as résumé building and interview skills workshops.
The 60 units at the Atlantis Apartments are the first of 2 phases of development at the site, which has been home to the organization's headquarters since the early 1990s. Eighty-four units, including 24 units of permanent supportive housing for people experiencing chronic homelessness, are being built on an adjacent lot. According to Coyle, the residents of these units will access the community amenities and services developed during the first phase. City and federal funding covered the $23 million development cost of the first phase, including an $800,000 HOME Investment Partnerships Program loan from the city of Denver, $1.4 million from the National Housing Trust Fund, and low-income housing tax credits.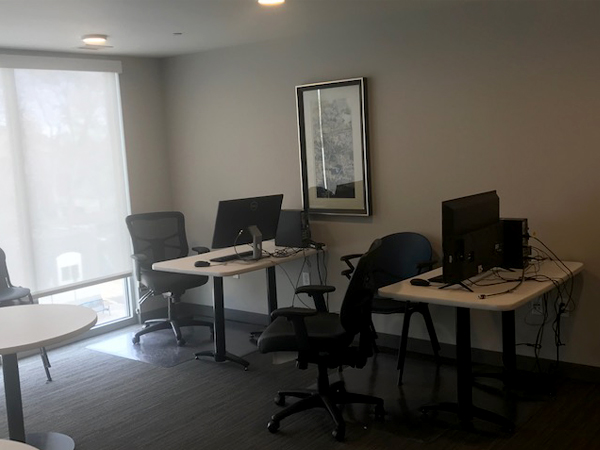 Residents of The Atlantis Apartments are encouraged to develop independent living skills by taking advantage of services and spaces, like a computer lab with equipment modified for persons with disabilities. Credit: Pat Coyle
Building More Accessible Units
The Atlantis Apartments is the latest effort by the community foundation of Atlantis Community, Inc., to expand its work for persons with disabilities by developing accessible affordable housing to meet a critical need. The organization has managed a limited number of properties in its history, according to Coyle, and these are mostly aging units that are not easily adaptable for residents with disabilities. Affordable housing development complements the nonprofit organization's ongoing advocacy for disability rights at both the state and national levels. By locating its office space and a civil rights museum on the same site as an adaptable and accessible affordable housing development for residents with disabilities, the Atlantis Apartments has provided a model for development. Coyle believes that part of the organization's mission is advocating for the development of more units like those at the Atlantis Apartments: "It is important for us to advocate for more units, more communities, and more developers to build this type of unit."
Source:
Michael Booth. 2020. "Atlantis Takes Aim at Denver's Accessible Housing Crisis," news, Colorado Trust, 7 January. Accessed 6 May 2021; Atlantis Community, Inc. n.d. "Atlantis Community Foundation." Accessed 6 May 2021; City and County of Denver. 2020. "Denver Celebrates Opening of 60 New Income Restricted Apartments in Baker Neighborhood," news, 29 September. Accessed 6 May 2021; Atlantis Community, Inc. 2019. "Who We Are." Accessed 6 May 2021; Atlantis Community, Inc. n.d. "Story of ADAPT." Accessed 10 May 2021; Interview with Patrick Coyle, executive director, Atlantis Community Foundation, 22 April 2021. ×
Source:
Interview with Patrick Coyle, executive director, Atlantis Community Foundation, 22 April 2021; Michael Booth. 2020. "Atlantis Takes Aim at Denver's Accessible Housing Crisis," news, Colorado Trust, 7 January. Accessed 6 May 2021; Correspondence from Patrick Coyle, 4 May 2021. ×
Source:
Correspondence from Patrick Coyle, 4 May 2021; Interview with Patrick Coyle, executive director, Atlantis Community Foundation, 22 April 2021. ×
Source:
Correspondence from Patrick Coyle, 4 May 2021; Interview with Patrick Coyle, executive director, Atlantis Community Foundation, 22 April 2021; Michael Booth. 2020. "Atlantis Takes Aim at Denver's Accessible Housing Crisis," news, Colorado Trust, 7 January. Accessed 6 May 2021. ×