The Village at Washington Terrace Preserves Affordable Housing in Gentrifying East Raleigh, North Carolina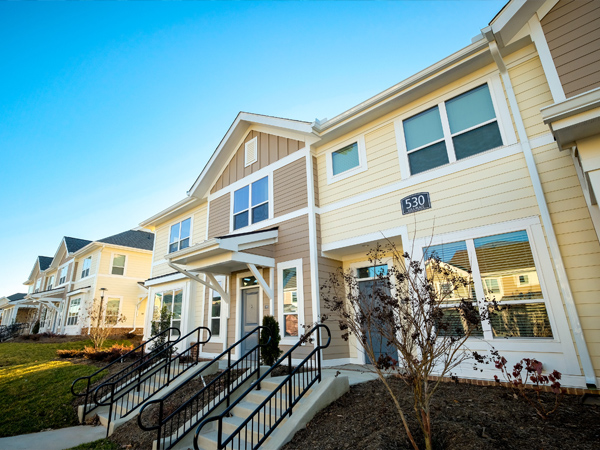 The Village at Washington Terrace offers much needed affordable housing in historic east Raleigh neighborhood of Raleigh, North Carolina. Credit: Colin Huth/HuthPhoto
Opened in 2019, The Village at Washington Terrace is an affordable housing development located in the historic East Raleigh neighborhood of Raleigh, North Carolina. Developed by DHIC Inc., an affordable housing nonprofit, The Village is the first of five redevelopment phases of the original Washington Terrace, a 23-acre rental housing community that opened in 1950 and was home to many middle-income African-American families. By 2014, when DHIC purchased the property, Washington Terrace had fallen into disrepair, with significantly aged and inadequate units. Furthermore, East Raleigh, located close to downtown Raleigh and Saint Augustine's University, a historically black college, was changing rapidly. New investors and homebuyers were moving in, forcing longtime residents to pay higher prices or move out of their homes. DHIC expects the redevelopment of Washington Terrace to create affordable housing opportunities and offset the negative impacts of gentrification on the community.
The Village at Washington Terrace
The Village consists of 162 one-, two- and three-bedroom units in townhouses and garden-style apartments. The units range from 732 to 1,180 square feet and have dishwashers, washer/dryer hookups, and energy-efficient appliances; many units have private entrances. Rents range from $592 to $908 depending on the floor plan and household income. Eligible households must earn up to 50 percent or 60 percent of the area median income (AMI) for Wake County. The development's 5,000-square-foot community center includes management offices, gathering areas, a laundry room, a computer/business center, a gym, and offices for support services staff. Outdoor spaces at Washington Terrace include a playground, gardens, picnic tables, and green space.
The Village also hosts a 5,400-square-foot childcare center that can accommodate up to 75 children from infancy through prekindergarten. At least half of the 75 children must be from households earning no more than 80 percent of AMI. After evaluating several childcare providers in the area, DHIC selected the Methodist Home for Children, a Raleigh-based nonprofit that provides early childhood education, foster care support, and therapy for children with disabilities, as the provider for the development.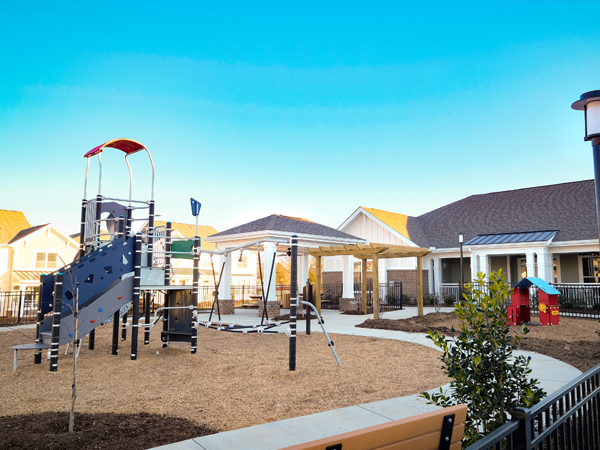 The outdoor spaces at The Village include a playground, gardens, and picnic shelters. Credit: Colin Huth/HuthPhoto
Washington Terrace is also a beneficiary of the Strong Families Fund, an initiative of several national organizations including the Kresge Foundation, the National Affordable Housing Trust, and the Robert Wood Johnson Foundation. The fund's mission is to "stimulate and support innovate strategies to design, deliver, and measure the impact of Resident Service Coordination for families." Through the Strong Families Fund, The Village employs an onsite service coordinator who connects residents to local services, improving their economic mobility, education, leadership skills, and housing stability.
DHIC began leasing units in The Village in March 2019, and the development was fully occupied by October 2019. According to Yvette Holmes, DHIC's vice president of resource development and partnerships, and Natalie Britt, DHIC's vice president of real estate development, 73 residents of the original Washington Terrace were able to move into The Village.
Master Planning Process and Community Engagement
The Washington Terrace redevelopment involved an extensive master planning process. DHIC sought input from longtime residents of Washington Terrace as well as other community stakeholders, including local leaders, religious organizations, civic agencies, and businesses. DHIC held resident meetings, design studios, and open houses; conducted stakeholder interviews; and surveyed residents about the neighborhood's strengths and weaknesses as well as their personal aspirations for the next 5 to 10 years. Residents' wishes for their community included installing more washers and dryers; improving onsite storage options; and having access to a community center, comprehensive services, and affordable childcare, all things now present at The Village. In addition, with a grant from NeighborWorks America, DHIC guided Washington Terrace residents through a leadership training course in which they discussed community planning techniques, collecting oral histories, and planting a community garden. DHIC's development team, meanwhile, was able to participate in NeighborWorks America's Peer-to-Peer program, in which affordable housing developers came to Washington Terrace and reviewed community planning and design proposals, offering DHIC feedback and experience.
Financing and Partnerships
The total development cost of The Village was $32.3 million. The city of Raleigh was a key partner, providing initial financing of more than $2 million to help DHIC acquire the site and additional contributions of more than $6 million. Other financing sources included Wells Fargo, Freddie Mac, Wake County, the North Carolina Housing Finance Agency, NeighborWorks America, the Kresge Foundation, and the National Affordable Housing Trust. The Village at Washington Terrace also received equity from the sale of low-income housing tax credits and benefited from a deferred developer fee. In addition, DHIC received a grant under the HUD Section 4 Capacity Building for Affordable Housing and Community Development program that was facilitated through Enterprise Community Partners and that DHIC used for fostering community engagement, soliciting partnerships, drafting a master plan, producing predevelopment documents, and incorporating sustainable design features.
Much Needed Affordable Housing
Along with The Village, the first phase of Washington Terrace's redevelopment includes Booker Park North, an affordable housing community for adults over age 62. When all phases are complete, Washington Terrace will be a mixed-use, mixed-income community with 300 to 400 new affordable and market-rate homes serving renters, first-time homebuyers, older adults, and low-income experience. DHIC's extensive community engagement efforts and the participation of long-term residents in the master planning process helped to not only modernize an aging housing complex but also preserve the sense of community and historical context of the original Washington Terrace.
Source:
Interview with Yvette Holmes, vice president of resource development and partnerships, and Natalie Britt, vice president of real estate development, DHIC, 23 April 2021; Document provided by Liz Martin, office and special projects coordinator, DHIC. ×
Source:
DHIC. n.d. "Washington Terrace Redevelopment." Accessed 29 April 2021; Document provided by Liz Martin, office and special projects coordinator, DHIC; Interview with Yvette Holmes, vice president of resource development and partnerships, and Natalie Britt, vice president of real estate development, DHIC, 23 April 2021; HUD User. 2021. "2021 FY 2021 Income Limits Summary: Raleigh MSA." Accessed 20 May 2021. ×
Source:
Interview with Yvette Holmes, vice president of resource development and partnerships, and Natalie Britt, vice president of real estate development, DHIC, 23 April 2021; Methodist Home for Children. n.d. "About Us." Accessed 29 April 2021; Methodist Home for Children. 2021. "Methodist Home for Children Agency Profile." Accessed 12 May 2021; Document provided by Liz Martin, office and special projects coordinator, DHIC; Methodist Home for Children. n.d. "Early Childhood Services." Accessed 29 April 2021. ×
Source:
Interview with Yvette Holmes and Natalie Britt, 23 April 2021; Document provided by Liz Martin, office and special projects coordinator, DHIC. ×
Source:
Interview with Yvette Holmes and Natalie Britt, 23 April 2021; DHIC. 2019. "Booker Park North at Washington Terrace," press release, 11 February. Accessed 29 April 2021; Enterprise Community Partners, Inc. 2016. "Section 4 Case Study: DHIC, Inc., North Carolina," 2; Document provided by Liz Martin, office and special projects coordinator, DHIC; DHIC, Inc., JDavis Architects, Studio 1/1, Grounded Engineering, and Crowder Consulting. 2016. "Washington Terrace: Master Planning Report," 4–8. ×
Source:
Document provided by Liz Martin, office and special projects coordinator, DHIC; Interview with Yvette Holmes and Natalie Britt, 23 April 2021; Enterprise Community Partners, Inc. 2016. "Section 4 Case Study: DHIC, Inc., North Carolina," 1–2. ×
Source:
Document provided by Liz Martin, office and special projects coordinator, DHIC; Interview with Yvette Holmes and Natalie Britt, 23 April 2021. ×
Source:
Interview with Yvette Holmes and Natalie Britt, 23 April 2021. ×