The Johnson Ranch Development Brings Workforce Housing to Rapid City, South Dakota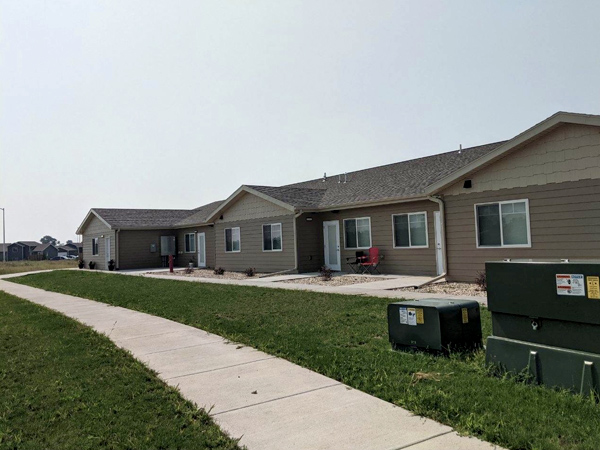 Johnson Ranch provides single-family homes and a group foster house with affiliated apartments. Although the group home is larger than the neighboring dwellings, the structure blends in well with the Johnson Ranch Community. (Photo Credit: Abbott House)
Johnson Ranch provides 77 single-family homes, a group foster house with affiliated apartments, and community spaces for residents of Rapid City, South Dakota. These homes are well-suited for many working-class residents who have been struggling to find affordable housing in the area. Without the help of any subsidy or partnership, developer Dream Design International was able to sell these homes at a reduced price by getting a zoning variance from the city that allowed them to build smaller homes than would otherwise have been permitted in a single-family residential neighborhood. These houses, as well as the foster home with adjoining transitional apartments, are now a part of a larger community. In addition to the new multiuse community center, retail outlets, green spaces, and other multi-family apartments are expected to be coming to Johnson Ranch within the next few years.
Single Family Homes for Rapid City Workers
Before its development, Johnson Ranch was a vacant subdivision bounded by three major arterial streets. In 2017, Dream Design began building the single-family homes in the subdivision. The site, however, was zoned as a low-density residential district, which forbids the construction of any homes on lots that are less than 6,500 square feet. The city's zoning ordinances also dictated that the parcels be at least 50 feet wide in the front. Rapid City's Planning Commission, however, granted Dream Design a waiver, lowering the lot area requirement to 4,922 square feet and the lot width requirement to 46 feet. The city also authorized a maximum lot coverage of 35 percent instead of 30 percent. As a stipulation for these variances, the developer agreed to provide a public park with a recreation center in the neighborhood. The city believed such an amenity would compensate for the reduced yard space.
All 77 of the two- to four-bedroom homes in Johnson Ranch sold within 2 years of completion. Initially, all of the houses had target sales prices of between $169,000 and $210,000. Although some of the larger homes ended up selling for closer to $250,000, all of the two-bedroom homes and most of the three-bedroom homes sold for $200,000 or less. Because the median home value in Rapid City was $230,000 by the end of 2020, these homes became an attractive option for residents with modest incomes who want to live in a single-family house with a yard and garage.
Dream Design provided land to youth services organization Abbott House at a discount to build a group home for foster children in the heart of the Johnson Ranch community. The site also features apartments to help young adults transition out of foster care. (Photo Credit: Abbott House)
Housing for Those in Need
Occupants of these homes are not the subdivision's only residents. The developer donated land on the site to Abbott House to build and operate a group foster home and two apartments. According to Eric Klooz, the executive director of Abbott House, the apartments are designed to help 18- to 21-year-olds who are aging out of foster care transition to adult life. The residents can live in a somewhat independent environment while still receiving support from Abbott House staff. Johnson Ranch is an ideal location for these young adults because it is within walking distance of jobs and a technical school. Locating this complex in Johnson Ranch helped a vulnerable population while further diversifying the community.
Affordability Without a Subsidy
One notable aspect of this project is its lack of subsidy. Except for city funding for a drainage channel, no public or philanthropic funds supported this project (excluding the sites owned by nonprofits). Vicki Fisher, manager of the Current Planning Division and interim community development director of Rapid City's Department of Community Development, explained that simply relaxing zoning requirements for Johnson Ranch lowered housing prices in the development. The developer convinced the city that these homes would be marketable yet less expensive than most other area homes. In fact, since Johnson Ranch opened, the city has allowed several similar developments to go forward.
A Focus on Homeownership
Johnson Ranch also stands out among other affordable or workforce housing developments in that most of the units currently are owner occupied. Most policies and programs in the United States that are designed to create affordable housing focus on rentals. Some researchers and advocates, however, suggest that homeownership can also provide affordability. Mike Loftin, a visiting fellow at the Urban Institute, explained that owning a home is generally cheaper than renting, at least in the long run. Even when the typical maintenance costs are factored in, Loftin found that owning a home is almost always the more affordable option, primarily because the cost of owning a home is typically fixed over time. The success of communities such as Johnson Ranch point to the possibilities of expanding affordability through homeownership.
Beyond Housing
Residents of Johnson Ranch enjoy a large, walkable, mixed-use development with a large community center onsite. Dream Design partnered with Rural America Initiatives, a nonprofit organization whose primary mission is to help low-income Native American families, to build the community center complex, which offers amenities such as a Head Start program, classrooms, play areas, and community spaces. The children at the foster home next door can also take advantage of some of the programs offered at the complex. Moreover, the center provides job opportunities for participants in Abbott House's Bridges Independent Living Program. With this community center, as well as the park, retail outlets, and upcoming additional apartments, Johnson Ranch has the potential to become a much larger and more diverse community. In addition to being a potential model for workforce housing, the development exemplifies how popular a walkable, mixed-use subdivision can be. Rapid City continues to promote these types of mixed-use communities. In fact, the popularity of Johnson Ranch has led Dream Design to construct two similar subdivisions in the area. In both developments, all of the homes were sold before construction began.