Adaptive Reuse of Historic High School Provides a Low-Carbon Community for Seniors in East Haven, Connecticut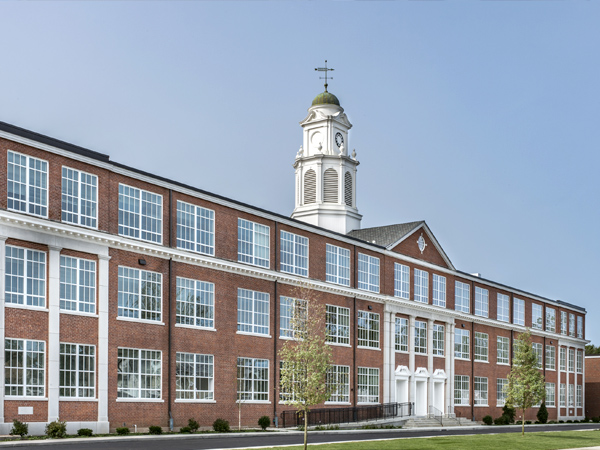 The Tyler is a mixed-income historic rehabilitation project and a public-private partnership between developer WinnCompanies and the town of East Haven, Connecticut who provided 9 percent low-income housing tax credits for 50 units of income-restricted housing. Photo credit: Gregg Shupe with Shupe Studios
East Haven High School in East Haven, Connecticut, had been vacant for more than 20 years when town officials issued a request for proposals to rehabilitate the historic landmark. WinnDevelopment, a firm experienced with historic adaptive reuse and affordable housing, submitted a proposal for The Tyler, a 70-unit, mixed-income residence for seniors that preserved the building's historic features and added modern, sustainable functions. East Haven awarded the project to WinnDevelopment, and the Tyler opened in fall 2020. The building is one of the first adaptive reuse projects in the United States to pursue the Passive House Institute's EnerPHit energy-efficiency standard. In addition to being a climate-responsible, low-carbon community, The Tyler also embraces social and community sustainability, streamlining the process by which residents connect with providers of comprehensive supportive services.
Project Details
WinnDevelopment teamed up with The Architectural Team and MacRostie Historic Advisors, LLC, to maximize quality and comfort while respecting the layout and features of the original building. Built in 1936, the original high school connects two west and east wings that were built in 1964 and 1973, respectively. Currently, the 3-story 1936 portion of the building and 2-story 1964 portion include 67 one-bedroom and 3 two-bedroom units that conform to the classroom layout. To be eligible to live at The Tyler, heads of households must be 55 or older. Fifty of the units are income-restricted: 14 units are reserved for households earning no more than 25 percent of the area median income (AMI), 28 are reserved for households earning no more than 50 percent of AMI, and 8 are reserved for households with annual incomes not exceeding 80 percent of AMI. Rents range from $423 to $1,610, which includes the market-rate units.
Unlike the main building and west wing, the 1973 east wing was outside of the National Register of Historic Places' "period of significance," so the developer was able to replace the three-story building with a courtyard and parking lot. The property also features an auditorium, a gym, and a pool; however, these are owned by the town of East Haven and will be renovated for community use.
Onsite amenities include a management office, resident storage spaces, a laundry room, and a tenant lounge. Common spaces for activities include a movie theatre, a fitness room, and craft rooms used for monthly events such as bingo or classes.
Funding Sources Promote a Balance Between History and Modernization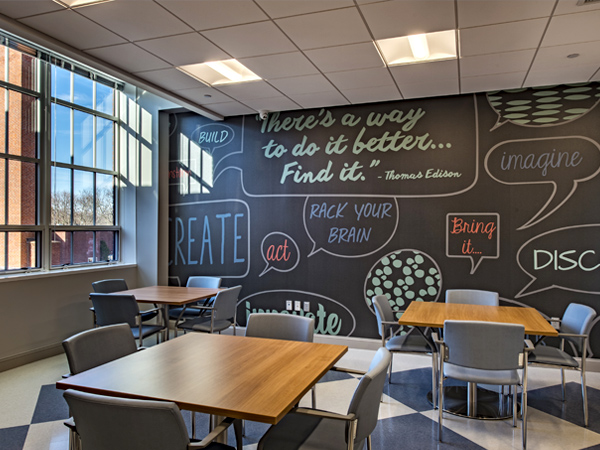 Senior residents are equipped with a host of amenities including a movie room, fitness center, and a craft room, which is used for bingo nights and craft classes. Photo credit: Gregg Shupe with Shupe Studios
The requirements of the project's funding sources contributed to The Tyler's balance between historic preservation and modern design. The architects and historic advisors received nearly $5 million in federal historic tax credits and slightly more than $4 million in state historic tax credits (table 1). In addition to brickwork, the architects preserved a cupola and the structure's large windows, which provide abundant light and ventilation, two public health priorities at the time of the building's original construction. The interior elements preserved include the classroom layout, lockers, and exposed terrazzo flooring.
WinnDevelopment received 9 percent low-income housing tax credits (LIHTCs) from the Connecticut Housing Finance Authority, which encouraged LIHTC applicants to pursue a set of sustainability objectives from a list of energy and green building criteria. To achieve more points in the highly competitive LIHTC program, The Tyler selected the Germany-based Passive House Institute's EnerPHit energy-efficiency standard. The design elements included a high-efficiency, low-carbon heating, ventilation, and air conditioning system and utilities; ENERGY STAR-certified LED lighting and appliances; and a 90 kilowatt solar array. Because of these interventions, the building uses 20 percent less energy than the average ENERGY STAR®-certified new construction building. In addition, as an adaptive reuse project, The Tyler avoided emitting 18 thousand metric tons of greenhouse gases during construction. Although the Passive House standard is considered one of the most rigorous building standards in the world, the EnerPHit program is intended specifically for existing buildings and takes the limitations that historic preservation imposes into account by offering flexibility in prescriptive requirements. Because the developers retained the concrete floor slabs as well as the materials and dimensions of the windows, the EnerPHit program administered waivers to these component requirements for The Tyler.
Thanks to these energy-efficiency measures, the project received $150,000 in energy funds from United Illuminating's Residential New Construction Program. In total, the project received more than $31 million in funding, which also included a first mortgage loan of $600,000 from the nonprofit BlueHub Loan Fund and a subordinate loan of $6 million from the Connecticut Department of Housing.
Table 1: The Tyler Funding Sources
| | |
| --- | --- |
| 9 percent low-income housing tax credit equity | $14,884,202 |
| Federal Historic Tax Equity – Bank of America | 4,878,789 |
| State Historic Tax Equity – Bank of America | 4,050,000 |
| First Mortgage Loan – CMF Bank and BlueHub Loan Fund | 600,000 |
| Developer loan | 610,074 |
| Connecticut Department of Housing FLEX program | 6,000,000 |
| Energy rebates | 151,250 |
| Federal Home Loan Bank Boston, Affordable Housing Program | 500,000 |
| Total | $31,674,315 |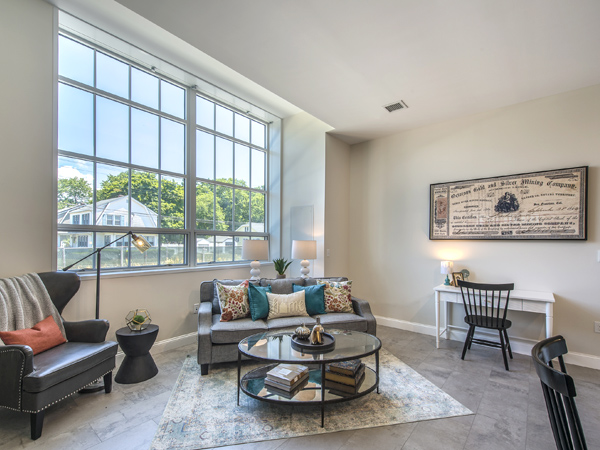 The resident units are converted-classrooms that balance historic preservation with modernity, such as the over-size windows that were a feature of the high school but now provide plenty of natural lighting and create a sense of comfort. Photo credit: Gregg Shupe with Shupe Studios
Digital Platform Connects Residents to Local Services
Identifying local service providers has been an ongoing task for the developer from the design phase to present day. Before construction began, the developer held multiple public meetings with the mayor's office to source local nonprofit service providers in the area. Services that city officials prioritized, such as transportation to senior centers and other facilities catering to seniors, were added to the developer's CONNECT platform, a database that aggregates community services and tracks their performance outcomes.
Property management staff can access the platform to connect residents with local service providers according to tenants' individual needs. The site allows staff to search for services across 10 categories: food, housing, goods, transit, health, money, care, education, work, and legal. These categories are then divided into subcategories. For example, a resident in need of food-related assistance can find services that deliver food or help cover food costs.
The platform is a positive feedback loop for supporting residents; it collects data from resident questionnaires, successful programs, and resident demographics to determine which services are beneficial and which need improvement. The Tyler residents therefore benefit from community data and resources from more than 1,800 programs available in East Haven, Conneticut.
Source:
United States Department of the Interior, National Park Service. n.d. "East Haven High School." Accessed 1 July 2021; The Architectural Team. n.d. "The Tyler." Accessed 30 June 2021. ×
Source:
Interview with David Ginsberg, vice president, WinnCompanies, 4 August 2021. ×
Source:
Interview with David Ginsberg, vice president, WinnCompanies, 4 August 2021; MacRostie Historic Advisors. n.d. "The Tyler (East Haven High School)." Accessed 1 July 2021; United States Department of the Interior, National Park Service. n.d. "East Haven High School." Accessed 1 July 2021. ×
Source:
WinnCompanies. 2018. "East Haven High School: Estimated Development Budget." 6 August 2021; Interview with David Ginsburg, vice president, WinnCompanies, 4 August 2021; Correspondence with David Ginsberg, vice president, WinnCompanies, 9 August 2021; WinnGreen. 2016. "Tyler - EnerPHit Overview." Accessed 9 August 2021. ×
Source:
Interview with David Ginsburg, vice president, WinnCompanies, 4 August 2021; WinnCompanies. 2018. "East Haven High School: Estimated Development Budget." 6 August 2021. ×
Source:
Interview with David Ginsberg, vice president, WinnCompanies, 4 August 2021; Connected Communities by WinnCompanies. n.d. "High-Impact Senior & Supportive Housing." 6 August 2021. ×
Source:
Interview with David Ginsburg, vice president, WinnCompanies, 4 August 2021; Connected Communities by WinnCompanies. n.d. "Connecting Communities to Opportunity." Accessed 6 August 2021. ×
Source:
Connected Communities by WinnCompanies. n.d. "High-Impact Senior & Supportive Housing." Accessed 6 August 2021; Connected Communities by WinnCompanies. n.d. "Connecting Communities to Opportunity." 6 August 2021. ×