Small Cottage Village in Clarkston, Georgia, Provides Opportunity for Affordable Homeownership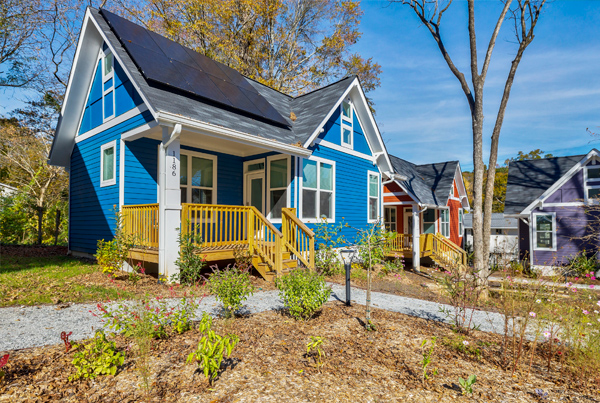 The Cottages on Vaughan, a community of seven 500 square foot "cottages" and one 250 square foot "tiny home," provides affordable ownership opportunities to residents of Clarkston, Georgia. Photo credit: MicroLife Institute
Opened in summer 2021, the Cottages on Vaughan is a pocket neighborhood of small homes in downtown Clarkston, Georgia, a city of approximately 15,000 people located 11 miles northeast of downtown Atlanta. The half-acre site features seven 500-square-foot cottages and one 250-square-foot tiny home. The developer, MicroLife Institute, worked with the city to change its zoning ordinances to allow the construction of the small homes. These houses generally are less expensive than nearby market-rate homes, making them an attractive option for low- and middle-income workers in the area, who are having an increasingly hard time finding affordable housing. The developer hopes the Cottages on Vaughan can serve as a model for addressing the housing affordability crisis, particularly in places with significant housing shortages such as the Atlanta metropolitan area.
The Development Process
Will Johnston, executive director of the MicroLife Institute, wants Americans to rethink traditional housing designs. Johnston, who founded the institute to promote smaller living environments, points out that, even though only 20 percent of American households are four-person families, more than 70 percent of all housing units are still being built for this type of family. A growing number of households consist of single occupants, couples without children, and unrelated adult roommates. "How do we normalize and how do we actually allow for better access to different products for a variety of households?" Johnston asks.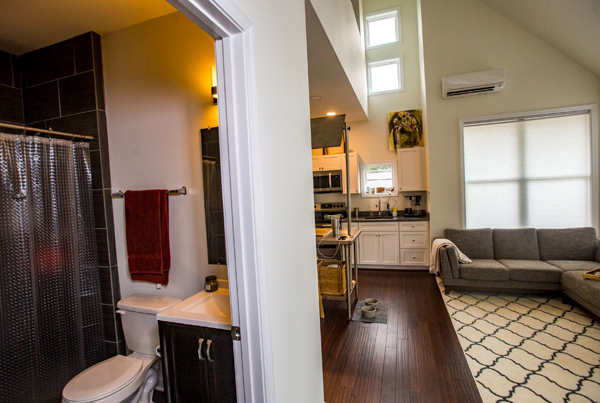 The cottages have a living room, a bedroom, and a kitchen, as well as a spacious front porch. Photo credit: MicroLife Institute
Civic leaders in the city of Clarkston were interested in creating more workforce housing, particularly housing that would expand homeownership opportunities in a city in which nearly 90 percent of residents are renters. City leaders approached the MicroLife Institute, which agreed to build a village of small homes in Clarkston's downtown. Clarkston previously had passed an ordinance allowing the construction of cottages under certain conditions, although none had yet been built. The MicroLife Institute worked with the city for more than a year to eliminate ordinances regulating minimum sizes for cottages and reduce the number of units required in a development and the number of parking spaces required per unit. In 2017, the city council passed an updated ordinance to permit up to 12 cottage homes on developments as small as 7,000 square feet. The city also allowed cottages to be classified as single-family homes with fee simple ownership rather than as condominiums, which made financing easier for buyers.
The Cottages
Each home has a living room, a bedroom, and a kitchen. The homes were designed to foster community and combat what Johnston calls the "loneliness epidemic," which the pandemic exacerbated. Every home has a front porch that faces a communal green space with a picnic table; a fire pit; and a community garden containing edible plants, fruits, and vegetables. This layout encourages social interaction among residents. Johnston, who also lives in one of the cottages, personally attests to the fact that residents check in on and support each other. At the same time, high windows on the rear side of the cottages let in natural light while preserving privacy. The units also have private backyards. Solar panels on some of the units provide a clean source of energy."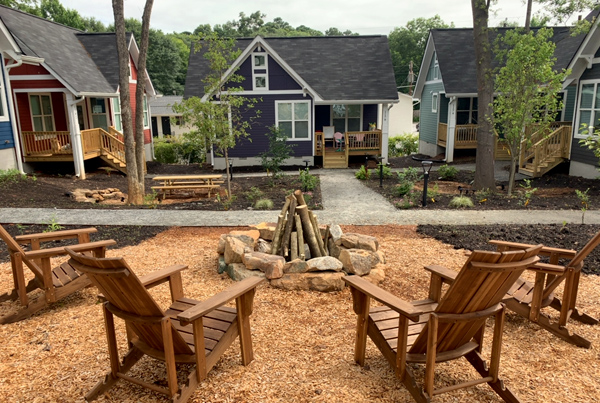 The homes all face a communal open space with a picnic table, fire pit, and a community garden with edible plants. Photo credit: MicroLife Institute
The small size of the homes gives buyers a comfortable, thoughtfully designed housing option that is more affordable than market-rate homes in the area. The relative affordability of the homes has attracted a variety of residents, from business owners to graduate students. The homes range from approximately $100,000 to $200,000, significantly less than the September 2022 median home price of approximately $300,000 in the city of Clarkston and $380,000 in Dekalb County. Residents also pay a monthly $100 homeowners association fee for maintenance and landscaping.
The city of Clarkson is populated with immigrants and refugees from at least 40 countries, earning it the nickname "The Ellis Island of the South." Clarkston has several local businesses, many of which are owned by refugees. The development is within a mile of two major highway exits to Atlanta and the surrounding metropolitan area and is on a bus route that serves a MARTA rapid transit station. Residents also enjoy a nearby hiking and biking trail that leads to Atlanta, Decatur, and Stone Mountain.
A National Model
The Cottages on Vaughan was built as a demonstration project. The community hosts outreach events several times a year such as the Innovative Housing Summit and the Cottages on Vaughan Tour, in which residents agree to open their doors to the public to show what living in a micro is like. The workshops also demonstrate how stakeholders can advocate for local zoning changes that allow such developments. Johnston is optimistic that this village can serve as a model for future developments, pointing to a similar project, South Park Cottages, under construction in nearby College Park. In October 2022, the Cottages on Vaughan was awarded a Jack Kemp Excellence in Affordable and Workforce Housing Award from the Urban Land Institute for demonstrating creativity in expanding housing opportunities.
Josh Green. 2021. "Photos: Georgia's First Tiny Home Village Is Complete — and Sold Out." Urbanize Atlanta, 19 July. Accessed 1 November 2022; Frank Olito. 2021. "There's a New Luxury Tiny-House Community Near Atlanta Where 500-Square-Foot Cottages Cost Up to $200,000- See What It's Like to Live There," Insider, 20 August. Accessed 28 October 2022; United States Census Bureau. n.d. "QuickFacts: Clarkston city, Georgia." Accessed 1 November 2022; Scott Stump. 2018. " 'One America': Small Town Welcomes Thousands of Refugees with Southern Hospitality," Today, 3 July. Accessed 1 November 2022; Dan Whisenhunt. 2017. "Refuge Coffee Company Publishes List of Refugee-Owned Businesses," Decaturish, 13 February. Accessed 1 November 2022; MARTA. n.d. "Route 120: East Ponce de Leon Avenue." Accessed 23 November 2022; Janet Thome. n.d. "The Cottages on Vaughan: Clarkston, Georgia," The Tiny Home Association blog. Accessed 1 November 2022. ×