Low Demand for Housing in Camden Despite Modest Economic Growth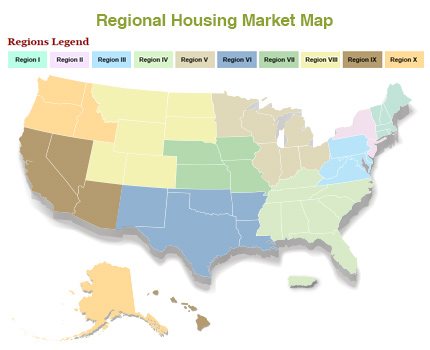 The Camden, New Jersey Housing Market Area, which is located in HUD Region II, has been experiencing modest economic growth recently as state-based incentives encouraged more companies to relocate to the area. Growing sectors include transportation and utilities, technology, and health and education.
HUD's Comprehensive Housing Market Analyses provide information on changes in local economies, housing markets, and populations and provide 3-year forecasts for demand in the area. This article is part of a series that sheds light on the content of these analyses.
The Camden, New Jersey Housing Market Area (Camden HMA) has been experiencing modest economic growth recently as state-based incentives encouraged more companies to relocate to the area. However, demand for housing remains low in the face of high foreclosure rates, declining home sales prices, and residents moving away from the area. A recent comprehensive housing market analysis on the Camden HMA examined the details of the local economy and housing market.
Modest Economic Growth
The Camden economy has been growing, in part because of state-based incentives such as Grow NJ and the Economic Opportunity Act from the New Jersey Economic Development Authority. These programs award tax breaks to companies moving into targeted, low-income areas of New Jersey such as Camden. Since 2013, New Jersey has awarded more than $1 billion in tax breaks for companies to relocate to Camden to strengthen the local economy. These incentives have attracted numerous companies to the Camden HMA and spurred an increase in commercial construction over the past few years.
Several sectors have grown since the incentives were put in place. The transportation and utilities sector grew by 14.7 percent over the past year, an increase that can be attributed primarily to the area's rising number of online retailers. Amazon.com leased a fulfillment center in 2016 that added more than 500 jobs to the Camden HMA, and XPO Logistics also leased a distribution center in 2016, adding another 500 jobs. In the manufacturing sector, Holtec International built a technology center that added 240 jobs and may add an additional 2,000 jobs as production expands through 2020. The education and health services sector led all other sectors in job growth over the past year, adding 3,000 jobs. Of these jobs, 2,500 were in health care, a focus of three of the five largest employers in the area. Kennedy University Hospital undertook a $250 million renovation of its medical campus in Cherry Hill Township, including a new Outpatient Pavilion that was completed in late May 2017.
Payrolls in the Camden HMA have increased since 2012, and job growth has been relatively steady since 2015. Total payrolls in the area were 536,000 in April 2017, which was just below prerecession levels, and from April 2016 to April 2017, payrolls increased by 2.5 percent, or 12,900 jobs. The unemployment rate averaged 4.7 percent over the past year, down from an average of 5.5 percent the previous year. Employment conditions have improved because of job growth in the HMA and the greater Philadelphia area as well as a contraction of the labor force as workers have retired or moved out of the area for work.
Despite modest economic growth in the Camden HMA, the area's population has remained relatively unchanged since 2010 at approximately 1.2 million, which is attributed to more people moving out of the area than into it (net outmigration). Net outmigration, which has averaged 2,725 people since 2010, is not expected to continue beyond the short term as the local economy grows and attracts more workers.
Forecasted Growth
Employment growth is expected to continue over the next 3 years at 1.5 percent, or 7,900 jobs annually, as several new development projects are completed. The education and health sector should lead job growth because of large-scale capital improvements by healthcare providers in the HMA. Kennedy University Hospital is currently constructing a new $225 million inpatient tower and parking garage in Washington Township, and BAYADA Home Health Care is consolidating offices in Camden County, which will add 500 jobs to the area when finished.
Housing Market
Demand for housing in the area has been low, and home sales prices have been declining. A high number of foreclosures and real-estate owned (REO) home sales have contributed to the low demand for housing. Housing construction activity has also been limited. REO home sales rose from 11 percent of total existing home sales (930 units) during 2011 to 19 percent of total existing home sales (4,225 units) over the past year. REO home sales prices in the HMA are typically 45 percent lower than sales prices for regular resales, so the rise in REO home sales contributed to the decline in average sales prices for existing homes.
The rental market has been soft with a vacancy rate of 7.3 percent. Because demand for home sales has been low for the past several years, single-family homes have increasingly entered the rental market. Currently, single-family homes make up one-third of the rental market, which is higher than the national average of 22 percent. Still, the rate of apartment construction in the HMA is relatively high despite a balanced apartment market with a 4.7 percent vacancy rate. Multifamily construction activity was relatively strong from 2013 to 2016, when an average of 1,450 multifamily units were permitted.
Over the next 3 years, demand is estimated for 2,675 new homes. The 300 homes currently under construction in the HMA as well as some of the area's 22,950 vacant units may help to satisfy demand. Demand for rental units is estimated for 2,725 new market-rate units. For more detailed information on the Camden HMA, please see the recent Comprehensive Housing Market Analysis on the area.