2022 Innovation in Affordable Housing Student Design and Planning Competition Site Visit: Atlanta, Georgia
Alaina Stern, Social Science Analyst, Office of Policy Development & Research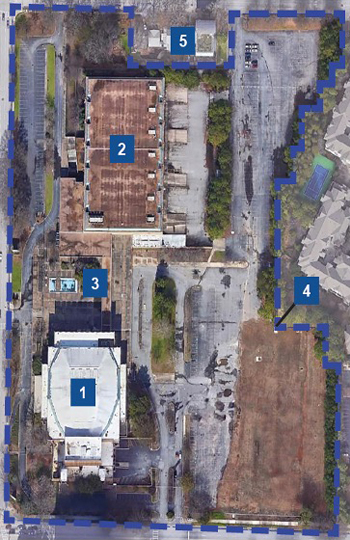 Site map of the civic center site, including the (1) auditorium, (2) exposition center, (3) plaza, (4) stormwater vault, and (5) Southface Institute. Photo courtesy of Atlanta Housing.
The 2022 Innovation in Affordable Housing Student Design and Planning Competition challenges students to find innovative solutions for redeveloping the Boisfeuillet Jones Atlanta Civic Center complex and the land it sits on. The four finalist teams — Team Oski and Team Gold, both from the University of California Berkeley; University of Maryland Team from the University of Maryland; and Team KU 1 from the University of Kansas — must consider several factors when developing their final plans, including the planning context (that is, zoning requirements), local economic conditions, a feasible financing plan, the built environment, and the larger social needs of the community. HUD has partnered with Atlanta Housing (AH) for this year's competition. AH not only is the largest public housing agency in Georgia, but it is also among the largest in the nation, providing and facilitating affordable housing resources for more than 23,000 low-income households.
For this year's challenge, students must develop plans for affordable housing in a mixed-use and mixed-income setting while also preserving the cultural, historical, and social significance of the civic center. The complex includes a performing arts center and a 125,000-square-foot exhibition hall. Both buildings' entrances open to a formal plaza and fountain in the tradition of cultural institutions that serve as both iconic landmarks and public amenities. The site itself consists of 13.12 acres of developable land that AH would like to convert into a vibrant, mixed-use community with affordable and market-rate housing along with office, retail, hospitality, and open space that seamlessly integrate into the existing cultural facilities, which will remain onsite.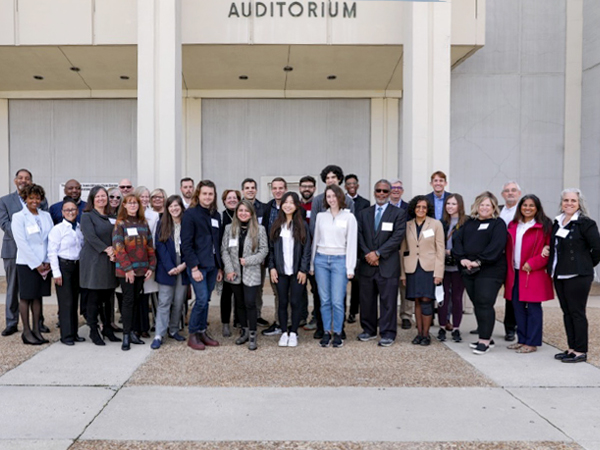 Students, guest speakers, and HUD staff gather in the plaza.
Site Visit
On March 10, 2022, students from each of the four finalist teams traveled to Atlanta for a 2-day site visit, accompanied by Calvin Johnson, deputy assistant secretary of HUD's Office of Policy Development and Research (PD&R), and PD&R staff. In the morning, AH staff and representatives from Southface Institute, the cohosts for the site visit, greeted the students, and John Skach, director of planning, design and community development for AH, led the students on a tour of the property. The tour took students through the buildings and surrounding property, including the stormwater vault adjacent to the auditorium. Students explored the inside of the auditorium, which features a large performance hall that once seated nearly 4,600 patrons, crystal light fixtures, finishing and furnishings made of solid walnut, and geometric design elements throughout the building that incorporate hexagonal shapes. The students also saw the exhibition space, which once held arts and science exhibits and more recently was used for studio productions.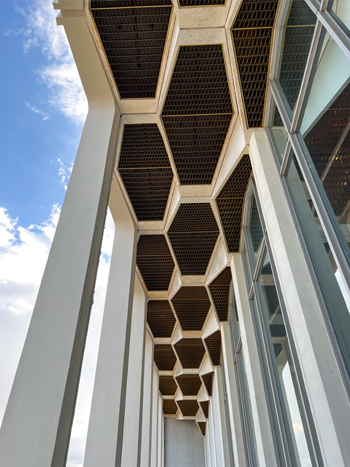 Formal columns and geometric architectural design highlight the front of the performance hall.
After the tour, local officials, AH executives, AH financing and planning partners, city commissioners and council members, community members, and affordable housing advocates gathered outdoors to offer their insights on the civic center site. Many speakers and guests mentioned the significance of the site, which has not been available for public use for many years. The students learned about the site's history, heard personal stories, and listened to the participants' hopes and aspirations for the site.
Adelaide Steedley, senior director of AH's Office of Strategy, Policy & Innovation, and Trish O'Connell, deputy chief real estate officer for planning and development at AH, opened the program, introduced the speakers, acknowledged special guests and partners in attendance, and shared their enthusiasm for "bringing the civic center complex into the 21st century." Students first heard from Terri Lee, AH's chief operating officer, about the opportunities for community revitalization through the historic preservation and redevelopment of the civic center. Next, Fulton County commissioner Natalie Hall delivered a moving speech encouraging "collaboration over competition" and expressing her commitment to affordable housing; describing her work as more than a job, she stated, "We don't work hard, we do heart work."
At-large city councilmember Matt Westmoreland, a prominent political leader and advocate for economic mobility, affordable housing, and accessible resources, shared that he graduated from the city's Henry W. Grady High School in 2006 and walked across the stage of the civic center's auditorium to receive his diploma. Westmoreland spoke of the site's potential to be a catalyst for transforming the community. Janide Sidifall, interim planning commissioner for the city of Atlanta, shared broader visions for city planning. Sidifall also gave students a book on the history and legacy of design and planning in Atlanta as well as a poster illustrating the site's importance in the central city, where midtown meets downtown. Sidifall encouraged students to consider the people who will benefit from their work, urging them to be mindful of inclusivity and intentionality in their designs and create places where all residents can live, work, and enjoy themselves.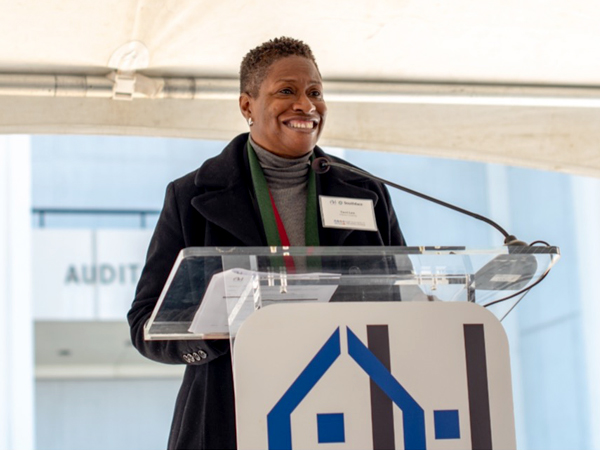 Terri Lee, Atlanta Housing's chief operating officer, addresses the students and HUD staff.
Stephen Vlkovic, lead asset manager for the Georgia Department of Community Affairs, discussed his agency's financing and tax credits, allocation plans, and work with developers as well as his eagerness for innovative new ideas from students. Next, Vickey Roberts, director of multifamily housing bonds with Invest Atlanta, spoke about her organization's mission, vision, and goals. Also, Meaghan Shannon-Vlkovic, vice president and Southeast Region market leader for Enterprise Community Partners, shared insights on New Markets Tax Credits, community development financial institutions, and the role of equity. Melissa Mullinax, chief of staff of the Metropolitan Atlanta Rapid Transit Authority, explained the significance of the civic center and its influence on the city's transportation and planning strategies. Jennifer Ball, chief operating officer of Central Atlanta Progress, offered advice from the perspective of a local nonprofit focused on downtown Atlanta's quality of life and economic vibrancy. Catherine Chase, president of the Fourth Ward West Neighborhood Association and a neighborhood resident for 18 years, shared residents' three primary desires for the redeveloped site: that it be "experiential, physical, and sustainable." Jim Neal, interim president of the Southface Institute, encouraged the students to use and share the tools and skills Southlake has curated as a premier local environmental nonprofit.
Students were then invited to Southface Institute to eat lunch in the organization's rooftop garden and attend the afternoon sessions, which engaged students through panel discussions and short presentations with experts and professionals. The students enjoyed learning about the Atlanta Model through a case study presented by Michael Wilson, senior vice president of transactions management and capital markets at AH. Major Galloway, vice president of AH, answered students' questions and shared his expertise on important considerations such as housing costs, supply chain and labor issues, mixed-use construction, and limits on development. In addition, George Knight, director of asset valuation at AH, shared his analysis of the state of the Atlanta real estate market, including retrospective and current updates.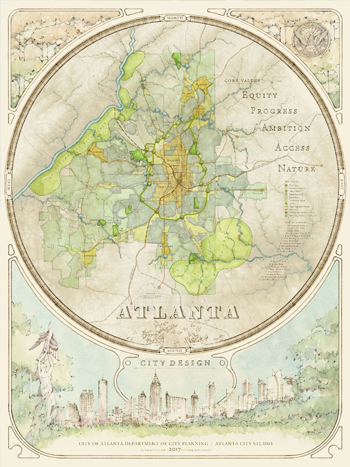 Poster of the city of Atlanta. Credit: City of Atlanta, Department of City Planning
Final Presentations and Award Ceremony
The four finalist student teams will incorporate the knowledge and additional considerations gained from the site visit and revise their plans to reflect the competition's environmental, financial, and social criteria. The teams will present their revised proposals during a virtual event on Wednesday, April 13, 2022. Immediately following the student presentations, a jury of housing industry professionals will deliberate and decide on this year's winning and runner-up teams.
The 2022 Final Presentations and Awards Ceremony will take place, virtually, on April 13, 2022, from 1:00 pm to 5:00 pm EDT.
Register today at us02web.zoom.us/webinar/register/WN_6xhkk501Tp-m1dagSRQX1w
To learn more about this year's IAH Student Design and Planning Competition, please visit www.huduser.gov/portal/challenge/about.html