Los Angeles ADU Standard Plan Program Captures a New Demographic To Increase the Affordable Housing Supply

Lean-to ADU by Jennifer Bonner's studio is designed to bring in plenty of natural lighting to a flexible space that can be used as a work/play area or a bedroom. Credit: Courtesy Los Angeles Department of Building and Safety and Jennifer Bonner.
Land scarcity — the lack of vacant, developable land — is an obstacle to eliminating Los Angeles' affordable housing shortage. Some lawmakers, however, have shifted their focus to existing developed properties and changing the zoning regulations that have led to inefficiencies in their use. Single-family plots account for 60 percent of the city's land and have the potential to provide affordable housing in the form of accessory dwelling units (ADUs), which tend to rent at below-market rates. Regulations such as setback and parking requirements, however, have presented barriers to their construction. California responded by passing legislation limiting the regulations that local jurisdictions can impose on ADUs. After the laws became effective on January 1, 2017, Los Angeles ADU permit applications surged 2,500 percent over the previous year; however, the city recognized that it could potentially capture more applicants by decreasing the time and costs associated with ADU permitting while offering potential applicants more guidance for navigating the seemingly daunting process. In 2021, the city's Department of Building and Safety launched the Standard Plan Program, which streamlines the process for building an ADU while creating equitable, efficient design throughout the city.
ADU Standard Plan Program Offers Variety and Reflects the City's Design Culture
The growing appeal of ADUs and the successful preapproval programs emerging along the west coast spurred Mayor Eric Garcetti to launch an initiative that would not only reflect the design culture of the city but also efficiently use preexisting administrative resources.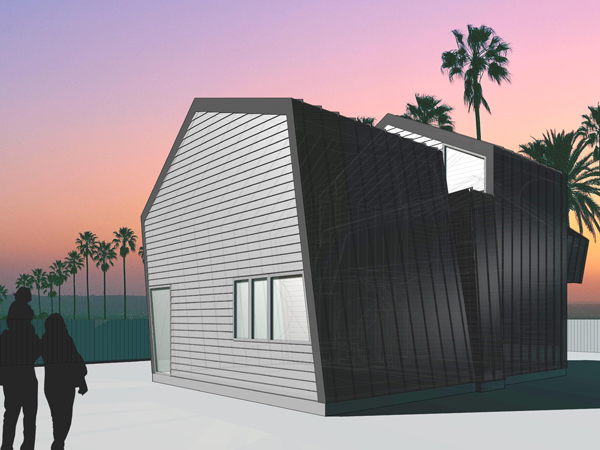 The design of the Standard Plan Program pays homage to many aspects of L.A.'s culture. This is expressed in Sekou Cooke studio's ADU 1s and 2s, which takes inspiration from west coast hip-hop culture. Credit: Courtesy Los Angeles Department of Building and Safety and Sekou Cooke Studio
Knowledge and experience from the city's Department of Building and Safety, which already had a standard plan program for open structures such as pools and stairwells, were leveraged to develop the Standard Plan Program and execute a 7-month pilot study in which 10 design firms submitted 20 designs for preapproval. The pilot plans include studios and one- and two-bedroom units with flexible designs of up to two stories. Unlike some standard plan programs along the west coast that only offer two designs, the Los Angeles initiative accepts unlimited designs in an effort to embody the city's history of architectural innovation, experimentation, and eclecticism. The department reviews the architects' plans, checking for compliance with residential, building, and local green codes. Aside from ADUs in the hillside or high fire hazard zones, for hundreds of thousands of conventionally flat plots in Los Angeles, streamlined review under the Standard Plan Program takes less than a week.
The participating firms are diverse, including private and nonprofit firms along with more established and newer, smaller firms. The Lean-to ADU design by Jennifer Bonner reinterprets the stucco architecture of Los Angeles and offers a flexible orientation to ensure ample daylight and cross-ventilation for lots on many landscape types. The IT House ADU, by Taalman Architecture, is prefabricated and assembled onsite, resulting in a low-impact, low-waste, and efficient design. Sekou Cooke STUDIO's ADU 1s and 2s uses the maximum area allowance of 1,200 square feet to offer a two-bedroom, two-bathroom model. The unit's twisted shape bears exterior finishes that clients can change to reflect the context of their neighborhoods. The variety of plans allow homeowners to select a design with architectural themes most suitable for their property and surrounding neighborhood.
How ADU Legislation Promotes Housing Affordability
New state ADU legislation took effect in 2020 that aimed to make ADU construction easier and more affordable. Because most ADUs rent at below-market rates, ADUs promote overall affordability of the rental market. Senate Bill 13 eliminates parking requirements and their associated construction costs for ADUs located less than one-half mile from public transportation. The legislation also removes impact fees for ADUs that are less than 750 square feet and prohibits owner-occupancy requirements until 2025. This rule allows some homeowners who can no longer afford their mortgage to rent their main property and reside in the ADU. The Standard Plan Program also aligns with the provisions of AB 671, which requires local housing agencies to "incentivize and promote" ADU construction that can be offered at rents that are affordable to very low-, low-, or moderate-income households.

United Dwelling offers a two-bedroom design and, like many of the preapproved ADU designs of the program, allows the homeowner to choose the exterior finish that reflects the architectural elements of their neighborhood. Credit: United Dwelling, courtesy Los Angeles Department of Building and Safety
Typically, homeowners who decide to construct an ADU on their property hire a consultant to create a design, which the city evaluates through its plan approval process. Next, the consultant addresses the corrections, reviews the new design with the client, and resubmits the plan to the city, with the client paying a plan check fee for each submission. This costly back-and-forth process discourages low- and moderate-income applicants from building ADUs. Under the Standard Plan Program, homeowners select a preapproved plan and then negotiate a fee with the firm that owns the design, which underwent a one-time plan check costing the firm approximately $500. This process reduces fees for homeowners, who can receive approval to build on their site in as little as 24 hours rather than weeks.
Although ADUs are not typically subject to rent stabilization ordinances, they could potentially support Section 8 housing choice voucher holders in Los Angeles, where 40 percent of vouchers are forfeited because voucher holders cannot locate housing that adheres to the cost constraints of the voucher program. Although no longer accepting applications and will conclude its ADU program this year, nonprofit LA Más was a participant of the pilot program that is intentionally creating affordable housing solutions by working with homeowners who commit to building ADUs that will be rented to Section 8 voucher holders. The Standard Plan Program also complements the Mayor's Office of Building and Innovation's ADU Accelerator Program, which allows homeowners to rent their ADUs to low-income seniors in exchange for benefits that include tenant screening, timely rent, and landlord support.
Metrics of Success and Future Analyses
The city is interested in learning how the ADUs will evolve independently, without government intervention. The city will monitor the different uses of ADUs and how those uses change over the units' lifetime. For example, an ADU may be used as a workspace, an option for quarantining from the main household, a residence for extended family, or an option that can help older homeowners to age in place. Los Angeles will also keep contact with firms to study the number of homeowner participants for the Standard Plan Program, how quickly homeowners complete the approval process, and why certain ADU designs become popular. Christopher Hawthorne, chief design officer in the Mayor's Office of Economic Development, anticipates that firms repeating the process will refine their construction approach, making it cheaper and faster. The program continues to accept new designs, and insight from veteran firms will help new architects in this space create successful ADU designs.
Theodora Trindel, planning and development manager in the Mayor's Office of Economic Development, acknowledges that although legislative effects on neighborhoods zoned for single-family homes "may take time to play out in city like LA, ADUs are something that we have now to add tailored density to these neighborhoods where we do want flexibility and increased [housing] capacity." In the meantime, the city's approach to the Standard Plan Program is an experiment producing innovative designs for naturally occurring affordable housing in the form of ADUs.