Promoting Mental Health Through Housing Stability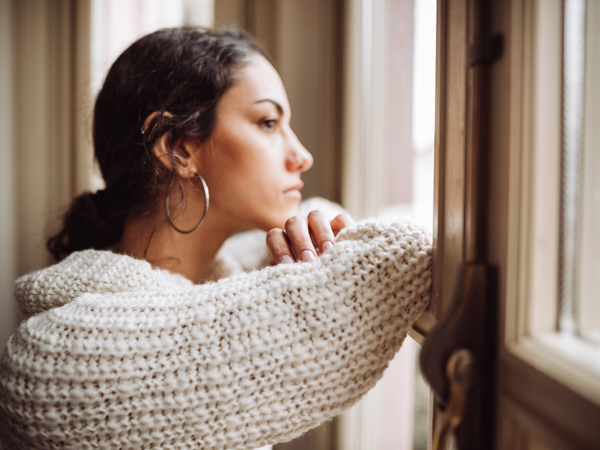 Research shows that housing insecurity can negatively affect physical and mental wellbeing. Photo credit: istockphoto.com/franckreporter
The COVID-19 pandemic has brought public health to the forefront of policy and society in the United States and around the world. This increased awareness of public health has led to widespread implementation of public health and safety measures in public and private spaces, including capacity limitations, social distancing guidelines, increased sanitation measures, and vaccination requirements meant to reduce the spread of COVID-19. The COVID-19 pandemic and its impact on supply chains and the economy also have had a negative impact on the mental health of many U.S. residents.
Although social distancing measures were necessary to reduce COVID-19 transmission, the downside was increased social isolation, which has negatively affected mental health. Reports indicate that rates of mental health disorders have increased during the pandemic. One study found that 4 in 10 U.S. adults have reported experiencing symptoms of anxiety or depression during the pandemic compared with only 1 in 10 experiencing these symptoms before the onset of the pandemic. Sources of anxiety and stress abounded during the pandemic, including social anxiety stemming from people's fear of contracting COVID-19, social isolation, and economic and housing insecurity resulting from the countervailing measures implemented to reduce the spread of the coronavirus.
The stresses of housing instability
Housing insecurity in all its forms can negatively affect human health. Whether it's difficulty paying rent, overcrowded living conditions, eviction, or homelessness, housing insecurity exposes individuals and families to increased stress and mental and physical health problems. High housing costs or a lack of affordable housing can force households to make difficult sacrifices to pay rent, such as forgoing medicines, medical appointments, and healthier food options. In some cases, households resort to doubling up with another household, leading to overcrowded living conditions. Overcrowding not only intensifies the spread of airborne contagions through close living quarters and insufficient social distancing but also can adversely affect children's development and behavior. Some research suggests that distress from overcrowding can cause children to withdraw and reduce their motivation.
A 2021 article in Evidence Matters reported that eviction not only has devastating and long-lasting social and economic consequences, but it also can have adverse effects on mental health, including increased rates of depression and suicide. One study found that "in the 2 years following eviction, people were more likely to visit the emergency room or require hospitalization for a mental health condition" than those who had not experienced eviction. Eviction is a relatively common experience among low-income renters, and it disproportionately impacts renters who are black, indigenous, and people of color.
Individuals experiencing homelessness are more likely than others to become physically or mentally ill. Homelessness exposes individuals to multiple health risks, including communicable diseases, the elements, and malnutrition, and can exacerbate existing health conditions. Contrary to popular belief, mental illness does not cause homelessness; rather, homelessness worsens mental health and exacerbates symptoms of mental illness. The mortality rate of people experiencing chronic homelessness is 4 to 9 times higher than that of people who do not experience homelessness.
Housing security promotes health
Research shows that housing security promotes education, economic security, and health in households. To this end, HUD works to promote health by providing housing assistance and stability for those with the greatest need. Through the Office of Policy Development and Research, HUD funds studies and produces reports on the impact of housing assistance on families. One such report, the Family Options Study, showed the positive impacts of housing assistance on the health of families in need. The study demonstrated that housing vouchers increase housing stability, reduce exposure to domestic violence, and reduce food insecurity. The study showed that housing stability has a positive impact on the well-being of children, including a reduction in behavioral problems. In another study, the HUD-DOJ Pay for Success Permanent Supportive Housing Demonstration, program participants showed increased housing stability, reduced recidivism, and fewer visits to hospitals than nonparticipants. HUD's long-term study, Moving to Opportunity, also reflects the positive effects of housing security through assisted housing on mental health.
The federal government's priority for housing security during the pandemic
During times of economic disruption, such as during the COVID-19 pandemic, the federal government plays a key role in supporting the housing market. Keeping people housed was priority for HUD and the federal government during the pandemic, and early relief efforts included $25 billion in rental assistance for state and local governments in the Consolidated Appropriations Act of 2021, which was signed into law by former President Trump and implemented by President Biden.
The Biden-Harris administration continued to provide rental assistance in the American Rescue Plan Act of 2021, and HUD worked closely with the U.S. Department of the Treasury to implement the Emergency Rental Assistance Program. State and local Emergency Rental Assistance (ERA) program grantees have made more than 5.2 million payments to households and spent or committed more than $30 billion in rental and utility assistance, along with other support through the program. In addition, state and local governments have already used Fiscal Recovery Funds provided by the American Rescue Plan to distribute additional rent, mortgage, or utility assistance to more than 700,000 households and provided eviction prevention services to more than 100,000 households in 2021. Thanks to the administration's consistent promotion of eviction diversion programs, including through multiple eviction prevention summits in 2021, approximately 100 eviction diversion programs are operating nationwide. These measures, coupled with eviction moratoria, stimulus checks, unemployment insurance, and other countervailing measures enacted by jurisdictions nationwide, greatly reduced housing insecurity and helped keep people stably housed during the pandemic.
The Biden-Harris administration's national mental health strategy
May is Mental Health Awareness Month, and the federal government is raising awareness of the importance of mental health in several ways. In March 2022, the Biden-Harris administration laid out its commitment to addressing the nation's mental health crisis. Among the various facets of the multipronged federal response to the mental health crisis in the United States, HUD is training housing counselors, housing-based services coordinators, and Fair Housing grantee staff in basic mental health skills. This training is intended to help these workers recognize signs of distress in their clients and connect them with mental health resources.
In 2021, HUD partnered with the U.S. Department of Health and Human Services (HHS) on the Housing and Services Resource Center, which combines a number of federal resources to provide individuals with housing and social services support. In addition to housing support, the Housing and Services Resource Center offers supportive services in behavioral health, personal care, community living, transportation, and other areas. In addition, through this partnership, HHS and HUD are collaborating to offer trainings, webinars, and technical assistance.
HUD's Supportive Housing Program provides grant funding to state and local governments as well as private and public nonprofit organizations that offer supportive services to help homeless individuals transition to more permanent housing. The program includes supportive services in health, mental health, and substance use for individuals experiencing homelessness. HUD has highlighted the work done by many of these grantees in a series of case studies.
Finally, HUD is raising mental health awareness through a new educational campaign designed to shed light on the housing discrimination faced by people with mental health, intellectual, or developmental disabilities. The campaign will also provide information for those who have faced such discrimination.