Lessons From Nonprofit Administrators of the Emergency Rental Assistance Program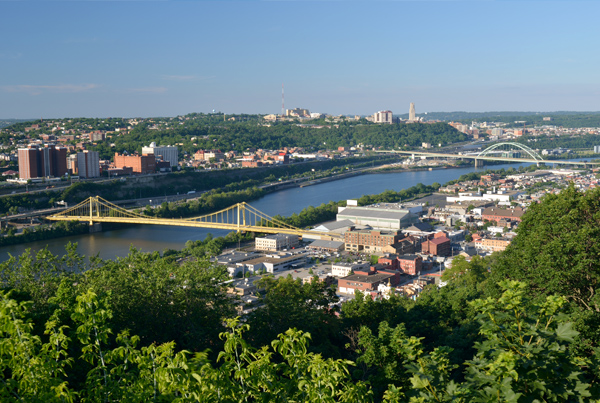 In Pittsburgh, Pennsylvania, local nonprofit Action Housing played a significant role in helping Allegheny County administer Pennsylvania's CARES Rent Relief Program.
As the coronavirus pandemic has progressed, the structures in place to distribute aid to affected U.S. households have changed. Significant federal funding was first made available through the Coronavirus Aid, Relief, and Economic Security (CARES) Act, enacted in March 2020, and in December 2020, the Consolidated Appropriations Act funded the first round of the Emergency Rental Assistance Program (ERAP) to address the needs of renters facing pandemic hardships. Upon receiving their initial ERAP allocations — referred to as ERA1 funds, to distinguish them from the ERA2 money approved by the American Rescue Plan Act of 2021 — some governments opted to contract with nonprofit organizations to administer the program to leverage their existing expertise. In August 2022, the Housing Partnership Network (HPN), a business collaborative of housing and community development nonprofits, and the National Housing Conference cohosted a webinar titled "The Pivotal Role of Nonprofits in the Emergency Rental Assistance Program (ERAP)." The event featured a panel consisting of representatives from three housing nonprofits that administer ERAP in New York, North Carolina, and Pennsylvania who discussed the lessons they learned from administering their rental assistance programs and their hopes for the future of these vital community lifelines.
Diverse Local Contexts
Shannon Ross, policy vice president at HPN, moderated the discussion, which featured Kyle Webster of Pittsburgh's Action Housing, Julie Porter of Charlotte's DreamKey Partners, and Peter Elkowitz of the Long Island Housing Partnership (LIHP). All three panelists were members of an ad hoc working group of HPN members who administer rental assistance programs and meet weekly to share best practices and discuss guidance and tools.
In 2020, the city of Charlotte engaged DreamKey Partners to design and run an ERAP. Earlier that year, the area's United Way had approached DreamKey to design an online system to distribute $500,000 of rental assistance. Thanks to the groundwork laid through designing the comparatively small United Way program, DreamKey was able to distribute $9 million in ERA1 funds in 2020 alone, said Porter, president of DreamKey.
LIHP, by contrast, was chosen to administer the rental assistance programs of two Long Island towns, Hempstead and Oyster Bay. Peter Elkowitz, president and chief executive officer of LIHP, recounted that both towns approached the nonprofit at separate times in 2021 — comparatively late in the ERA1 process. In New York, localities had the option to administer ERAP themselves, contract with the state to administer the program, or procure the services of a nonprofit. Hempstead and Oyster Bay considered a state-administered program but wanted more local control. At the time, LIHP was managing a rental/mortgage assistance program for another town, which recommended the nonprofit to the two localities. The combined ERA1 and ERA2 allocation for Hempstead's ERA program is approximately $45 million, and the combined allocation for Oyster Bay's program is $15 million.
Action Housing has extensive experience with pre-ERAP COVID-19 rental assistance programs in its local context. The nonprofit originally was one of four in Allegheny County tasked with helping the state government conduct Pennsylvania's CARES Rent Relief Program. According to Kyle Webster, general counsel and vice president of housing for Action Housing, the county pulled out of the statewide program in October 2020 and launched its own rent relief program, which also used CARES Act funding. Action Housing administered this program and, by its close in December 2020, had distributed $14.5 million in funding. When ERAP was announced, Action Housing asked Allegheny County if the nonprofit could administer the distribution of these funds as well. According to Webster, the nonprofit has distributed $130 million in ERAP funds to date.
Trust, Equity, and Community Partners
The ERAP process generally requires renters who are experiencing pandemic-related difficulty paying rent to submit an application for funds. Neither landlords nor social service providers may submit an application on a tenant's behalf. As a result, language barriers, a technology gap, or distrust of the program can prevent an otherwise eligible person from receiving rent relief. Marginalized and minority populations frequently encounter more than one of these barriers. To ensure that the communities they served received the full benefit of their rental assistance programs, Action Housing, DreamKey Partners, and LIHP pursued strategies such as engaging community partners and employing data analysis.
In Long Island, LIHP reached out to libraries, schools, and elected officials to hold meetings about ERAP. LIHP staff visited clients individually at food banks to discuss applying for the program. LIHP also prepared outreach materials, including instructional videos, social media and print advertisements, and informational documents, in eight languages. In addition, the nonprofit partnered with community groups who helped tenants complete applications. "We had to make sure we were on the ground at a granular level and reaching out," said Elkowitz.
Action Housing contracted with 26 nonprofit community organizations to act as drop-in centers for applicants. Action recruited organizations known to be tenant advocates that had positions of trust in marginalized and minority communities. "Additionally, we were very responsive to data and we track absolutely everything," Webster said. The nonprofit was able to use these data to identify demographic gaps in the pattern of applications. For example, although Allegheny County has a high proportion of households with members over age 60, the ERAP initially received few applications from this population. Action Housing determined that this deficit was not because of a lack of need but rather a lack of awareness of the program. Action Housing consulted with knowledgeable community partners, who recommended an outreach campaign to managers of senior housing complexes, billboard ads, and advertisements at bus stops. This campaign corrected the problem and led to more seniors accessing the program.
DreamKey Partners contracted with a single nonprofit to fulfill a different role from that of its contemporaries in New York and Pennsylvania: it chose Social Serve, which had an existing relationship with area multifamily landlords, to deliver rent checks to the landlords. This decision freed DreamKey staff — which included 45 newly hired emergency temporary workers — to develop the new online system necessary to process the flood of applications for the program. To build trust with renters and encourage them to apply for the program, DreamKey asked people to speak to their neighbors about ERAP. "There's just a distrust of government dollars, period," explained Porter. "The people who are in our apartment communities, many of them have never received any kind of federal assistance, and so they just did not believe that the program was real."
Uncertainty as ERAP Funds Run Out
The ERAP programs in all three localities have concluded or are in the process of winding down now that ERA2 allocations have been nearly or fully dispersed. According to Porter, the nonprofit is unsure what will become of its online system for processing applications. Charlotte's prepandemic system for managing rental assistance handled applications face-to-face, and it may not have the capacity to take on the new system. Action Housing is concerned about what will become of the infrastructure that the organization and its many partners built during this period, said Webster, but Pittsburgh's extensive community of foundations may offer the nonprofit a path to retaining some of this capacity.