2018 AIA/HUD Secretary's Awards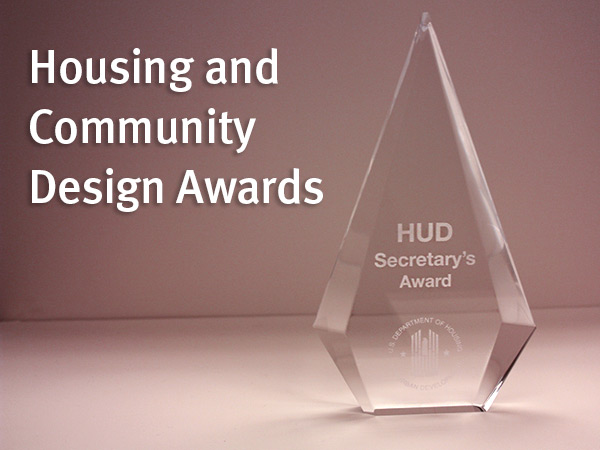 The recipients of the 2018 AIA/HUD Secretary's Housing and Community Design Awards were recognized at the AIA Conference on Architecture in New York City on June 22, 2018.
On June 22, 2018, in New York City, the American Institute of Architects (AIA) honored this year's recipients of the AIA/HUD Secretary's Housing and Community Design Awards alongside the winners of AIA's annual Housing Awards. The Secretary's Housing and Community Design Awards recognize excellence in affordable housing, community-based design, participatory design, and accessibility. The awards allow HUD, in conjunction with the Residential Knowledge Community of the AIA, to highlight important examples of achievement in the housing industry. They recognize that good design is the backbone of solid homes and thriving, diverse communities. Although there are four award categories — Community-Informed Design, Creating Community Connection, Excellence in Affordable Housing Design, and Housing Accessibility — not every category will recognize a winner every year. In 2018, two projects were recognized in two categories — Excellence in Affordable Housing and Housing Accessibility. Vincent Hom, director of community planning and development at HUD's New York Regional Office, spoke about HUD's role in funding affordable housing projects and promoting innovation in housing design.
The first award, in the category of Excellence in Affordable Housing Design, recognizes "architecture that demonstrates overall excellent design responses to the needs and constraints of affordable housing." To be eligible, a project must have a minimum of 20 percent of occupants earning at or below 80 percent of the area median income (AMI) or must utilize a current financing vehicle for affordable housing. In addition, the project must demonstrate that it provides a long-term asset to the client, occupants, and community.
David Baker Architects, based in San Francisco, received the 2018 Excellence in Affordable Housing Design Award for Five 88, located in San Francisco's Mission Bay neighborhood. With 200 rental apartments, 198 of which are affordable to families with incomes at or below 60 percent of AMI, Five 88 is the city's largest affordable housing development built in decades. The building has onsite amenities for community use, including a fitness center, lounge, and laundry, and green features that include solar panels for hot water and drought-tolerant landscaping.
The Housing Accessibility – Alan J. Rothman Award, the second Secretary's Award presented, is named in remembrance of a senior policy analyst for housing disability issues at HUD. The award recognizes housing projects that demonstrate excellence in improving accessibility for individuals with ability constraints. Winning projects demonstrate principles of universal design, accommodating individuals with a diversity of physical abilities while achieving maximum affordability. These projects are also visionary in their design and their use of technology, going beyond existing minimum requirements for accessibility.
This year, the Rothman Award was given to DAO Architecture of Portland, Oregon, for their Station 162 Apartments affordable housing project. A transit-oriented project in Gresham, Oregon, Station 162 Apartments contains 44 highly accessible units serving a mix of low-income adults with severe physical disabilities, seniors, and workforce tenants. The goal of the project, according to DAO Architecture, is to "provide a workable, affordable model to serve the needs of disabled and senior tenants who want and deserve a new alternative to traditional care settings." The project includes community space, gardens, and other outdoor space and provides access to in-house and community-based support services.
The 2018 AIA Housing Awards, presented alongside the Secretary's Awards, recognized 11 projects as exemplars of good housing design. A full list of AIA Award recipients, as well as in-depth information and images for the winning projects, can be found on AIA's website. Winners of the AIA Housing Award or the AIA/HUD Secretary's Awards are eligible to apply for the AIA Housing Awards Presentation Grant. These $1,500 grants assist winners wishing to disseminate their work through publication, public presentations, or presentations at conferences or seminars. The goal of the grant is to help projects reach a broad audience, engaging both architectural practitioners and the public.
For additional information and photographs related to previous recipients of the AIA/HUD Secretary's Housing and Community Design Awards, please visit the award archive. The AIA/HUD Secretary's Housing and Community Design Award is one of five Secretary's Awards currently offered. For more information on other Secretary's Awards, please read "Highlighting Best Practices Through the HUD Secretary's Awards" in PD&R Edge.