Increasing Community Capacity for Recovery and Resilience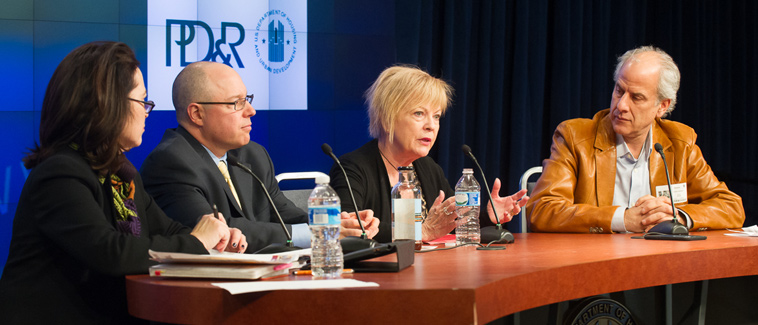 Director of HUD's Office of Economic Resilience Harriet Tregoning and panelists Michael Cohen, Kathleen Tierney, and Daniel Wallach discuss different aspects of community recovery and resilience from natural disasters as part of PD&R's quarterly update.
Each year, natural disasters disrupt communities across the United States, resulting in lives lost, injuries, and billions of dollars in property damage. Promoting disaster recovery and resilience to ensure that communities withstand the adverse effects of catastrophic events and hasten the recovery process is a high priority for HUD. HUD is uniquely positioned to help communities with long-term recovery, notes Harriet Tregoning, director of HUD's Office of Economic Resilience, given the agency's existing relationships with states and localities. The $1 billion National Disaster Resilience Competition that HUD is sponsoring in partnership with the Rockefeller Foundation and the Rebuild by Design competition that preceded it reflect the department's commitment to encouraging communities to rethink their approach to long-term recovery and rebuilding.
On January 9, 2015, Tregoning led an expert panel discussion on different aspects of community recovery and resilience as part of HUD's Office of Policy Development and Research's (PD&R) quarterly update. The panelists — Michael Cohen, Kathleen Tierney, and Daniel Wallach — represent the various institutional players involved in disaster resilience work, such as private insurers, academia, and nonprofits. "In some ways, resilience is another attribute of a place," says Tregoning. The term refers to the ability of a community to bounce back from not just natural disasters but any kind of stress or shock, and quantifying the benefits of increased adaptive capacity is one way to encourage investment in resilience building efforts before disasters occur. Calling Hurricane Sandy a "real wake-up call" for action, Tregoning invited the panelists to discuss how considerations about risks and vulnerabilities are affecting governments, businesses, and individuals in thinking about and planning for the future.
Michael Cohen, Vice president of Government Affairs at RenaissanceRe
Kathleen Tierney, Director of the University of Colorado at Boulder's Natural Hazards Center
Daniel Wallach, Executive director of Greensburg GreenTown
×
Escalating Costs
Over the past 50 years, the number of presidential disaster declarations and federal spending on disaster relief has risen considerably. Although insurance companies cover some disaster losses, the federal government finances most rebuilding and recovery efforts. For example, Congress appropriated $50 billion for Hurricane Sandy relief while the insurance industry paid roughly $25 billion. This escalation of federal spending is not only unsustainable, says Cohen, but also acts as a disincentive for individuals to purchase insurance coverage. Insurance plays an important role in protecting individuals and businesses from financial hardships following disasters. Insurance and reinsurance companies — reinsurance refers to "insurance for insurance companies" and helps primary insurers cover large-scale losses that result from major disasters — alleviate costs by spreading the risk. Cohen, who works in the reinsurance industry, notes that risk-based pricing of insurance can increase consumer awareness of disaster vulnerability and encourage mitigation efforts, which can substantially reduce damage and, consequently, federal expenditures. A 2005 study quantifying the cost effectiveness of Federal Emergency Management Agency grants found that "every dollar of hazard mitigation expenditures potentially saves the federal treasury $3.65 of future discounted expenditures or lost taxes."
A Shift in Thinking
Disaster recovery is no longer about simply restoring a community to its pre-disaster condition. The new way of thinking, says Tierney, is that recovery "begins during the disaster response process itself — and sometimes even before" and that it "should involve a shift to a new normal and enhanced adaptive capacity." Disaster recovery, notes Tierney, is a complex, multidimensional process where outcomes are affected by such issues as a community's existing physical, social, and economic vulnerabilities; ability to access and allocate resources across multiple sectors; and the availability of social capital and networks. Pre-disaster planning and efforts that strengthen these factors can increase adaptive capacity and resilience, which in turn help communities recover from disasters more quickly and better cope with future stresses. One way to improve community resilience is to adopt mitigation measures to lessen the risk to life and property that disasters pose.
Mitigation
There are several mitigation strategies that the public and private sectors can implement to protect communities. Land use policies that limit or regulate development in hazard-prone areas, building code adoption and enforcement, and preservation of environmental features such as wetlands and coastal habitats are some of the tools available to local governments. Private organizations, particularly insurance companies, can promote mitigation by incentivizing mitigation activities and disseminating research on their benefits. Cohen notes that homeowners and businesses can construct stronger buildings to reduce damage; for example, tests performed at the Insurance Institute for Business & Home Safety Research Center show that manufactured homes sustain less damage from hurricane-force winds when the homes' attached carports are constructed to higher building code standards. Other nonregulatory mitigation efforts involve educating homeowners and businesses about disaster vulnerability. Informing a potential homebuyer if the home is located in a hazard-prone area and disclosing past disasters, either during the home inspection or at the point of sale, can raise awareness, says Tierney.
Rebuilding Post Disaster
The post-disaster phase offers opportunities for change and sustainable redevelopment. San Francisco is an example of a community "building better" instead of "building back" after a disaster. Rather than reconstruct freeways damaged during the 1989 Loma Prieta earthquake, the city chose to replace them with wide, tree-lined boulevards, transforming the affected neighborhoods and opening up the city's waterfront to redevelopment. After being destroyed by an EF-5 tornado, the town of Greensburg, Kansas reemerged as a model of sustainable development. In the days following the disaster, Greensburg leaders and residents came together to create a new vision for their town focused on green building principles. Partnering with the U.S. Department of Energy's National Renewable Energy Laboratory, Greensburg set energy-efficiency targets and adopted an ordinance requiring all large city-owned buildings to be designed to U.S. Green Building Council's Leadership in Energy and Environmental Design (LEED®) Platinum rating. Today, the town has more LEED buildings per capita than any other community in the nation.
Redevelopment decisions in the immediate aftermath of a disaster are usually made under intense pressure, and, in attempting to rebuild quickly, communities often overlook the need for extensive deliberation on the long-term impact of those decisions, says Tierney. Wallach, who played a vital role in the reimagining of Greensburg, says that providing emotional support and reliable and relevant information to affected residents is key to increasing public confidence and making long-term decisions. This information is better received if it comes from within the affected community or from people who have been through disasters themselves. Cohen recommends having a redevelopment plan in place that details construction requirements that go into effect after a disaster so residents know how to rebuild. Rebuilding plans, the panelists agree, should also take into account the needs of low-income residents who often are disproportionately affected by disasters and either lack or cannot access resources to prepare for and rebound from such events.
Learn more about increasing community capacity for resilience by viewing the webcast of the panel discussion and watch for PD&R's upcoming Winter 2015 issue of Evidence Matters, which includes a broader discussion of federal disaster policy and an in-depth look at San Francisco and Greensburg as community models of recovery and resilience.