Understanding the Challenges and Solutions to Aging in Place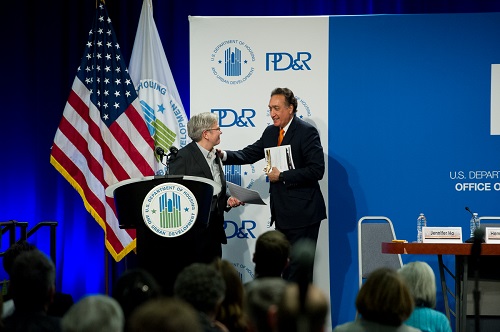 Jennifer Ho, Senior Advisor on Housing and Services in the Office of the Secretary, introduces Henry Cisneros, Executive Chairman of CityView and former Secretary of HUD. Over the next 40 years, the population of Americans over age 65 is expected to double from 40 to 80 million, and the population over age 85 is expected to more than triple from 6 to 20 million. Complicating these demographic trends is the desire of most elderly Americans to "age in place," or stay in their own homes and communities as they age. On January 9, 2013, HUD's Office of Policy Development and Research convened a panel of experts to discuss these looming demographic changes, their implications for American society, and models that enable elderly Americans to access the services necessary to successfully age in place.
An important context for the discussion was provided by panelist and former HUD Secretary Henry Cisneros, who, like many Americans, approaches the subject through the lens of his own experiences with his parents. "My mother is 89 years old and lives in the home she and my dad bought 2 years before I was born," said Cisneros. After some time spent in a nursing facility, his mother's return home was accompanied by an "almost a palpable expression of peace and joy as she walked through the house." For most Americans, the prospect of aging in place is not an esoteric policy discussion; instead, it strikes an intensely personal chord, touching on life, death, and the importance of family. Given the visceral connection most of us have to our homes and communities, institutions at the local, state, and the federal levels must tackle the challenges of our nation's aging population and develop solutions that permit people to comfortably age in place.
Obstacles to Aging in Place
Although most Americans want to age in place, the reality, according to U.S. Department of Health and Human Services senior policy analyst James Toews, is that too many individuals enter long-term care institutions unnecessarily or prematurely. Homes and communities frequently are not designed to address the needs of seniors. Many seniors need assistance performing activities of daily living and live in environments that do not accommodate their functional limitations.
Following a catastrophic health event, 25 percent of elderly Americans who temporarily enter a nursing home will find it too difficult to leave. Toews identifies caregiver burnout as one of the primary barriers to aging at home — in the United States, family members provide about 85 percent of all caregiving. These family members may be unable or ill-equipped to provide the complex medical procedures their elderly relatives need, and the medical community offers them little support. In fact, this lack of support is a more significant factor in caregiver burnout than the complexity of the procedures.
How and where caregiving is provided presents significant policy challenges for HUD. Alisha Sanders, senior policy researcher at the LeadingAge Center for Applied Research, says that about 2 million seniors are currently living in some type of HUD-sponsored subsidized housing. That population, although racially and ethnically diverse, is also poor and aging, and its members have a number of cognitive and functional limitations. Individuals are entering HUD-funded senior housing at advanced ages and living in their units longer. These residents have about twice the prevalence of disabilities as their homeowner counterparts do. About one-quarter of seniors living in publicly assisted housing suffer from anxiety, depression, or other mental health issues, and one-third have difficulty with routine activities.
Despite these challenges, Sanders believes that a combination of forces — fair housing rules, changing demographics, the desire to age in place, and a rebalancing of state priorities to allow residents to avoid nursing homes — have created the "potential synergies to advance new models and strategies to allow people to remain in their own communities."
Serving the Needs of Seniors in Their Homes and Communities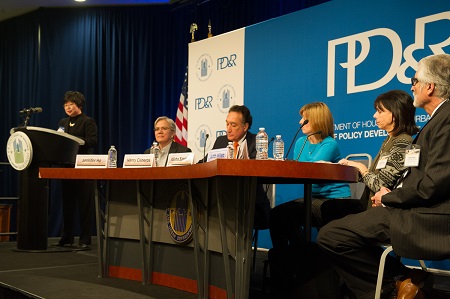 Introductory remarks by Jean Lin Pao with the Visions for Aging in Place panelists (left to right): Jennifer Ho (moderator), Henry Cisneros, Alisha Sanders, Judith Willett, and James Toews. According to Cisneros, many people are struggling to live in homes that have not been modified to accommodate their limitations. He believes that by retrofitting and redesigning our homes and communities, seniors can more easily age in place. Homes should eliminate physical barriers to mobility by adopting zero-step entryways and wider hallways. Other simple changes include proper lighting with contrasting colors to indicate floor level changes, kitchen and bathroom fixtures that are lower in height, and simple instructions posted on appliances. Drawing inspiration from the success of state and federal weatherization programs that increased the energy efficiency of homes, Cisneros proposed a national effort to retrofit existing homes through minor modifications to serve the needs of seniors.
Cisneros also believes that by adopting smart growth and New Urbanist principles, we can develop communities that incorporate seniors rather than isolating them. Physical and programming solutions that reduce transportation limitations can overcome auto dependency, one of the biggest obstacles to aging in place. Judith Willett, national director of the Village to Village network, an organization that promotes the Village model, says that transportation is the most popular and requested service Village volunteers provide. Villages are member-created nonprofit organizations that deliver services to seniors through virtual communities. Villages work on three components: concierge services, assistance in living, and community building. Instead of duplicating the work of existing service providers, Villages act as facilitators, negotiating lower prices for services, vetting service providers, and organizing outings for Village members. Through these activities, Villages help to satisfy, in the words of Willet, our "craving [for] community and companionship that decrease isolation and give meaning to our lives."
While reducing physical barriers enables many seniors to age in place, some still require additional services. For seniors who need more assistance, Vermont's Support and Services at Home (SASH) model brings healthcare to seniors where they live. SASH is a care coordination model that uses housing as a platform for services, although it is not assisted living. An interdisciplinary team of housing staff and health workers coordinates care for residents. Participants receive a comprehensive health assessment and individualized living plans. These individual plans are used to identify common issues in the senior population and create a community-wide healthy living plan. A preliminary analysis of the program has shown that SASH is able to slow the rate of growth of health care costs.
Return on Investment
Aging in place not only is preferred by most Americans but also makes economic sense. Communities that facilitate a variety of choices, whether services, transportation, or housing, enable seniors to stay in their communities longer and compress end-of-life morbidity. Connecting seniors to services outside of an institutional setting may also be more cost effective than caring for them in nursing homes. Efforts and programs that promote aging in place can increase seniors' quality of life, ease burdens on family members, and pay enormous societal dividends.
For more information on aging in place, please see the Fall 2013 issue of Evidence Matters.
To view an archived copy of the webcast, click here.