Working Toward Sustainable Construction in Indian Country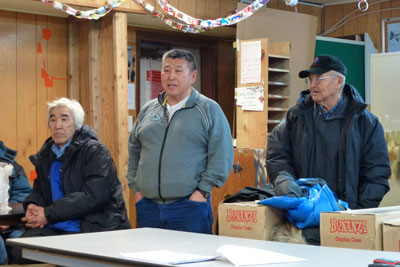 Tribal president, John Mark, announces the decision to pursue development of sustainable home designs for construction of five homes in Kwinhagak.
Since its establishment in 1965, HUD has played an important role in improving housing American Indian and Alaska Native (AIAN) communities. The passage of the Native American Housing Assistance of Self-Determination Act of 1996 (NAHASDA) signaled a new era in HUD's relationship with the 566 federally recognized tribal nations. This legislation, which affirmed tribal self-governance, provides funding directly to Indian tribes and Alaska Native villages or their tribally designated housing entities (TDHEs) for housing, self-sufficiency, and safety activities and lessened federal involvement in tribal decision-making. NAHASDA opens the door for tribes to develop housing models that are more culturally relevant, healthy, affordable, innovative, and sustainable than ever before.
HUD launched an initiative in September 2011 to encourage and increase sustainable construction in Indian country (SCinIC). Through a partnership between HUD's Office of Policy Development and Research (PD&R) and the Office of Native American Programs (ONAP), the initiative examines the state of sustainable construction in native communities and the challenges associated with its practice. It also provides technical assistance and case studies to promote replication of promising practices.
To kick off the effort, participants at the 2011 HUD Greener Homes Summit met to identify impediments to sustainable construction in native communities. A few core obstacles emerged: building codes, costs and funding, capacity building, and planning. As other communities with constrained resources have experienced, these obstacles can have significant and linked effects. To illustrate the interdependence of these effects, one needs only to review the seemingly discrete obstacle of building codes.
Tribes have the power to adopt or adapt the building codes of surrounding jurisdictions or draft their own. Building codes are integral to encouraging sustainable construction practices in all communities. Whether tribes start from scratch or adopt preexisting codes, however, establishing building codes requires substantial time and energy. Outlining codes is a nuanced art of balancing the requirements to maintain safety with the flexibility to control investment levels and construction costs. However, the addition of rich tribal traditions and a focus on sustainable construction adds a level of complexity that can make the task of developing an effective set of codes daunting. In an arena that is constantly innovating, keeping pace with culturally appropriate and sustainable technologies and practices can be difficult even with the help of a full staff and some expertise. Many AIAN communities face resource constraints including inconsistency in funding and capacity, which can make building code outcomes piecemeal at best. (For more information, see the draft report, which also discusses other impediments to sustainable construction and several proposed solutions.)
To further understand the landscape of sustainable construction in native communities, PD&R's then-Assistant Secretary, Dr. Raphael Bostic, reached out to both tribes and TDHEs seeking demonstration projects. The responses collected from tribes interested in having their projects selected as demonstrations or in receiving the SCinIC team's technical assistance provided a snapshot of exciting sustainable construction projects already taking place in AIAN communities as well as an indication of where technical assistance was needed.
The demonstration projects include examples from each of ONAP's six regions and highlight a mix of housing types, target residents, project scales, and project stages (in progress or completed) as well as a range of construction types and practices. This diversity provides other tribal nations with detailed, tangible examples of sustainable construction practices.
Projects highlighted by the SCinIC initiative range from Alaska and the Pacific Northwest to the upper Midwest and southwestern Arizona. One example of sustainable construction comes from the Great Lakes region and the Pokagon Band of Potawatomi Indians. In 2002, the Pokagon began their sustainable housing and community efforts with a culture-based, clustered development scheme that considered elements such as stormwater management, streets, sidewalks, and landscaping in addition to topographic conditions. Since then, the tribe has initiated similar visioning processes with two other housing developments, constructed a community center to LEED Gold standards, and has entered the next stage of development in Dowagiac, Michigan. The SCinIC team attended two community design charrettes led by the Conservation Design Forum that offered valuable insights into the priorities and concerns facing the Pokagon. Guided by these insights, and building on the strength of the existing infrastructure in Dowagiac, the SCinIC team offered solutions to incorporate additional energy efficiency, daylighting, and ventilation features into housing designs.
The SCinIC team's role and participation in communities is concentrated primarily on housing. The teams do, however, offer more than simply recommendations to increase the energy efficiency or sustainability of the physical structure. Recommendations may also extend to consider the relationship of the unit to larger site, to the neighborhood, and to the tribal nation. As such, the different techniques SCinIC teams review and recommend for these tribes underscore an innate feature of sustainable construction and design: site specificity. The approaches that are appropriate and sustainable for any given site will vary depending on climatic and topographic conditions.
In keeping with NAHASDA's renewed recognition of tribal sovereignty, this initiative is working with tribes to develop sustainable housing models and community plans that represent tribal cultural priorities and to provide technical assistance that will enhance the expertise of AIAN communities to develop their own sustainable housing communities.