Wyoming's First LEED Gold-Certified Affordable Multifamily Housing Development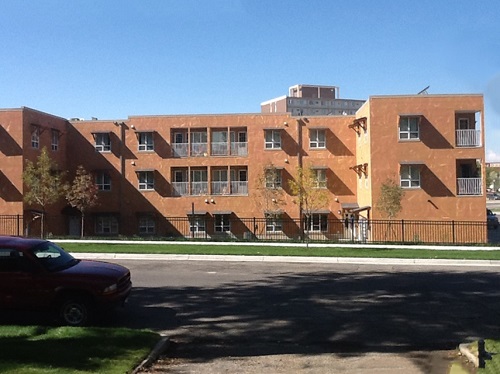 Constructed on the site of the former KC Apartments, Sunshine I offers 18 two-bedroom units affordable to households earning up to 50 percent of area median income. Image courtesy of Grimshaw Investments. In 2009, KC Apartments, a multifamily rental complex located adjacent to downtown Casper, Wyoming, was condemned by the city for numerous health and safety violations. The Casper Police Department had also identified the property as a high-crime area. Stephen and Polly Grimshaw of Grimshaw Investments, however, saw the troubled apartment complex as an ideal candidate for redevelopment into new, energy-efficient affordable housing near downtown Casper's amenities. Completed in late 2012, Grimshaw's development, the 44-unit Sunshine Apartments, is the first Leadership in Energy and Environmental Design (LEED) Gold-certified multifamily housing in the state, and the Wyoming Community Development Authority (WCDA) considers it a blueprint for building green, affordable housing.
Salvaging Materials
To reduce waste during the demolition and construction phases, Grimshaw chose to diligently recover and reuse salvageable materials. Because the 2-story building contained large amounts of concrete and masonry, the developer was able to recycle approximately 83 percent of the demolition debris from the old apartments as well as additional construction debris from the new buildings. Some of the recycled materials from KC Apartments were used in the new buildings, and the remainder was donated or sold to offset demolition costs.
Convenient, Energy-Efficient, Affordable Housing
Sunshine Apartments provides affordable, energy-efficient housing for households earning up to 50 percent of the area median income. Sunshine I, the first phase of the development, includes 18 two-bedroom units ranging from 840 to 958 square feet. Sunshine II, located one block west, features 26 1-bedroom units, all of which are 690 square feet. Two of the units in Sunshine I and 10 of the units in Sunshine II, all located on the ground floor of the buildings, are fully accessible in accordance with the Americans with Disabilities Act.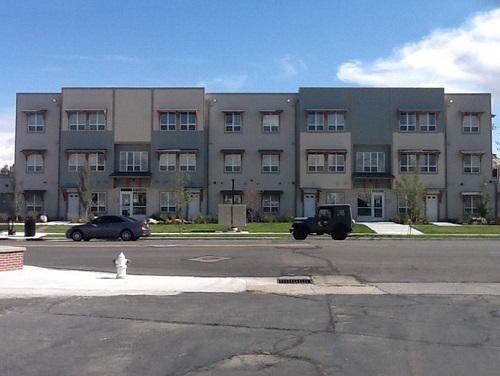 Sunshine II, located on a formerly vacant parcel a block west of the first phase of Sunshine Apartments, features 26 one-bedroom units. Image courtesy of Grimshaw Investments. Grimshaw incorporated several energy- and water-efficiency measures into both buildings to help the development obtain LEED Gold certification. Each apartment features ENERGY STAR® washers, dryers, dishwashers, disposals, microwaves, stoves, and refrigerators. Programmable thermostats, energy-efficient lighting, and tankless water heaters also promote energy conservation. In addition, solar panels supply energy for the common areas. Water-efficient features include low-flow shower heads and toilets and a roof design that allows rainwater to be collected and used to irrigate the landscaping.
To maintain healthy indoor air quality, both buildings have efficient air exchange systems that remove pollutants and odors and bring in fresh air from outside the buildings. Throughout the buildings, Grimshaw used materials low in volatile organic compounds, carbon-containing compounds with adverse health effects.
Located adjacent to downtown Casper, Sunshine Apartments provides residents with easy pedestrian access to restaurants, shopping, and employment opportunities, and both phases are located within a few blocks of a transfer station for the regional bus system. The development's accessible location enhances its sustainability and greatly contributes to both its LEED Gold certification and its high Walk Score rating of over 89 for both phases.
With help from the nearby Nicolaysen Art Museum, Sunshine II also incorporated a public art piece, "A Confluence of Time and Place," to provide an aesthetically pleasing public space and draw people to downtown Casper. In addition, students in Natrona County's schools created artwork for both buildings' common areas.
Funding
Because the property was in an area with high foreclosure activity, WCDA approved a combination of Neighborhood Stabilization Program 1 and 3 funds for Sunshine Apartments. WCDA allocated almost $4.5 million to Sunshine I, which covered the purchase and demolition of KC Apartments and the construction of the new units. Sunshine II received more than $3.7 million for land acquisition and construction.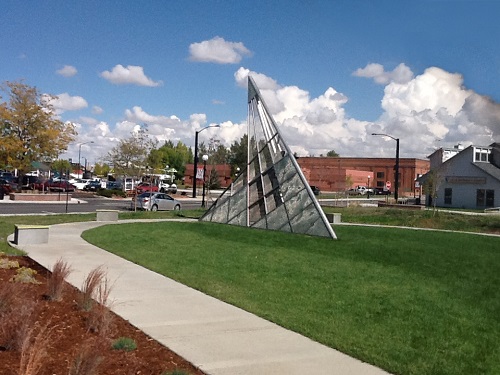 The city, WCDA, and several foundations donated funds and services to support "A Confluence of Time and Place," the public art piece adjacent to Sunshine II. Image courtesy of Grimshaw Investments. To support the project, the city also provided $1.63 million in in-kind services and fee reductions for utility relocation and improvements in electricity, lighting, streets, irrigation, and landscaping. Funding for the public art piece included a $50,000 grant from the National Endowment for the Arts, a $10,000 grant from the Wyoming Arts Council, and $33,250 from the McMurry Foundation; WCDA also contributed $10,000 and, with the city, in-kind services valued at $50,000.
A Pilot for Green, Affordable Housing
Sunshine Apartments leased quickly, with many units filled as soon as they received certificates of occupancy. Stephen Grimshaw notes that several of the development's green features, such as the building's 8-inch-thick insulation, have resulted in reduced energy costs. Utility data are being collected to determine the cost effectiveness and energy efficiency of the development's green features compared with the Grimshaw's other Casper projects that do not have these components. According to Gayle Brownlee, director of federal programs at WCDA, the state will consider incorporating the most effective features into the requirements for the state's low-income housing tax credit program.