Green Rehabilitation Updates Supportive Housing in Berkeley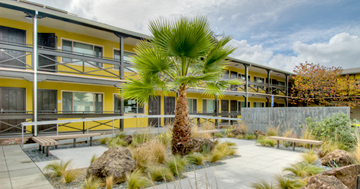 The rehabilitation of Erna P. Harris Court includes many improvements identified by the Green Physical Needs Assessment. Photo Courtesy of Treve Johnson PhotographyRehabilitation of aging, low-income housing is of critical importance in high-cost areas with a limited supply of affordable housing. Incorporating green building features in such rehabilitation projects not only ensures long-term preservation of housing units but also generates economic and health benefits for occupants. The city of Berkeley, California's Erna P. Harris Court complex is an example of an older supportive housing project that underwent an extensive green rehabilitation to enhance longevity of the property and improve the quality of life for its low-income residents. With an overall cost of living that is 66 percent higher than the national average, California's Bay Area has become emblematic of the affordable housing crisis across the nation. And Berkeley is no exception — 65 percent of renters in the city pay 30 percent or more of their income for housing. The high costs of land, materials, and labor are major barriers to developing new affordable housing in Berkeley, which makes preservation of existing projects such as the Harris Court crucial.
A Comprehensive Green Upgrade
Initially a motel built in the 1950s, Erna P. Harris Court was purchased by Resources for Community Development (RCD) in 1994 and remodeled to provide HUD-subsidized, supportive housing for formerly homeless and disabled adults in Berkeley's University Avenue neighborhood.1 2 Consisting of 35 units (25 single room occupancies and 10 one-bedrooms), the complex serves residents with incomes at or below 50 percent of the area median income. Intensive case management, mental health and group counseling, and employment assistance are among the supportive services provided to residents.
Construction delays and budget constraints limited the initial rehab to addressing only the most severe deficiencies. Problems remained, such as poor drainage and ventilation issues with outdated and inefficient windows. Nearly 15 years after its purchase by RCD, the time had come to comprehensively upgrade Erna P. Harris Court.
Through a partnership with the Local Initiatives Support Coalition (LISC), RCD conducted a Green Physical Needs Assessment for the complex, in addition to a conventional Physical Needs Assessment (PNA). These needs assessments identify a property's repair needs and include cost estimates for maintenance and replacement of the various physical components of a building; often required by lenders. Conventional PNAs, required prior to rehabilitating any HUD-assisted property, do not typically include energy audits and primarily focus on capital costs, with operating costs rarely taken into account. In contrast, a Green PNA addresses potential savings in operating costs due to energy and water efficiency improvements, as well as other sustainability features. Green PNA considerations often include mechanical systems in relation to the building envelope, siting considerations, integrated pest management, moisture issues, and interior air quality. "A Green PNA is going to look at all the systems, the indoor air quality, how you're using energy and water so you can take those things into account when you're developing a scope of work," said Carolyn Bookhart, a project manager at RCD.
The Green PNA for Harris Court included many of the features that were part of the renovation, such as fans with humidistats in bathrooms to prevent mold, low- or no-off-gassing finish materials, and linoleum tiles in place of carpeting. Energy Star® appliances and windows and hydronic radiant heating systems intended to reduce utility costs, comprehensive drainage and waterproofing measures, and landscaping with drought tolerant plant species were also part of the green upgrades.
3
Financing the nearly $7 million project was a challenge. Both Bookhart and the project's financial consultant, Meg McGraw-Scherer of the California Housing Partnership Corporation (CHPC), cited the critical importance of American Recovery and Reinvestment Act (AARA) funding to the project. According to McGraw-Scherer, if ARRA funding had not been available, RCD may have been able to complete a minor rehabilitation project, but not the comprehensive green building upgrades. Erna P. Harris Court's status as supportive housing gave the project preference in securing critical ARRA Tax Credit Assistance Program funds, which amounted to nearly half of total project cost.
The green renovation of Erna P. Harris Court provides a potential template for rehabilitation of older affordable housing projects and illustrates the advantage of conducting a comprehensive green PNA. The property now has sufficient durability and efficiency upgrades to last for another 20–30 years. While cost savings from improvements to Harris Court have yet to be quantified, RCD anticipates substantial reductions in energy usage. A grant from Enterprise Community Partners will allow for an analysis of pre- and post-rehabilitation utility expenses to gauge the financial benefits of the enhancements.