Bringing Solar Energy to Underserved Communities in Massachusetts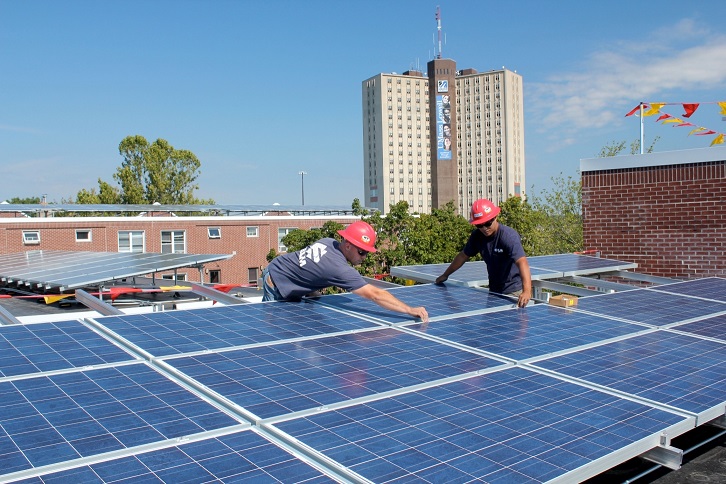 The rooftop solar panel system at North Canal Apartments in Lowell is helping to stabilize operating costs and support renewable energy development in low-income communities. Image courtesy of Marcia Cassidy Communications. Over the past several years, solar power has grown sharply in popularity among U.S. consumers, who are turning to renewable energy to stabilize their utility costs. Data from the United States Energy Information Administration show that the nation's solar generating capacity increased by more than 400 percent between 2010 and 2014. Building on this interest in solar technology, President Obama recently announced a series of commitments and executive actions that will foster public- and private-sector investments in solar energy.
Even though harnessing solar energy could help stabilize and even reduce their operating costs, many affordable housing providers and other nonprofit organizations serving low-income communities fail to adopt the technology. The upfront investment in solar technology is often prohibitive, and most nonprofits are not able to capture the tax benefits that help make solar power financially feasible.
Filling a Market Need
In 2008, Boston Community Capital (BCC) developed a program to bring solar power to organizations serving low-income individuals and communities. Through its private affiliate, Solar Energy Advantage (BCC SEA), BCC develops, owns, and operates photovoltaic projects on the properties of "host customers" — affordable housing providers and other for- and nonprofit entities. Through power purchase agreements (PPAs), the host customer agrees to purchase the electricity BCC SEA generates onsite for a predetermined period, and in exchange, BCC SEA charges the host customer a fixed rate. BCC SEA combines revenue from the host customer with tax incentives and other revenue streams to make the project financially feasible.
For the host customer, this model of solar development requires minimal capital investment and insulates the organization from rate increases from the local electric utility. This stability is particularly important in Massachusetts, a state with some of the highest electricity rates in the country, as well as volatile natural gas prices.
Of the 30 solar projects BCC SEA has developed in the state, two-thirds are sited on affordable housing developments. Each of these rooftop systems is substantial, ranging from 34 kilowatts (kW) to 391 kW. According to Dewitt Jones, president of BCC SEA, the electricity these systems generate typically meets almost all of the energy demand for the housing developments' common areas, helping the housing providers keep their utility costs stable.
Developing a viable roof-mounted project depends on a variety of factors working together. The roof must be of adequate size relative to the building's interior space and the energy demands of that space. The roof must also have sufficient solar exposure to generate enough electricity to warrant the investment in a photovoltaic system. In addition, the roof must be in suitable condition to support an array of panels, which may entail significant costs to achieve. For example, in 2011 BCC SEA completed a solar panel system at North Canal Apartments, an affordable housing development in the city of Lowell consisting of 267 apartments in 27 buildings. With large roof areas and adequate solar exposure on the buildings, the property owner, Coalition for a Better Acre, could finance the purchase and installation of an extensive photovoltaic system. However, the owner faced additional costs to upgrade several roofs so they could support solar panels, for which NeighborWorks America provided a grant.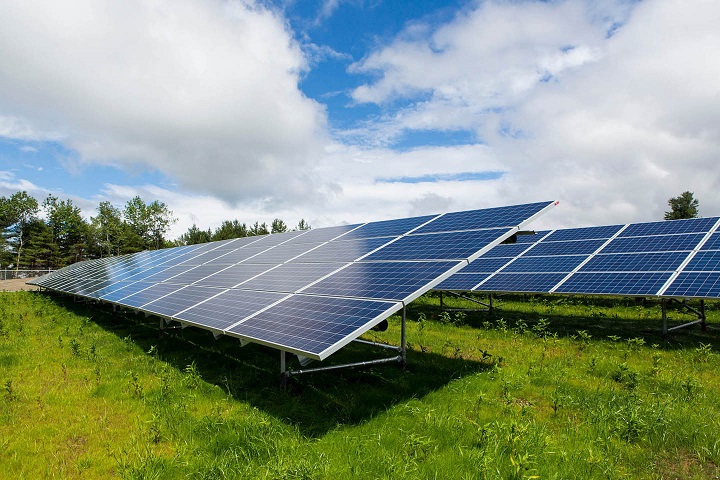 The nearly 1-megawatt project in Gardner, occupying a remediated brownfield site, provides electricity to affordable housing developments, a nonprofit organization, and an area business. Image courtesy of Marilyn Humphries Photography. With these technical and cost considerations in mind, BCC SEA has been working to extend solar energy to customers for whom onsite development is not economically feasible. In early summer 2014, BCC SEA developed a 986 kW ground mounted system in the city of Gardner. Totaling approximately 3,300 panels, the project is located on a formerly vacant, remediated brownfield site and will provide electricity to housing providers, a nonprofit organization, and area businesses. BCC SEA anticipates that this project and its competitive PPA rates will save customers thousands of dollars in the first year and create long-term price stability —while turning a vacant property back to productive use.
Creating a Sustainable Financing Model
As a community development financial institution, BCC has used its existing loan fund and equity investments to finance projects through BCC SEA and create a sustainable financing model for solar development in low-income communities. In its most recent round of projects, consisting of $7.5 million in investments, BCC combined a loan from its Community Loan Fund with new market tax credit equity to finance 8 projects totaling more than 1.5 megawatts — enough capacity to supply electricity to more than 300 homes. BCC has also used its extensive experience in community development to understand the needs and capacity of its partner organizations. "BCC was great to work with because they understand community development corporations, nonprofits, and affordable housing. . . . They knew where we were coming from, spoke our language, and understood our property management goals," explains Madeline Nash, director of real estate for the Coalition for a Better Acre.
Over the past 5 years, BCC SEA has installed 17,600 solar panels across Massachusetts totaling 4 megawatts of solar capacity, which has reduced carbon dioxide emissions by more than 3,000 tons annually. The White House recently recognized BCC's efforts to bring renewable energy to low-income communities by honoring BCC chief executive officer Elyse Cherry as a Solar Deployment Champion of Change. As part of its commitment to solar development and as part of a larger commitment from hundreds of organizations nationwide, BCC plans to double its solar capacity in the coming years.