Join HUD's Office of Policy Development and Research on January 12 for a thought-provoking discussion exploring how HUD's policies have evolved over the last 50 years and what direction they may take going forward. Following an update on U.S. housing market conditions, this Quarterly Update will delve into the key themes explored in HUD at 50: Creating Pathways to Opportunity, PD&R's recently released publication that commemorates HUD's 50th anniversary.
In the first of two moderated discussions, several of the book's authors will cover a range of topics addressed in the book including HUD's treatment of race and poverty; the rise, fall, and rebirth of cities; and how HUD's work serves vulnerable populations. Then a second panel featuring HUD senior leadership will respond with what they, HUD's thought leaders, expect will be the department's focus in the future.
We invite you to participate in the event in person, via webcast or social media by following @HUDUSERnews and @PDRevents. We'll be tagging our updates with #HUDat50.
Opening Remarks
Lynn M. Ross, Deputy Assistant Secretary for Policy Development
Update on U.S. Housing Market Conditions
Kevin Kane, Chief Market Analyst, Policy Development and Research
Discussion: The Evolution of HUD's Policies and Programs
Erika Poethig, Institute Fellow and Director of Urban Policy Initiatives at the Urban Institute, Moderator
Raphael Bostic, Judith and John Bedrosian Chair in Governance and the Public Enterprise at the University of Southern California's Price School of Public Policy
Ingrid Gould Ellen, Paulette Goddard Professor of Urban Policy and Planning at NYU's Robert F. Wagner Graduate School of Public Service and Faculty Director of the NYU Furman Center
Margery Turner, Senior Vice President for Program Planning and Management at the Urban Institute
Discussion: A Look at HUD's Future Direction
Katherine O'Regan, Assistant Secretary for Policy Development and Research, Moderator
Lourdes M. Castro Ramirez, Principal Deputy Assistant Secretary for Public and Indian Housing
Edward L. Golding, Principal Deputy Assistant Secretary for Housing — FHA Commissioner
Harriet Tregoning, Principal Deputy Assistant Secretary for Community Planning and Development
Gustavo Velasquez, Assistant Secretary for Fair Housing and Equal Opportunity
Additional Information

Tuesday, January 12, 2016
2:00 PM - 4:30 PM
Brooke-Mondale Auditorium
HUD Headquarters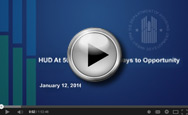 View the Webcast
PD&R Quarterly Update
01/20/2016