Children spend a majority of their time in their homes, an environment that can be either support or pose a threat to their health, safety, and quality of life. Research shows that homes built and managed using green building methods can improve the health of residents, and multifaceted interventions in existing housing can be effective in improving children's health by reducing exposure to asthma triggers, lead-based paint hazards, etc. Our panel of researchers and practitioners will discuss how green public housing can support resident health and how interventions conducted by community health workers improve the health of children with asthma living in public housing. The discussion will also highlight a successful model of partnering and braiding of funds to create healthy homes for low-income households.
Join HUD's Office of Policy Development and Research on July 26, 2016 for a lively conversation on current efforts to promote healthy environments that encourage healthy development in children.
Opening Remarks
Matt Ammon, General Deputy Assistant Secretary for Policy Development and Research
Update on U.S. Housing Market Conditions
Kevin Kane, Chief Housing Market Analyst, Economic Market Analysis Division
Discussion: Child Well-Being and Healthy Homes
Matt Ammon, General Deputy Assistant Secretary for Policy Development and Research, Moderator
Felicia Rabito, Associate Professor, Department of Epidemiology, Tulane University School of Public Health and Tropical Medicine
Margaret Reid RN, MPA, Director, Division of Healthy Homes and Community Supports, Boston Public Health Commission
Clifford Mitchell, MD, MPH, Environmental Health Bureau, Prevention and Health Promotion Administration, Maryland Department of Health and Mental Hygiene
Randy Jepperson, Housing Manager, Salt Lake County Community Resources and Development
Additional Information

Tuesday, July 26, 2016
2:00 p.m. – 4:30 p.m.
HUD Headquarters
Brooke-Mondale Auditorium

The Registration is closed.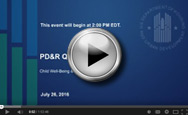 View the Webcast
PD&R Quarterly Update
07/26/2016