Assessment Tools for Allocating Homelessness Assistance: State of the Evidence
Release Date:
February 2015 (11 pages)
Posted Date:
February 2, 2015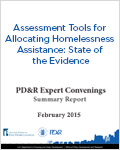 On November 5, 2014, HUD's Office of Policy Development and Research, in partnership with the National Alliance to End Homelessness (the Alliance), convened a panel of experts to discuss assessment tools that communities are using to allocate homeless assistance and to consider the evidence base for the questions used in the tools. A strong tool would be reliable (produce consistent results) and have validity (measure what it claims to measure) so that stakeholders could have faith in the instrument, and it would have predictive value. For the purposes of this discussion, the Vulnerability Index — Service Prioritization Decision Assistance Tool (VI-SPDAT), the Alliance Comprehensive Assessment tool, and the Hennepin County Eligibility Criteria and Rating Tool and Vulnerability Index were provided to the experts as examples of tools currently being used by communities. The tools are evidence informed, but because they are still relatively new, the evidence base is limited.