Home > About > Organizational Charts > Office/Division Descriptions > Heidi J. Joseph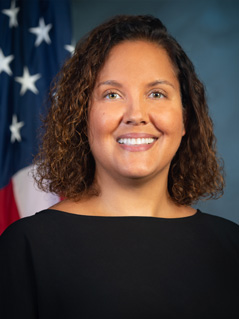 Heidi J. Joseph
Heidi Joseph is the Director of the Research Utilization Division (RUD) of the Office of Policy Development and Research (PD&R) at the U.S. Department of Housing and Urban Development. As the Director of RUD, Ms. Joseph works with her team to ensure that PD&R's research and data are available to a wide audience. Through dissemination via the HUD User website, social media, events, and awards programs, RUD helps to translate PD&R's work to housing professionals, members of Congress and their staff, state and local housing policymakers, planners, researchers, housing advocacy organizations, and housing industry groups.
Prior to working at HUD, Ms. Joseph was a community-based education developer in the Peace Corps, living and working in Zambia's Southern Province. She then attended law school, focusing on international human rights and spending a semester working at the South African Human Rights Commission. After graduating from law school, she joined HUD as a Presidential Management Fellow, working in public housing and Native American programs before joining PD&R in 2016.
Ms. Joseph earned a Bachelor of Arts in Psychological and Brain Sciences at the Johns Hopkins University and a Juris Doctor from the University of Michigan Law School.