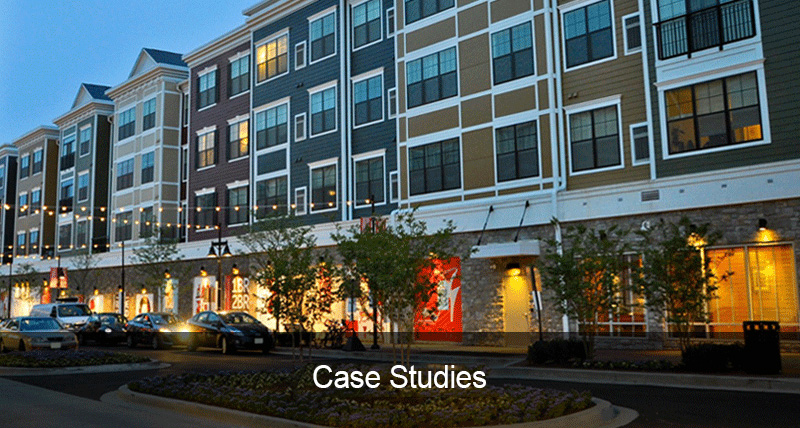 Home > Case Studies > Portland, Oregon: Living Smart Program
Portland, Oregon:
Living Smart Program
Portland, the most populous city in the state of Oregon, is known for its proactive land use planning and growth management policies. In 1973, Oregon adopted legislation requiring its cities and metropolitan areas to limit development by establishing urban growth boundaries (UGBs). In keeping with statewide planning goals, the Portland metropolitan area established its UGB in 1979. As Portland's population grew to more than a half-million residents by 2000 (a 44-percent increase from 1980), demand for new housing combined with limited availability of land led to the development of single-family homes on narrow, infill lots. These narrow-lot homes provided affordable housing options for many of the city's low- and median-income families as well as first-time homebuyers. However, because these homes were architecturally incompatible with existing neighborhood residences, community opposition to their development grew. To address neighborhood concerns and ensure an adequate supply of affordable single-family homes, Portland initiated the Living Smart Program in 2004. The city's efforts resulted in permit-ready, high-quality designs for "skinny-lot" houses on small, infill lots.
Skinny Lots in the City of Roses
In the early 1900s, before Portland had adopted a municipal code, large areas of land in the city were platted as long, narrow lots measuring 25 to 33 feet wide and 100 feet deep. Most single-family homes, however, were built at a density of one house for every two or three skinny lots combined. Even after the city started regulating lot sizes in 1945, home construction was permitted on the narrow lots, which were later zoned R-5 or R-7 with maximum allowable densities of one unit per 5,000 or 7,000 square feet, respectively. In 1981, the city amended its zoning code to conform to its first Comprehensive Plan, which was adopted a year earlier. As part of the amendment, new housing development on the 25-foot-wide lots was prohibited. The building moratorium remained in effect until 1991, when Portland revised its zoning code again to allow residential development on these narrow, infill lots.
Responding to a growing demand for housing, compounded by a scarcity of land suitable for development, builders turned to the skinny lots — in some cases, existing houses straddling two 25-foot wide lots were demolished to be replaced with architecturally questionable, narrow houses dominated by street-facing garages. This type of development was permitted until 2003, when rising opposition from neighborhood residents led the Portland City Council to take action. Instead of prohibiting narrow lot housing development, the City Council restricted construction to vacant lots in an attempt to deter demolition of existing houses and established design requirements for new infill housing to ensure compatibility with surrounding neighborhood homes. In addition, the Council adopted regulations to expand the development of small lot housing in two higher-density zones.
The council also directed the city's Bureau of Development Services (BDS) to initiate a competition inviting design submissions for affordable, single-family detached homes on the skinny lots. The goal was to produce high-quality housing designs that are compatible with a variety of neighborhoods and that meet the needs of median-income and entry-level buyers. An advisory team composed of builders, architects, and neighborhood residents helped city staff define the competition parameters. The result was the "Living Smart: Big Ideas for Small Lots" competition, which debuted in 2004. To encourage creativity, the competition allowed "permissive development standards" for the designs, including exemptions from certain zoning code requirements.
Living Smart Program
With 426 submissions from 22 countries, the competition ultimately resulted in the publication of two design catalogues, Designs of Excellence and Portland Catalogue of Narrow House Designs. Designs of Excellence is an idea book of 49 designs for narrow lot development in general, whereas the Catalogue of Narrow House Designs is a compilation of 21 designs specifically suited to Portland's neighborhoods. Four design submissions chosen by the public as People's Choice award winners were also included in the Portland Catalogue. Both publications are available to the public at no cost and can be downloaded from the city's website.
In 2005, the city contracted with two of the four People's Choice award winners to develop their designs as pre-approved house plans. The first winning design, produced by local architect Bryan Higgins, features 1,779 square feet on three levels with three bedrooms and two bathrooms. The plan does not include a garage. The second design, submitted by California-based architects Trent and Roxanne Vargas Greenan, provides two plan options with three bedrooms and three bathrooms. The first plan includes a garage and measures 1,532 square feet while the second, slightly larger plan includes a 1,700 square-foot office. Because neither design met zoning requirements, the city council approved necessary amendments to the zoning code in 2006, including an exemption from off-street parking requirements, to facilitate construction.
Permit-Ready Plans
To streamline the approval process, the city designated the plans as "permit-ready" — plans pre-approved by the City Council that have already passed life, safety, and structural review. The permit-ready plans can only be used for lots measuring less than 36 feet wide and located outside of historic and conservation districts. Developers can purchase building permits and receive plan sets free of charge with the assurance that the plan will be approved, but if the developer changes the exterior, the design would no longer be permit-ready and would be subject to normal review processes. Developers can make changes to the interior floor plan, but the architect must first approve the modifications.
Completed site plans for Living Smart homes are eligible for review under the city's Fast Track program. Under the program, developers with eligible projects can receive housing permits within 10 working days, saving them both time and money. Although most standard fees apply and vary according to the size and scope of the project, applicants receive a 50 percent discount on BDS charges related to plan reviews and inspections. Portland also provides residents with estimated fees for Living Smart homes.
Living Smart Homes
The first Living Smart homes broke ground in fall 2006. Prairie View Homes, LLC built two homes in Portland's Eastmoreland neighborhood using Higgins' design. The townhomes feature various green building elements, and in 2007, were each listed at $319,000. (The Portland region's average home sales price for the 12-month period ending September 2006 was $320,800.) At the time, Jack Wagnon, owner of Prairie View Homes, praised the program as filling the gap between "proponents of aesthetically pleasing neighborhoods and the skinny lot in-fill builder." So far, 11 homes have been built using Living Smart designs. Sale prices for these homes vary by location; a cross-section of homes have been sold at prices ranging from $290,000 to $400,000.
The Living Smart program has been successful in balancing development of narrow lot, infill housing and preservation of community character. In 2008, the city began working with two other designers featured in the Portland Catalogue to produce additional Living Smart designs that are more modest and affordable; however, the poor economy and lack of financial resources have forced the city to temporarily suspend these plans.
Opportunities for the Future
From 2000 to 2008, growth in median home values (89 percent) far outstripped median income growth (22 percent) for Portland's residents. The current recession has improved affordability somewhat, but Portland continues to be a desirable place to live, and housing prices are expected to increase over the long term. In addition, the city's population is projected to grow to 1 million during the next 20 years and to 2 million during the next 40 years. The resulting demand for housing will escalate developmental pressures on existing infill lots. With the Living Smart program, the city is poised to promote residential infill development well into the future. Adding design prototypes to the program that are more affordable to build will boost the city's goal of developing more small houses to meet the need for entry-level housing.