Posted Date: December 21, 2017

| | | | | | | | | |
| --- | --- | --- | --- | --- | --- | --- | --- | --- |
| | | | | | | | | December 21, 2017 |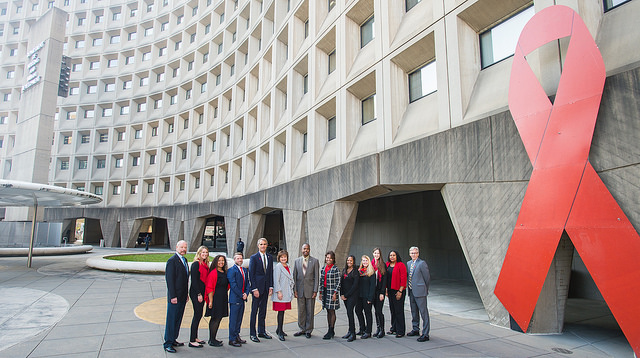 Secretary Carson and the
Office of HIV/AIDS Housing
led HUD in observing World AIDS Day on December 1
st
. The event represents a time when the global community recognizes the progress made in the fight against HIV/AIDS, supports those who are living with HIV/AIDS, and remembers those who have died due to complications from the virus.

To promote healthy outcomes, the Office of HIV/AIDS Housing works diligently to ensure that low-income persons living with HIV/AIDS have an opportunity to access affordable housing and supportive services that can not only lead to longer, healthier lives but also prevent new infections.
International and Philanthropic Innovation
ENVISION CENTERS
| HUD announced the launch of EnVision Centers, a new initiative designed to help HUD-assisted households achieve self-sufficiency. Located on or near public housing developments, EnVision Centers will be centralized hubs that serve as an incubator for the four key pillars of self-sufficiency; character and leadership, educational advancement, economic empowerment, and health and wellness. Through results-driven partnerships with federal agencies, state and local governments, non-profits, faith-based organizations, corporations, public housing authorities, and housing finance agencies, EnVision Centers will leverage public-private resources for maximum community impact.
RESEARCH PARTNERSHIPS
| Do you have an idea for a research project that aligns with HUD's Research Roadmap? Funding is available for unsolicited research partnerships with universities, philanthropic organizations, and other federal or state agencies through noncompetitive cooperative agreements. Proposals may be submitted at any time and will be evaluated as they are received.
CALL FOR CITYSCAPE SUBMISSIONS
|
HUD's Office for International and Philanthropic Innovation invites submissions to HUD's Cityscape, a research journal. The goal of Foreign Exchange, the international section of HUD's Cityscape journal, is to deliver high-quality research on housing and community development issues abroad that could deliver value to communities here in the United States. By linking international innovations and promising practices to similar conditions and contexts here in the States, research can further the conversation on applying creative solutions to communities' most pressing challenges. Please send submissions to ipiinfo@huduser.gov.
Other News at HUD - In Case You Missed It
PUERTO RICO
|
Deputy Secretary, Pamela Hughes Patenaude,
visits Puerto Rico
this week to get a closer look at the island's recovery from Hurricane Maria. Patenaude will be joined by members of HUD's Disaster Recovery and Long-Term Housing Team.
DISASTER RELIEF
|
HUD granted
$616 million
to help hard-hit areas in the State of Florida to recover from Hurricane Irma and
$5 billion
to help hard-hit areas in the State of Texas to recover from Hurricane Harvey.
HEALTH AND HOUSING
|
Nearly half a million children living in the United States have elevated levels of lead in their blood that may cause significant harm to their health. To help increase awareness of this preventable disease, HUD and its partners spearheaded
National Lead Poisoning Prevention Week
, which took place October 22-28. This year's theme was "Lead-Free Kids for a Healthy Future."