Posted Date: November 1, 2019
The International and Philanthropic Affairs Division (IPAD) formerly known as the Office for International and Philanthropic Innovation (IPI) has had an eventful summer. Below are some highlights. Our apologies for the delay since our last newsletter.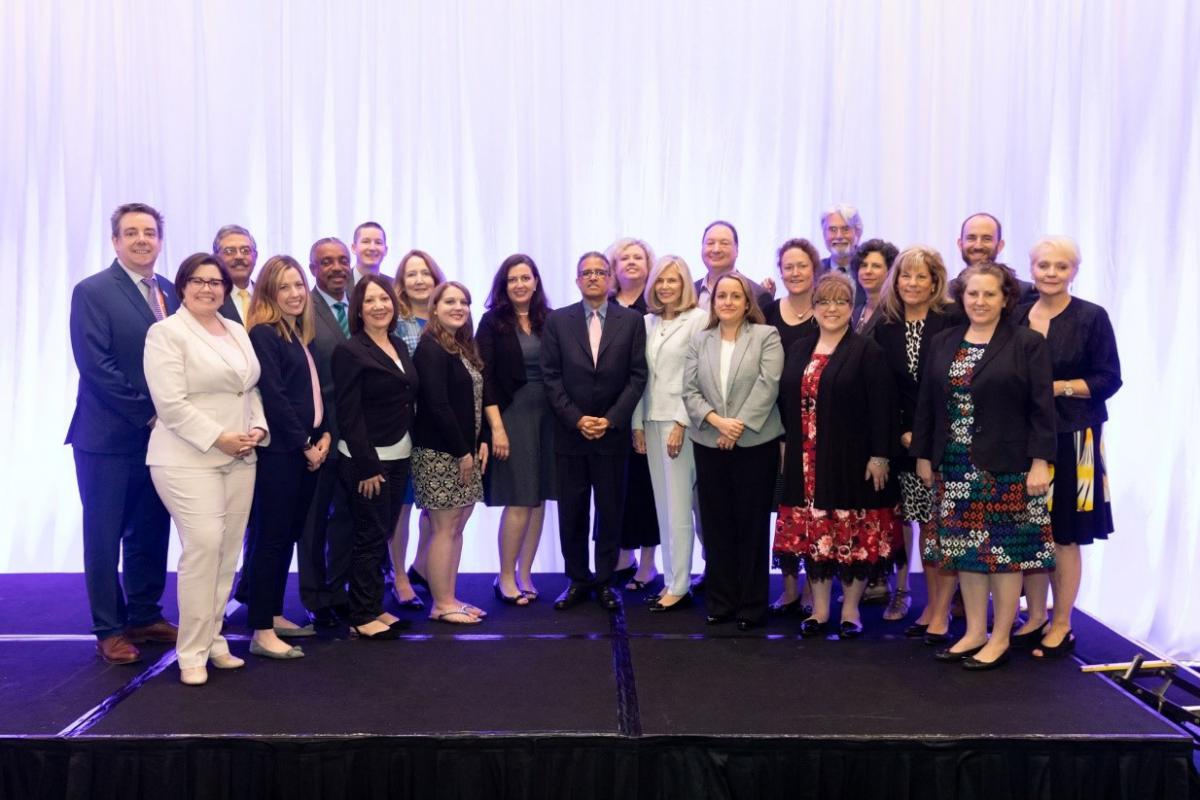 The 2019 Secretary's Award for Public-Philanthropic Partnerships

The Secretary's Awards for Public-Philanthropic Partnerships recognize excellence in partnerships that have both transformed the relationships between the sectors and led to measurable benefits in housing and community development, including increased economic development, health, safety, education, workforce development, disaster resilience, inclusivity and cultural opportunities, innovative regional approaches, and/or housing access for low- and moderate-income families. By strengthening the connection between the U.S. Department of Housing and Urban Development (HUD) and philanthropy, this award highlights the power of collective impact that can be achieved through public philanthropic partnerships between government entities and foundations.
Winners of the 2019 Award:
California Community Foundation
Citi Foundation
Community Foundation of Utah
Medtronic Foundation
Minnesota Housing Fund
National Church Residences Foundation
Parkersburg Area Community Foundation
Puerto Rico Community Foundation
The Cleveland Foundation
The Home Partnership Foundation
2020 award submissions coming soon!
Chamber of Commerce Foundation's Building Resilience through Private-Public Partnerships (PPP) conference:
The 8th annual conference held 23-24 July, focused on the collaboration required among private, public, and nonprofit sectors to help mitigate the effects of natural and human-made disasters. This year's conference, hosted by the U.S. Chamber of Commerce Foundation with support from the Federal Emergency Management Agency (FEMA), Department of Homeland Security (DHS), and U.S. Northern Command, focused on a community's ability to be resilient and the role all sectors can play in carrying that out.
On 23 July, Christopher Bourne, Deputy Assistant Secretary for the Office of Innovation presented in a panel on "Rethinking Resilience Across Infrastructure." The panel focused on rethinking and investing in the materials used in buildings and infrastructure that can protect against water damage and other natural hazards. The discussion covered how innovators are creating exciting new technologies and supplies to help rethink resiliency in homes and across the communities. Chris discussed HUD's new Office of Innovation and its focus on housing affordability and resiliency. He highlighted the Innovative Housing Showcase and sharing best practices through reports and case studies such as Building Even Better Homes report and the Durability by Design 2nd Edition.
On 24 July, Stan Gimont, Deputy Assistant Secretary for Grant Programs, presented in a panel on "Utilizing Federal Resources." The panel focused on services and resources that exist in federal departments other than FEMA who provide support before, during, and after a disaster. The discussion covered how to best utilize the services of the federal departments. Stan discussed HUD's Immediate Housing ESF under the disaster recovery framework along with the CDBG-DR program.
Philanthropic Regional Roundtables:
The International and Philanthropic Affairs Division (IPAD) office was asked by the Office of Field Policy Management (FPM) and the Secretary's Office to support each region in hosting at least one philanthropic roundtable focused on HUD's Envision Center initiative. Roundtables are to bring together local foundations to meet with HUD staff and discuss their work on mutual priorities. The goals for these roundtables are to: 1. Build regional relationships with philanthropic partners; 2. Get a better sense of how philanthropy in the region is supporting topics related to the EnVision Center initiative; and 3. Explore shared goals and agendas between HUD and the foundations present. Each region will choose a topic or topics related to one, two, three, or all four of the EnVision Center pillars. Over 200 HUD staff were recently trained by IPAD via Philanthropic Engagement Workshops and the Philanthropic Engagement Toolkit. FPM staff have been using these resources and assistance from IPAD to plan and execute the philanthropic roundtables. Thus far, Atlanta, Philadelphia, Kansas City, and Denver have all successfully organized their roundtables.
Opportunity Zone:
Qualified Opportunity Zones were created by the 2017 Tax Cuts and Jobs Act. Opportunity Zones are designed to spur economic development and job creation in distressed communities throughout the country and U.S. possessions by providing tax benefits to investors who invest eligible capital into these communities.
On December 12, 2018 President Donald Trump signed an Executive Order establishing the White House Opportunity and Revitalization Council and named Secretary Carson as its chairperson. The Council's 13 Federal member agencies will engage with governments at all levels on ways to more effectively use taxpayer dollars to revitalize low-income communities.
The Council will improve revitalization efforts by streamlining, coordinating, and targeting existing Federal programs to Opportunity Zones.
https://www.hud.gov/press/press_releases_media_advisories/HUD_No_18_144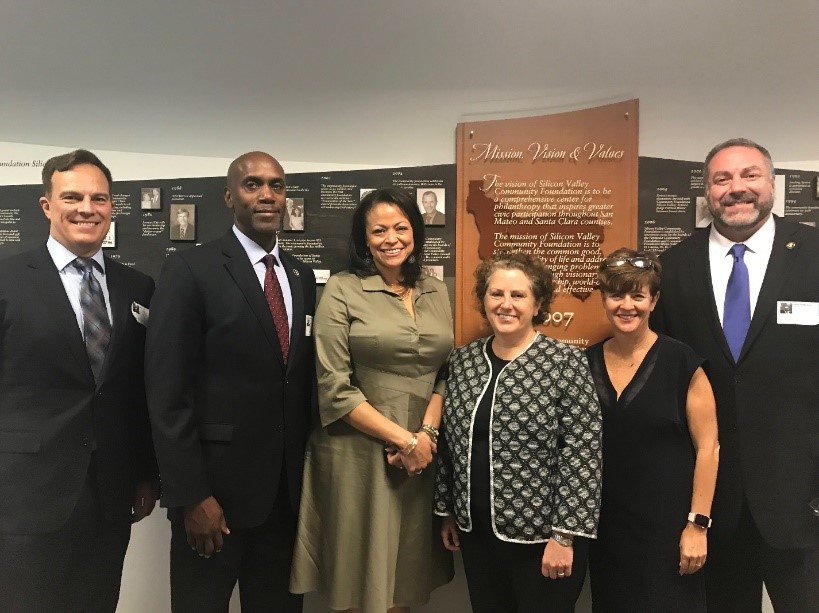 Silicon Valley Community Foundation meeting to discuss Opportunity Zone engagement meeting held on 12 August 2019. Region Administrator Chris Patterson, Cindy Campbell, Erich Yost and Michael Huff met with Nicole Taylor, President and Gina Dalma, Senior Vice President of the Silicon Valley Community Foundation. Other Bay Area foundations attended including San Francisco Foundation, East Bay Community Foundation, McConnell Foundation and the Heising Simmons Foundation.

HUD hosted a Philanthropic Roundtable on Effectively Developing Strategies on Opportunity Zones. The roundtable was held on September 10, 2019, to solicit feedback on how best to stimulate the economic development of urban and economically distressed areas, including qualified opportunity zones economic development organizations to further the Opportunity Zones efforts. This roundtable was in consultation with key philanthropic stakeholders to highlight existing efforts to advance the success of Opportunity Zones.
Disaster Recovery:
IPAD hosted a Funders Call on Disaster Recover with David Woll, Principal Deputy Assistant Secretary for Community Planning and Development and Tennille Smith Parker, Director of Disaster Recovery and Special Issues Division. HUD has issued the Mitigation Federal Register Notice. This call discussed the Notice and the CDBG-DR process including opportunities for engagement. The call was held on Monday, September 9. Over twenty funders were on the call.
Egypt International Visitors Leadership Program Delegation Visit
A group of delegates from Egypt focused on Community Revitalization and Urban Renewal visited HUD staff on 9 April 2019. This delegation visited under the auspices of the Department of State's International Visitor Leadership Program. The Institute of International Education arranged their program.
United Kingdom Policy Advisor Visit
A parliamentary advisor on housing, communities, and local government issues at the Policy Research Unit in the House of Commons met with representatives from PD&R and CPD on 10 April 2019. The advisor's research currently focuses on house-building finance initiatives, homelessness reduction pilots, and legislation to improve consumer redress in the rented and leasehold sectors. The advisor's work involves preparing policy and debate briefings on housing policy for Conservative Members of Parliament.
USVI Philanthropy Forum
The US Virgin Islands convening with HUD and FEMA for philanthropy was held 21-21 May 2019 at the Nissan Training Facility in St. Croix, USVI. The event was co-hosted by HUD and FEMA to update philanthropy on disaster recovery and resilience efforts in USVI. Highlights of the Territory's Recovery Plan, the Value of Public-Philanthropic Partnerships, the Role of Local Foundations in Long-term Recovery, and Non-profits and Recovery Implementation were discussed. The Council on Foundations and local USVI community foundations actively participated in the coordination of the event.
International Visitor Leadership Program
IPAD hosed the U.S. Department of State's International Visitor Program delegation on the topic of "Sustainable Cities." The delegation included 24 high-level representatives from countries including Argentina, Brazil, Germany, India, Israel, Nepal, and Tunisia. IPAD facilitated a knowledge exchange between the delegation and HUD senior staff to discuss diverse initiatives to provide affordable housing, suitable living environments, and expand economic opportunities for low- and moderate-income residents in May 2019.
Romania Delegation Meeting with Secretary Carson
Secretary Carson met with Ben-Oni Ardelean, Vice-President of the National Liberal Party, a conservative party of Romania on 10 June 2019. Ardelean also serves as the Deputy Chairman of the Committee for Foreign Policy. He is a Member of the Chamber of Deputies.
United Kingdom Research Meeting
A parliamentary advisor for the Policy Research Unit, which is a not-for-profit company based in the UK Parliament, met with PD&R researchers who focus on welfare-to-work on 11 June 2019. The advisor's research is mainly focused on the changes made to work requirements and employment services at the federal and state level since the 1990s through to the present day and where this debate might be heading in the future.
US–Japan Aging in Place Forum in Los Angeles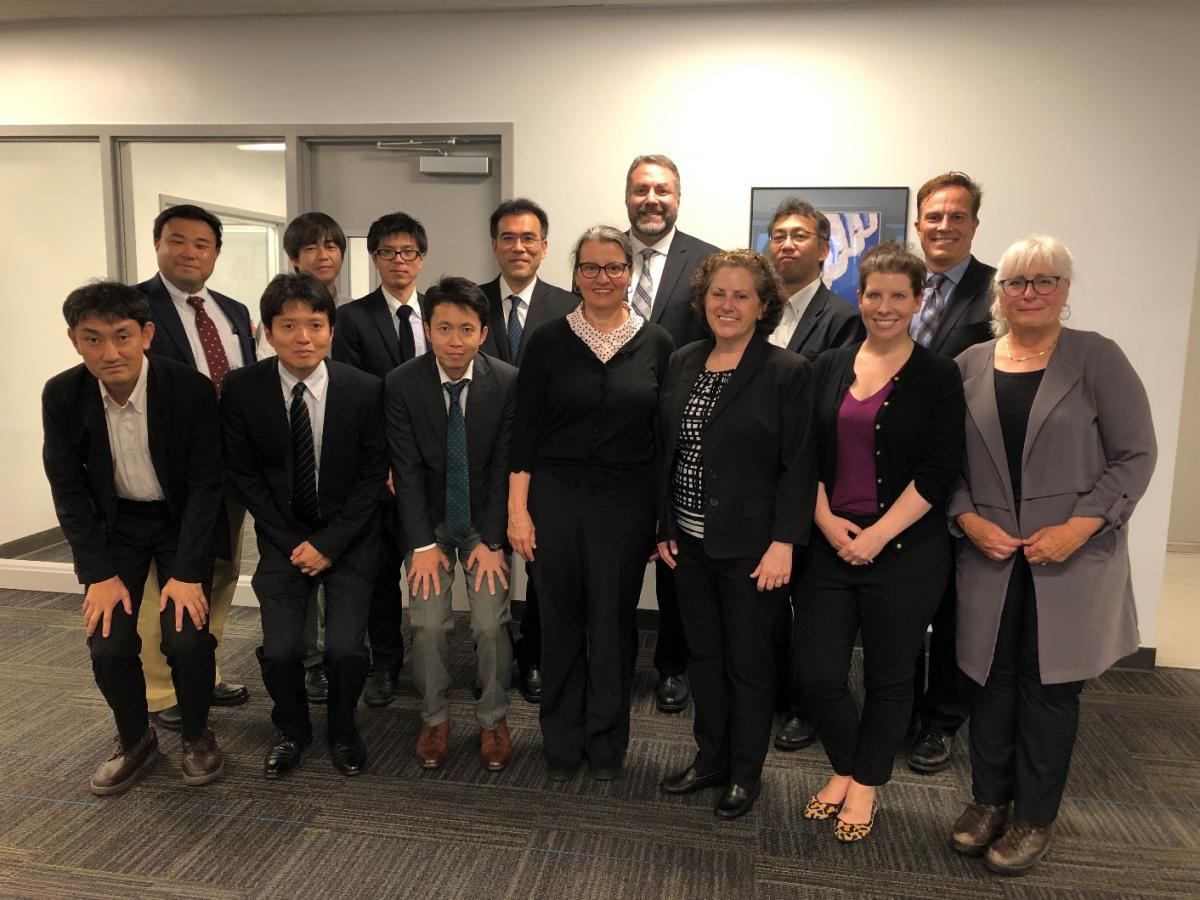 HUD hosted a delegation of eight Japanese senior officials from our HUD counterpart, MLIT and from the Urban Renaissance Agency in Los Angeles from the 23rd to 28th of June 2019. Chris Patterson welcomed the group. Cindy Campbell, Carol Star, Leah Lozier and Margaret Poethig from HUD were also in attendance. The LA Field Staff supported and attended the Forum. The Forum focused on site visits and in conference sessions to further discuss the four US and four Japanese case studies and next steps in research.
US–Japan Aging in Place Research Project Update:
The Aging in Place Research team has completed four US case studies and four Japanese case studies. These will be posted on the Japanese Ministry web site and our web site once we have final clearance. The US case studies are currently being translated. Below are the case studies:
US Case Studies
Volunteerism in the United States
Accessible housing and technology research and demonstration grant program
Naturally occurring retirement communities and senior villages
Integrated wellness in supportive housing
Japanese Case Studies
Voluntary and active development of community by neighborhood
Daily living support services in collaboration with private companies
Management of residential areas by private entities
Creation of regional medical and welfare service hubs
United Nations High Level Political Forum
IPAD assisted the State Department in preparation for the HLPF held 5-16 July 2019 in New York. IPAD participated in several side events that were focused on housing and urban development issues. Marge Martin, Cindy Campbell, and Katie Marinari participated in the Philanthropy & the SDGs Special Event. Cindy Campbell was asked to play a lead discussant role during the Q&A at the event and questioned the panel how philanthropy and governments can better engage with one another.
The team also met with leadership from the United Nations Department of Economic and Social Affairs (UN DESA) to discuss HUD's research and programs on homelessness. The 58th Session of the Commission for Social Development will take place in February 2020, at the United Nations Headquarters in New York. The Commission is the advisory body to UN DESA responsible for the social development pillar of global development. The priority theme will be, "Affordable housing and social protection systems for all to address homelessness." This meeting was to help inform research on best practices in addressing homelessness. IPAD will continue to follow up with UN DESA, State Department's US Mission to the UN and with the State Department International Organization office on this ongoing project.
International Visitor Leadership Program
A delegation from Germany visited HUD, specifically meeting with CPD and PD&R, on 16 July 2019. The delegation consisted of two mayors from City of Schomelln and Neubrandenburg. The mayors were interested in learning about innovated policy approaches and initiatives at the federal levels that address common issues that face communities, especially smaller towns and cities in the U.S. They were interested in initiatives that make more strategic and effective investments in urban development, building smarter infrastructure, building more diverse economies and inclusive communities.
International Visitor Leadership Program Delegation from Pakistan
A delegation from Pakistan consisting of 10 participants involved in a project titled "Responsible Municipal Management: Creating Resilient and Innovative Cities of the Future." Various federal agencies including HUD, DOT, and EPA participated in a roundtable discussion with the delegation regarding federal support for sustainable and resilient cities in July 2019.
Visit with Member of Parliament Klaus Midrup
Assistant Secretary Seth Appleton met with MP Klaus Midrup on 19 August 2019. The discussion centered on affordable housing issues including Berlin's recent rent control program. MP Midrup was interested in hearing how the United States is dealing with affordable housing issues, in particular the LIHTC and the voucher program.
Tokyo Metropolitan Government Delegation
HUD hosted a six-person Japanese delegation from the Office for Housing Policy, Tokyo Metropolitan Government on September 26. The purpose of the visit was to learn more about U.S. housing policy and potentially utilize it for future policy planning. The discussion was on affordable housing in general, senior housing, and disaster recovery efforts at HUD, and represented by PD&R and Office of Housing.
United Kingdom Lord Wei Visit
The Lord Wei met with David Woll, Kurt Usowski and other PD&R staff on October 9, 2019. The United Kingdom Embassy requested this meeting. The Lord Wei requested information about US policy on how to address affordable housing as well as innovate approaches to shared spaces, land use, and the role of technology to unlock innovation.
Sustainable Cities Delegation Visit from Africa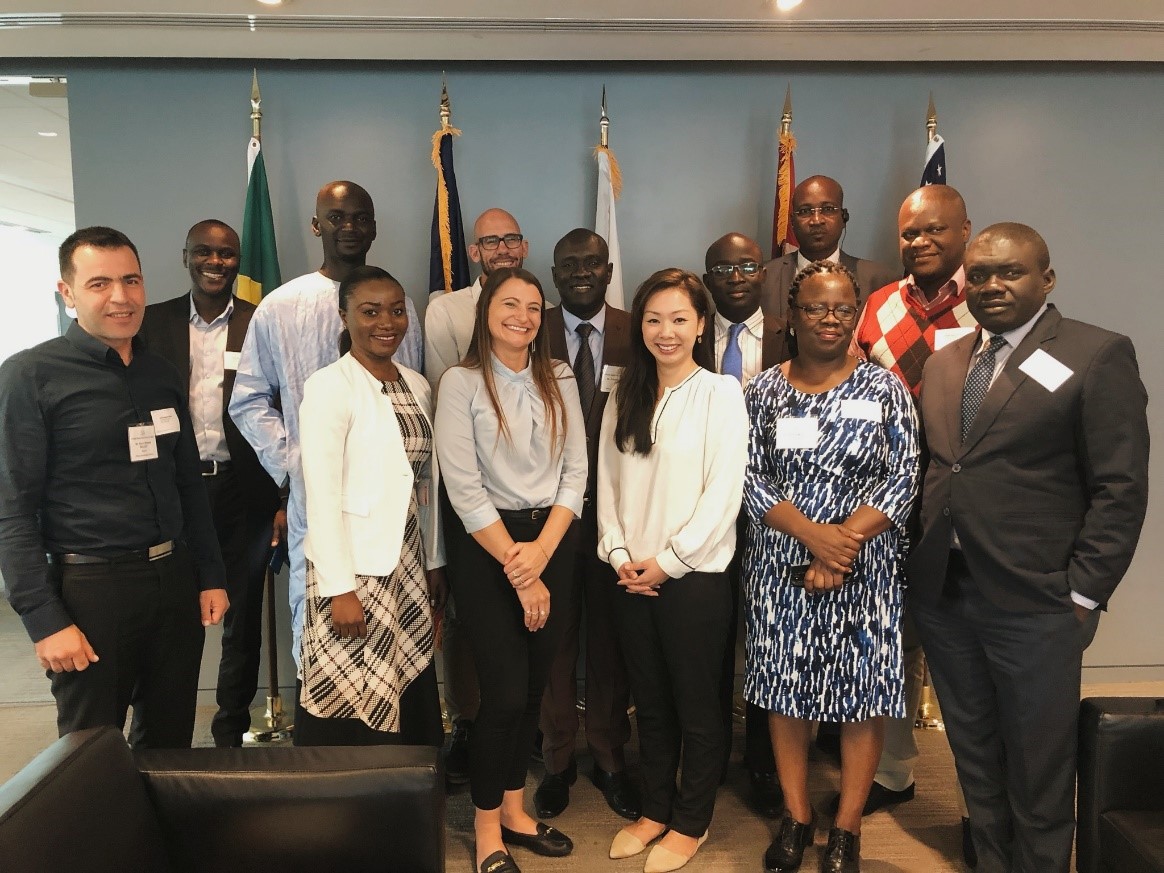 The Institute of International Education (IIE) organized an U.S. Department of State's International Visitor Leadership Program (IVLP) entitled "Sustainable Cities," a Regional Project for Africa in October 2019. IPAD delivered on a HUD overview presentation to the 15-member delegation, each from a different country. The delegation's interests were on the initiatives that HUD offers to provide affordable housing, suitable living and expand economic opportunities for low- and moderate-income residents.
On June 20, 2019 the Senate confirmed Seth Appleton to serve as Assistant Secretary of Policy Development and Research (PD&R). Seth Appleton recently served as HUD's Associate Deputy Secretary. Before that, he served as Acting Assistant Secretary and then General Deputy Assistant Secretary for Congressional and Intergovernmental Relations.
Stay up to date on the latest HUD news and announcements by signing up for the Office of Public Affairs' weekly stakeholder newsletter. Provide your email information to Evonne Heredia at evonne.g.heredia@hud.gov to subscribe.