A Picture of Disability and Designated Housing
Release Date:
March 2015 (65 pages)
Posted Date:
June 4, 2015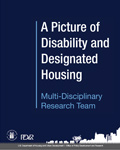 This report examines the characteristics of federally-assisted housing designated for disabled households living in the U.S. Prior research suggests that disabled persons face significant challenges when trying to secure affordable, high quality housing. The 2009 "Worst Case Housing Needs of People with Disabilities" report (Souza et al. 2011) finds that renter households with nonelderly disabled members are more likely than nondisabled households to have very low incomes, experience worst case housing needs, pay more than 50 percent of their income on rent, and live in inadequate or overcrowded housing. The inadequate housing conditions of the disabled reflects both the relatively lower incomes and assets of disabled persons (She and Livermore 2009) combined with the lack of available housing with accessibility features. Hoffman and Livermore (2012) find that disabled persons also tend to live in less desirable neighborhoods than non-disabled persons. Such neighborhoods exhibit lower median incomes, lower fair market rents, poorer access to public services, and more neighborhood problems such as crime and heavy street noise.