Review of Energy Performance Contracts in Small and Very Small Public Housing Authorities
Release Date:
September 2020 (74 pages)
Posted Date:
September 14, 2021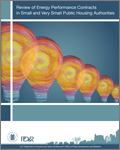 The U.S. Department of Housing and Urban Development (HUD) operates an Energy Performance Contract (EPC) program that Public Housing Authorities (PHAs) can use to fund energy efficiency investments from anticipated utility savings. A previous study found that the EPC program effectively improves utility performance and financial and physical condition in the nation's publicly subsidized housing. This follow up study investigated EPC program effectiveness within PHAs administering 500 units or fewer. The majority of PHAs administer such smaller programs, and relatively few smaller PHAs have used EPCs. The results show that smaller PHAs that used EPCs experienced greater reductions in energy and water consumption than PHAs that did not use EPCs. Such PHAs often undertook efficiency improvements using alternative financing means such as capital and operating funds, grants, or subsidies. Since 2015, financial restructuring through HUD's Rental Assistance Demonstration has become an attractive alternative to the EPC program for PHAs that view EPCs as complex or difficult. Enhancements to the EPC program have potential to enable and encourage more smaller PHAs to experience the program's benefits.