Worst Case Housing Needs 2021 Report To Congress
Release Date:
July 2021 (108 pages)
Posted Date:
September 30, 2021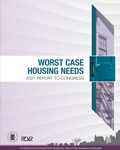 This Worst Case Housing Needs report is the eighteenth in a multi-decade series providing national data and analysis of critical housing problems facing very low-income renting families. Renter households with very low incomes who do not receive government housing assistance are defined as having worst case needs for adequate, affordable rental housing if they pay more than one-half of their income for rent, live in severely inadequate conditions, or both. Drawing on data from the 2019 American Housing Survey (AHS), this report finds there were 7.77 million renter households with worst case needs in 2019, a substantial affordable housing problem although not significantly different from 2017 levels. The private market and public rental assistance programs together made available only 62 affordable units per 100 very low-income renters in 2019. The subsequent COVID-19 pandemic and associated economic recession that began early in 2020 poses great risk of widespread housing problems, a topic that is examined in a Special Addendum.

This report is part of the collection of Affordable Housing & Worst Case Needs Reports to Congress reports.