Posted Date: June 1, 2018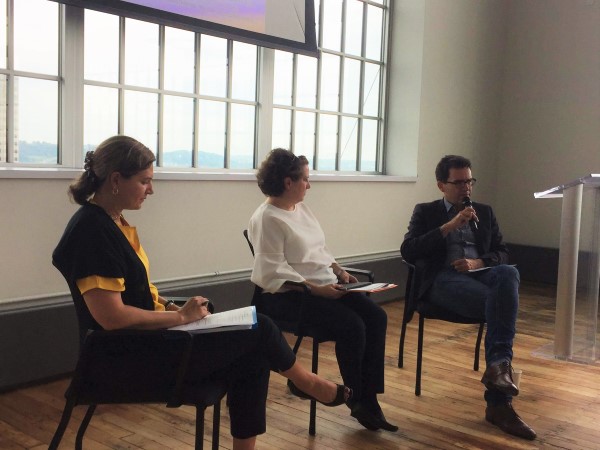 Dialogues for Change
, a network of city partners in the United States and Germany, concluded its third iteration with a final workshop in Pittsburgh, PA. Led by the German Marshall Fund in partnership with HUD; Germany's Federal Ministry of the Interior, Building, and Community (BMI); and the Deutsche Gesellschaft fur Internationale Zusammenarbeit (GIZ), Dialogues for Change develops a transatlantic network of cross-sector participants that explores themes critical to successful city project implementation.
At the workshop, Cindy Campbell, Director of the Office for International and Philanthropic Innovation (IPI), participated in a panel with her German federal colleague to discuss priorities of both administrations. The dialogue focused on how federal policies and developments at the federal levels will affect cities in the United States and Germany.
International and Philanthropic Innovation
PHILANTHROPIC PARTNERSHIPS TRAINING
| To enhance HUD's philanthropic partnerships, IPI offers Philanthropic Engagement Workshops for HUD employees nationwide to learn more about the philanthropic sector and identify useful strategies to build partnerships in their regions. These workshops are empowering HUD staff to work with foundations in their communities to maximize the potential of partnerships.
NEW CASE STUDY: MONTGOMERY COUNTY FOUNDATION
| Your Way Home Montgomery County is a partnership of public, philanthropic, and private enterprises that is significantly reducing homelessness in a wealthy suburban county northwest of Philadelphia. Under the shared leadership of the Montgomery County Foundation, Inc., as the philanthropic backbone organization and the Montgomery County Department of Housing and Community Development as the lead public-sector agency, Your Way Home has reduced homelessness in the county by 37 percent since its founding in 2014.
PUBLIC-PHILANTHROPIC PARTNERSHIPS COMBAT HOMELESSNESS
| Cindy Campbell, Director of IPI, discusses her experience in Los Angeles and the work being led by a public-philanthropic partnership to address the rising homelessness in the region. Homelessness numbers in Los Angeles County increased markedly in 2017. There were 57,794 homeless individuals in 2017, a 23 percent increase from 2016 (46,874). The city of Los Angeles saw a 20 percent increase in homelessness, from 28,464 individuals in 2016 to 34,189 in 2017.
Other News at HUD - In Case You Missed It
FEDERAL HOUSING ADMINISTRATION
|
By a vote of 74-23, the U.S. Senate confirmed
Brian D. Montgomery to serve as Assistant Secretary of Housing
at the U.S. Department of Housing and Urban Development (HUD) and Commissioner of the Federal Housing Administration (FHA). Montgomery's confirmation marks his second term as Assistant Secretary for Housing and FHA Commissioner at HUD. He previously held the job under President George W. Bush, staying on for six months after President Barack Obama's inauguration.
FAIR HOUSING
|
After a months-long technical evaluation, HUD announced that it is
withdrawing a computer assessment tool
originally intended to be helpful to local governments in meeting their obligations under the Fair Housing Act to affirmatively further fair housing.
RENT REFORM
|
Secretary Ben Carson
unveiled a package of reforms
designed to offer Public Housing Authorities (PHAs), property owners and HUD-assisted families a simpler, less invasive and more transparent set of rent structures, and places HUD's rental assistance programs on a more fiscally sustainable path.