Posted Date: February 15, 2019
The International and Philanthropic Affairs Division (IPAD) formerly known as the Office for International and Philanthropic Innovation (IPI) has had an eventful summer and fall. Below are some highlights. Our apologies for the delay since our last newsletter.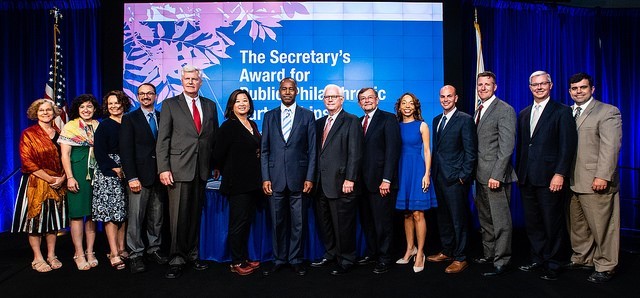 The 2018 Secretary's Award for Public-Philanthropic Partnerships

The Secretary's Awards for Public-Philanthropic Partnerships has been recognizing excellence in partnerships that have both transformed the relationships between the sectors and led to measurable benefits for the last seven years. The award recognizes transformation in communities in relation to housing and community development, including increased economic development, health, safety, education, workforce development, disaster resilience, inclusivity and cultural opportunities, innovative regional approaches, and/or housing access for low- and moderate-income families.
On July 16, 2018 HUD and the Council on Foundations co-hosted the 2018 awards ceremony at HUD Headquarters. This year's awards were presented by Secretary Carson as part of a ceremony simulcast on Facebook Live. Awards were given to place-based funders for completed or ongoing initiatives that are executed in partnership with a local, regional, or federal government agency. Additionally, the winners participated in a panel to discuss their projects as well as a networking lunch with fellow winners and federal.
HUD in partnership with The Council of Foundations will host the 2019 Secretary's Award for Public-Philanthropic Partnerships at the Council's Biennial Conference in Miami, FL, April 29 to May 1, 2019.
Philanthropic Regional Roundtables:
The International and Philanthropic Affairs Division (IPAD) office was asked by the Office of Field Policy Management (FPM) and the Secretary's Office to support each region in hosting at least one philanthropic roundtable focused on HUD's Envision Center initiative. Roundtables are to bring together local foundations to meet with HUD staff and discuss their work on mutual priorities. The goals for these roundtables are to: 1. Build regional relationships with philanthropic partners; 2. Get a better sense of how philanthropy in the region is supporting topics related to the EnVision Center initiative; and 3. Explore shared goals and agendas between HUD and the foundations present. Each region will choose a topic or topics related to one, two, three, or all four of the EnVision Center pillars. Over 200 HUD staff were recently trained by IPAD via Philanthropic Engagement Workshops and the Philanthropic Engagement Toolkit. FPM staff have been using these resources and assistance from IPAD to plan and execute the philanthropic roundtables. Thus far, Atlanta, Philadelphia, and Kansas City have all successfully organized their roundtables.
Puerto Rico Philanthropy Forum:
The IPAD office assisted in coordinating a philanthropy roundtable on disaster recovery efforts in Puerto Rico. A successful roundtable was hosted by HUD's Puerto Rico Office on December 6, 2018. This roundtable was led by FPM's Field Office Director, Efrain Maldonado with attendance from the Regional Administrator for Region 4, Denise Cleveland-Leggett. The roundtable discussed recovery issues, priorities and strategic activities with local philanthropy and the Puerto Rico Department of Housing. This roundtable identified synergies and common interests with philanthropy and acted as a first step towards establishing more robust relationships with local philanthropy, local government, HUD and FEMA.
https://www.hud.gov/states/puerto_rico_virgin_islands/stories/2018-12-12b
Opportunity Zone:
Qualified Opportunity Zones were created by the 2017 Tax Cuts and Jobs Act. Opportunity Zones are designed to spur economic development and job creation in distressed communities throughout the country and U.S. possessions by providing tax benefits to investors who invest eligible capital into these communities.
On December 12, 2018 President Donald Trump signed an Executive Order establishing the White House Opportunity and Revitalization Council and named Secretary Carson as its chairperson. The Council's 13 Federal member agencies will engage with governments at all levels on ways to more effectively use taxpayer dollars to revitalize low-income communities.
The Council will improve revitalization efforts by streamlining, coordinating, and targeting existing Federal programs to Opportunity Zones.
https://www.hud.gov/press/press_releases_media_advisories/HUD_No_18_144
United Nations High Level Political Forum:
Cindy Campbell and Chris Bourne from HUD's office of Policy Development and Research attended the UN High Level Political Forum in July 2018 in New York as part of the State Department's official delegation. The Forum focused on several Sustainable Development Goals (SDGs) including: SDG 6 – ensure availability and sustainable management of water and sanitation for all, SDG 7 – ensure access to affordable, reliable, sustainable and modern energy for all, SDG 11 (HUD focus area) – make cities and human settlements inclusive, safe, resilient and sustainable, SDG 12 – ensure sustainable consumption and production patterns, and SDG 15 – protect, restore and promote sustainable use of terrestrial ecosystems, sustainably manage forests, combat desertification, and halt and reverse land degradation and halt biodiversity loss.
Israel MOU and JEDG Meeting:
On October 22, 2018 U.S. and Israeli officials convened for the 33rd session of the U.S. – Israel Joint Economic Development Group (JEDG), the annual economic policy dialogue between the two countries. The purpose of these annual meetings is to strengthen the bilateral economic relationship between the two countries and to continue expanding and deepening policy coordination and cooperation across a broad range of sectors.
A Memorandum of Cooperation (MOC) was also signed by Deputy Secretary Pam Patenaude and Deputy Minister of Finance Rabbi Cohen. The MOC will allow both ministries to work collaboratively and in a mutually beneficial manner to support and learn from research on affordable housing and urban development policies and programs.
https://www.hud.gov/press/press_releases_media_advisories/HUD_No_18_123
Aging in Place Research Project Visit to Tokyo/Japan-US Forum San Francisco:
Calvin Johnson and Cindy Campbell visited the Ministry of Land, Infrastructure, Transport and Tourism (MILT) and the Urban Renaissance Agency (UR) in Tokyo, Japan between August 25 and August 27, 2018. A follow up Aging in Place Forum was held between October 29, 2018 and November 1, 2018. A delegation of eight staff from Japan's MLIT and UR joined Calvin Johnson, Carol Star, Leah Lozier and Cindy Campbell in San Francisco. The forum included site visits to Village/NORC's in the Bay Area, an IWISH demonstration site and included a workshop on volunteerism in the United States.
https://www.huduser.gov/portal/pdredge/pdr-edge-frm-asst-sec-121018.html
On December 18, 2018 Deputy Secretary Pamela Hughes Patenaude resigned from HUD. The Deputy led HUD's largest disaster recovery response after various disasters. The Deputy Secretary will transition out of her role in January and Commissioner Brian Montgomery will serve as Acting Deputy Secretary. Secretary Carson thanked the Deputy Secretary "On behalf of a grateful agency, and the families and communities we serve...for her tremendous contributions to advancing HUD's mission."
Our office is pleased to welcome our newest member of the team, Meron Habte. Meron is part of the 2018 cohort of Presidential Management Fellows at HUD, and brings with her experience in international law, development, and education. Meron holds a Juris Doctorate degree from Seattle University School of Law and a Master in Education from American University. Meron will work closely with the team to further HUD's strategic partnerships with both our international and philanthropic partners.
Stay up-to-date on the latest HUD news and announcements by signing up for the Office of Public Affairs' weekly stakeholder newsletter. Provide your email information to Evonne Heredia at evonne.g.heredia@hud.gov to subscribe.