Posted Date: February 2, 2021
Happy New Year from the International and Philanthropic Affairs Division (IPAD)! Below you'll find highlights of our recent work.
Secretary's Award for Public-Philanthropic Partnerships

In cooperation with the Council on Foundations, IPAD is pleased to announce nominations for the 2021 HUD Secretary's Awards for Public-Philanthropic Partnerships are now being accepted. The awards recognize excellence in partnerships that have both transformed the relationships between the sectors and led to measurable benefits in housing and community development, including increased economic development, health, safety, education, workforce development, disaster resilience, inclusivity and cultural opportunities, innovative regional approaches, and/or housing access for low- and moderate-income families.
More information about the awards, including past recipients can be found here.
Submission forms and award criteria for the 2021 competition are available here. The deadline for submission is March 1, 2021.
Shared Housing Notice
IPAD worked with the Office of Public and Indian Housing (PIH) to issue Notice PIH 2021-05, which reminds Public Housing Authorities (PHAs) of their ability to utilize Housing Choice Vouchers (HCV) to provide shared housing for participants. In addition, the notice reiterates programmatic requirements such as calculation of the payment standard, completion of a rent reasonableness review, and execution of a lease and Housing Assistance Payments (HAP) contract.
Based out of San Mateo, California, HIPhousing utilizes HCVs as part of its Home Sharing program. The program, "helps match individuals seeking housing with people who have a room or Accessory Dwelling Unit (ADU) to rent." Since its inception in 1979, the program has served 65,000 people.
The New Leipzig Charter
In the leadership message, Director of PD&R's IPAD, Cynthia Campbell discusses the recent signing of the New Leipzig Charter by European Union member nations. The first Leipzig Charter was signed in 2007, and its successor, signed in November 2020, focusing on three dimensions: the just, green, and productive city. Campbell further explains her impressions of a session, held during Germany's virtual Urban National Conference, that focused on applying the charter internationally.
Read more here: https://www.huduser.gov/portal/pdredge/pdr-edge-frm-asst-sec-121420.html
International Engagement at a Distance: OECD highlight
In a second leadership message, Director of IPAD Cynthia Campbell discusses highlights of the Organisation for Economic Co-operation and Development's (OECD) biannual Working Party on Urban Policy meetings. The OECD's primary mission is to promote economic policy and conduct evidence-based research that addresses social, economic, and environmental issues. The OECD and its researchers have posted several studies examining the effects of the COVID-19 pandemic and have continued their research in several other disciplines.
Read more here: https://www.huduser.gov/portal/pdredge/pdr-edge-frm-asst-sec-101920.html
Brazilian Delegation Visit to the U.S.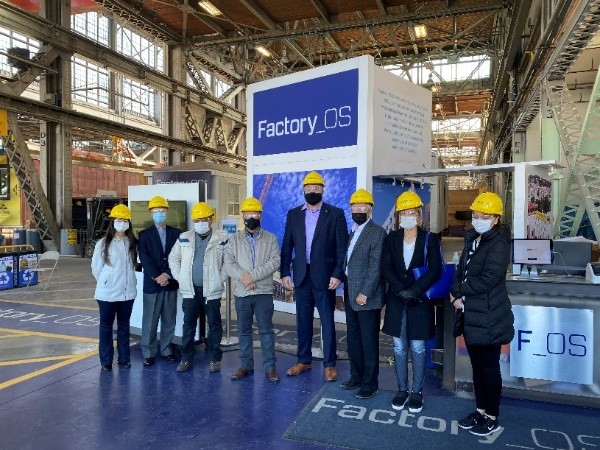 Cindy Campbell and Mia Bailey worked in partnership with Region IX staff members Cynthia Abbott and Michael Huff to host a Brazilian delegation from the Ministry of Regional Development (MRD). The visit took place on 20 November 2020.
The delegation was led by Minister Rogério Simonetti Marinho (Minister of Regional Development of Brazil), and its primary focus was water infrastructure investment and economic development. The delegation visited several sites in Arizona, Nevada and California. Minister Rogério Simonetti Marinho and his team expressed interest in prefab and public housing. As a result of this interest, IPAD arranged a full day of events that included tours at Hunters Point Housing, Coliseum Connections and Factory OS. Coliseum Connections housing is a prefab multi-family affordable housing complex located in Oakland. Factory OS is a pre-fab housing factory located at Mare Island. Former Regional Administrator Chris Patterson escorted the group.
UNECE Housing and Land Management Meeting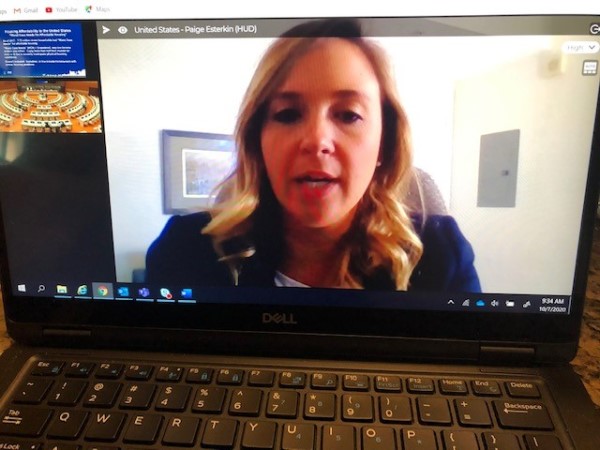 Former Deputy Assistant Secretary for Policy Development Paige Esterkin and Cindy Campbell attended the 81st session of the Committee on Urban Development, Housing and Land Management which took place from 7-8 October 2020. The meeting discussed the implementation of key international agreements such as the 2030 Agenda for Sustainable Development, the New Urban Agenda and the Geneva UN Charter for Sustainable Housing. Paige Esterkin served as the UNECE delegate for the Land and Housing Management Committee and was a panelist on a session on improving housing affordability in the UNECE Region.
AHURI/HUD COVID-19 International Housing Policy Roundtable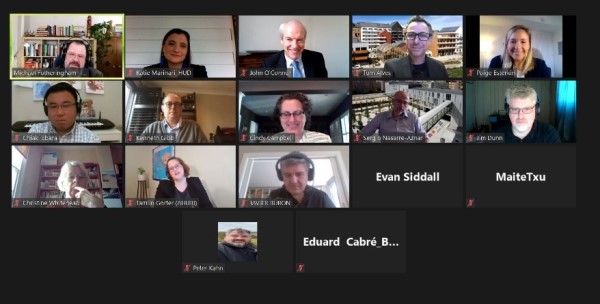 On 30 September 2020 HUD & the Australian Housing and Urban Research Institute (AHURI) co-hosted an international policy exchange as the opening of international housing policy dialogue in the context of the COVID-19 pandemic. The International Roundtable was framed around the following issues: 1) The impact of COVID-19 in each country; measures to contain the spread, economic responses, and social welfare responses; and 2) Pathways to recovery — key learnings, policy levers.
Participants included representatives from Australia, U.S., Austria, Canada, England, Ireland, Japan, New Zealand, Scotland, and Spain to capture diverse approaches to the pandemic and economic recovery.
IPAD at German Ministry's Annual Urban Conference
Cindy Campbell, Director for International and Philanthropic Affairs, virtually attended the German Ministry's annual Urban Conference. She participated in a discussion on the new Leipzig Charter. The conference took place on 2 December 2020.
35th session of the U.S. — Israel Joint Economic Development Group

On 9 November 2020, U.S. and Israeli officials convened for the 35th session of the U.S. — Israel Joint Economic Development Group (JEDG), the annual economic policy dialogue between the two countries. Former Assistant Secretary Seth Appleton represented HUD and provided a brief overview of HUD's response to COVID-19 and the economic aftermath. He also provided an update on the status of HUD's Memorandum of Cooperation with Israel.
U.S. and Japan Case Studies: Aging In Place 2020
Since February 2017, the U.S. Department of Housing and Urban Development's (HUD) Office of Policy Development and Research and the Japan Ministry of Land, Infrastructure, Transport and Tourism's (MLIT) Policy Research Institute, along with the Housing Bureau and Urban Renaissance Agency of Japan (UR), have held numerous joint research meetings focused on Aging in Place (AIP). In June 2017, then Secretary Ben Carson of HUD; Minister Keiichi Ishii of MLIT; Maren Kasper, Executive Vice President of Ginnie Mae; and Masahiro Nakajima, President of UR, signed a Memorandum of Cooperation (MOC). The MOC focuses on AIP among elderly citizens in both countries.
The aging of the population presents both countries with a significant demographic shift and AIP housing challenges. In the U.S., Naturally Occurring Retirement Communities and Villages are models of actively providing supportive services for the elderly with organized networks of volunteer, corporate, and governmental stakeholders. In Japan, mixed communities with a focus on promoting multi-generational resident communities are models of efficient service delivery to the elderly. As such, the MOC's initial focus on AIP and related housing and urban planning policies is an area of joint research that will benefit both countries.
https://www.huduser.gov/portal/publications/US-Japan-CaseStudies.html
OECD Working Party on Urban Policy
Deputy Assistant Secretary Kurt Usowski, U.S. delegate to the Working Party on Urban Policy, and Cindy Campbell, Director IPAD, attended a meeting of the Organization for Economic Cooperation and Development (OECD) on 3 November 2020. The meeting was held virtually. The Working Party on Urban Policy is part of the Regional Development Policy Committee and meets twice a year. The meeting is coordinated through the State Department's US Mission to the OECD.