Preserving and Transforming a Longtime Affordable Housing Development in Salem, Oregon
Fairhaven Gardens, an 87-unit affordable housing development in Salem, Oregon, re-opened after an extensive renovation in 2017. Credit: Community Development Partners and Klik Concepts
Originally built in 1969, the 87-unit Viking Village had been providing an affordable housing option in Salem, Oregon, the state's second-largest city, for nearly a half-century. By 2017, however, the property's owner was contemplating converting the development into market-rate rentals. Learning of this prospect through a broker, developer Community Development Partners (CDP) purchased Viking Village and undertook an extensive renovation of the property that improved and updated the 10 buildings, replaced aging site infrastructure, and added amenities, including more than an acre of community gardening space. The development reopened under the name Fairhaven Gardens in February 2018 and, in addition to its main stock of affordable units, now provides 5 units reserved for those who were formerly homeless and 10 units reserved for low-income agricultural workers.
From Viking Village to Fairhaven Gardens
CDP, a mission-driven developer based out of California and Oregon that specializes in affordable housing throughout the west coast, purchased Viking Village and an adjacent vacant lot from its private owner for $3.8 million in early 2017. The property was attractive in large part because of an existing Housing Assistance Payment (HAP) contract through which the local public housing agency provided project-based housing choice vouchers. These vouchers provided a preestablished income stream. "The HAP contract was compelling because these vouchers serve a population with a very high need and provide a critical funding path to recapitalization," explains CDP chief executive officer Eric Paine. Paine also reports that CDP was aware of other developers having tried and failed to arrange renovations at Viking Village. "The project had been around for a while, but nobody was able to crack the nut on how to provide the extensive scope of renovation that was desperately needed," he says. Enticed by the challenge, CDP began its renovation in February 2017 by hiring a relocation specialist.
The renovation lasted a full year and required a nearly complete gutting of all residential buildings as well as infrastructure and landscaping work on the site. The property has 10 two-story residential buildings arranged around shared courtyards. During their previous 48 years of service, the 10 residential buildings had experienced substantial moisture incursion that compromised the building envelopes and caused structural deterioration. To remediate this damage, the renovation team replaced all of the siding, roofs, windows, exterior staircases, and concrete flatwork and installed a new vapor barrier and rain screen to protect the building envelope. Grummel Engineering functioned as the structural engineer on the renovation, Waechter Architects and LandCurrent Landscape Architects provided the design, and LMC Construction was the builder.
The renovation completely replaced the plumbing, fixtures, appliances, and doors of all the units. Externally, CDP replaced the aging system of storm drains, regraded and repaved the parking lots, and replaced the existing landscaping with edible plants and garden beds. On the 1-acre vacant lot adjacent to the complex, CDP built a community clubhouse, an enclosed greenhouse, and a large inground garden plot. To minimize resident displacement during this time, CDP and the relocation specialist used a combination of offsite hotel rooms and already-completed units to host households while their own units were undergoing renovations. The renovation was complete in February 2018, and Fairhaven Gardens celebrated its official reopening.
Today, Fairhaven Gardens provides 86 units of affordable housing. The complex has 9 studio, 50 one-bedroom, 24 two-bedroom, and 4 three-bedroom apartments. One unit is reserved for an onsite manager. Eligible tenants must earn no more than 60 percent of the area median income. Five units are reserved for tenants coming out of homelessness, and an additional 10 are reserved for agricultural workers as a requirement of the state of Oregon's Agriculture Workforce Housing Tax Credit program. Five units on the ground floor are fully accessible to Americans with Disabilities Act standards. Each unit has ENERGY STAR® appliances, low-flow plumbing fixtures, high-efficiency water heaters and furnaces, and windows treated with a glaze to improve the energy efficiency of the heating and cooling systems.
Growing Food, Growing Community
During the renovation, the developer added numerous amenities to reflect CDP's commitment to healthy food access and to take advantage of the involvement of many residents in commercial agriculture. On the adjacent vacant lot, CDP built a community clubhouse, a greenhouse, several raised garden beds, and inground garden plots. These spaces are free for residents to use and are currently overseen by the onsite manager. Paine reports that CDP is investigating the possibility of opening unclaimed garden spaces up to neighborhood residents to expand access to fresh produce and strengthen ties between Fairhaven Gardens residents and their neighbors.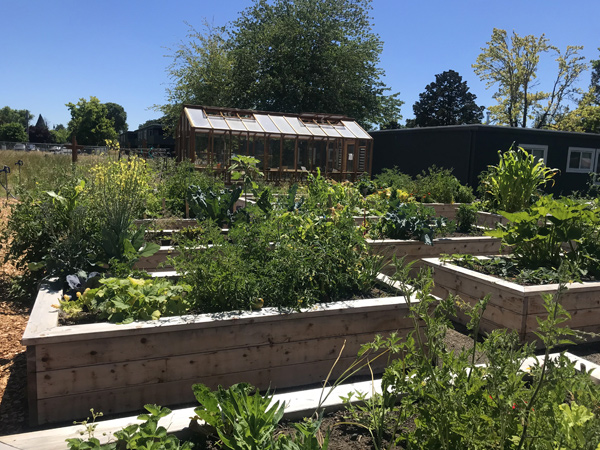 On the adjacent one-acre lot included in the purchase of the property, Community Development Partners built a large garden with in-ground plots, raised beds, a greenhouse, and a community building. Credit: Community Development Partners
The clubhouse is a small building with a public restroom and common area. The clubhouse was designed as a gateway to the community garden; half of the building forms a traditional indoor space and the other half is a pavilion-like outdoor space with a roof but no enclosing walls. Residents can use this space to socialize, hold activities, or organize garden projects. "We're very focused on access to healthy food," explains Paine, "and we thought that including gardening space could mesh well with the presence of agricultural workers in the community." To complement the renovation's focus on food access and agriculture, CDP planted more than 1,000 new landscape plants throughout the property, including fruit trees, herbs, flowers, and berry bushes. Each bed is planted with food plants and relevant companion plants.
The Marion-Polk Food Share, a food access nonprofit, is located immediately next door to the development's community garden. This organization has several community gardens of its own and has provided its expertise to Fairhaven Gardens residents as they work with CDP to determine how to administer the garden plots.
The renovation cost approximately $17 million, which was funded through public and private sources. Oregon Housing and Community Services (OHCS) was an instrumental partner in the complex project. Equity from the sale of low-income housing tax credits provided $5,574,222 for the project, and $8,710,000 came from a permanent loan. OHCS provided $247,716 in Low-Income Weatherization Assistance Program funds and issued income tax credits through the Agriculture Workforce Tax Credit Program. CDP transferred these credits to a private investor and received $725,000 in equity. CDP deferred $1,209,539 of the $2,369,665 developer fee, and the final $1,270,000 was revenue earned from rent collected during the renovation.
As of fall 2019, Fairhaven Gardens is fully occupied. Paine reports that CDP is interested in doing future projects in Salem. The developer has five fully funded projects that are expected to break ground in Oregon in 2020. As the gardens that are Fairhaven's namesake continue to grow, CDP's resident services team hopes to establish more programming centered on healthy food production, with more involvement from neighbors, including the nearby Marion-Polk Food Share.
Source:
City of Salem. n.d. "Economic Data." Accessed 10 October 2019; Community Development Partners. n.d. "Fairhaven Gardens, Salem, OR." Accessed 7 October 2019; Interview with Eric Paine, chief executive officer of Community Development Partners, 17 October 2019.
×
Source:
Correspondence from Eric Paine, 28 October 2019; Interview with Eric Paine, 17 October 2019; Community Development Partners. n.d. "About." Accessed 8 October 2019.
×
Source:
Correspondence from Eric Paine, 28 October 2019; Interview with Eric Paine, 17 October 2019.
×
Source:
Correspondence from Eric Paine, 28 October 2019; Interview with Eric Paine, 17 October 2019; Waechter Architecture. n.d. "Fairhaven Gardens." Accessed 7 October 2019.
×