Catholic Charities Providing Affordable Housing for Families and Seniors in Phoenix, Arizona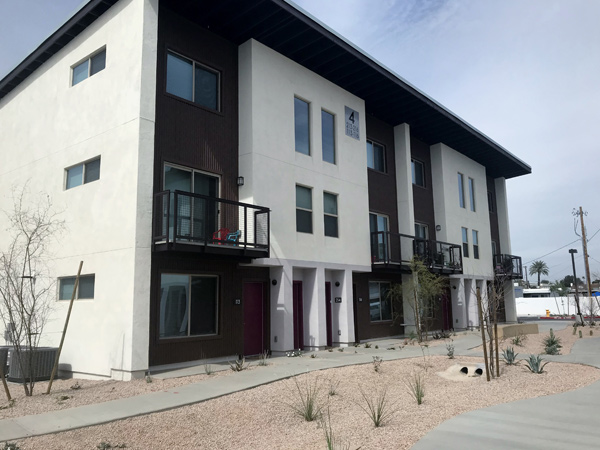 Rosewood Court, an 85-unit affordable housing development in Phoenix, Arizona, opened in two phases: the 50-unit family phase in 2017, and the 35-unit senior phase in 2018. Credit: Housing for Hope
Since 2011, the Catholic Charities office serving northern and central Arizona has been building and operating affordable housing communities through its nonprofit development affiliate, Housing for Hope (H4H). Housing for Hope opened Rosewood Court on the former site of a manufactured home park in Phoenix, transforming the property and a small adjacent lot, once populated with substandard, blighted manufacturing housing units, into a vibrant 85-unit community for low-income families and seniors. As with H4H's three other developments in the city, Rosewood Court offers residents onsite services and amenities, including a community room, playground, sports court, and community garden.
From a Mobile Home Court to Rosewood Court
H4H first learned of the property in 2015, when the owner approached H4H executive director Stephen Capobres for help with finding additional tenants. Although Capobres found conditions at the mobile home court to be substandard, he noted that the site's location was ideal — mere blocks from a light rail stop, near retail, and equidistant from both H4H's headquarters and another of its affordable housing developments that was then still under construction. H4H purchased the mobile home court for $700,000 and later bought a vacant piece of adjacent land for $385,000. Work on the site began in summer 2016 and proceeded in two phases.
All H4H developments are named after trees that flourish in the desert, symbolizing the developer's desire to cultivate strong relationships with residents by helping them put down roots. The "Rosewood" in Rosewood Court's name refers to the state's native Arizona rosewood tree, and "Court" pays homage to the site's origin as a mobile home court. Therefore, the name "Rosewood Court" honors the development's past even as it looks forward to future growth. The development's first phase opened in 2017 and the second in the following year.
To promote social engagement among residents, developer Housing for Hope provided amenities including private outdoor spaces for each unit, a playground, several walking paths, a combination sports court, and a community garden. Credit: Housing for Hope
To suit the needs of the city's low-income population, Rosewood Court's 10 buildings are split into a 50-unit family development and a 35-unit senior development. The family side of the development consists of 12 one-bedroom, 22 two-bedroom, and 16 three-bedroom units, all laid out as two-story townhouse-style units. The 35 senior units are all one-bedroom apartments in buildings with elevators. The senior buildings were also built to Passive House energy-efficiency standards, giving them a low ecological footprint and reduced heating and cooling expenses. All eligible tenants must have annual incomes of no more than 60 percent of the area median income, and, because the developers used city of Phoenix block grant funds, 11 units must preferentially favor low-income veterans.
Each unit offers private outdoor space in the form of a patio, balcony, or fenced backyard. "We're trying to create a community, so it was very important to create outdoor space and get people out of the unit and talking to their neighbors," explains Capobres.
The combined permanent cost of both phases of Rosewood Court was $19.6 million. Funding included $17 million in equity from low-income housing tax credits, $1.5 million in federal HOME Investment Partnerships program funding from the city of Phoenix, and $1 million in private debt.
Responding to Community Needs and Desires
Although Rosewood Court was not constructed as part of a formal redevelopment plan, H4H used public comments solicited through the city's Reinventing Phoenix campaign to make design decisions for the project. During that campaign, the community expressed its preferences at a series of public meetings discussing new development around the light rail system. Based on these comments, H4H decided to adopt a modern style for Rosewood Court congruent with older developments in the area, build two-story townhome units to eliminate shared external staircases, and construct both phases of the project with walkability in mind. As a result, the grounds of Rosewood Court have several walking paths connecting the development to the surrounding residential neighborhood, offering easy access to public transit and nearby retail.
The preferences expressed during this campaign also influenced H4H's choices of amenities. In addition to a large multipurpose community room with a full kitchen, Rosewood Court has a computer room, a food pantry, a playground, a combination basketball/pickleball court, and a community garden.
The community garden was of special interest to participants in the Reinventing Phoenix public comment campaign, which is why H4H included it despite the need for extra infrastructure to provide water and shade. "In Arizona, you really have to plan [to garden]. Low-income people just can't get this infrastructure themselves," explains Capobres. The garden has proven popular with residents, who maintain it with the help of volunteers.
To facilitate the many services provided onsite, Rosewood also has office space for a full-time resident services coordinator from Catholic Charities and for partner service providers. According to Capobres, H4H uses site-based services to encourage residents to engage with the organization so Catholic Charities can refer them to more intensive services as needed. In addition to social events such as potlucks and parties, service organizations provide health and wellness screenings as well as child-friendly activities such as afterschool programming. The monthly event schedule includes classes on cooking, financial literacy, and parenting. The most popular events on the family side of the development are child-oriented activities, whereas the senior phase is interested primarily in shopping trips and weekly bingo games. Twice a month, volunteers from a local food bank restock the onsite pantry, where residents can select free groceries.
Rosewood Court is fully occupied as of early 2020 with a waiting list of hundreds of households. To address this need, Housing for Hope is continuing to develop affordable projects in the area. Capobres reports that H4H is planning two new projects within a mile of Rosewood that, when complete, will add more than 300 units to the area's affordable housing supply.
Source:
Housing for Hope. n.d. "Rosewood Court Apartments." Accessed 10 January 2020; Interview with Stephen Capobres, executive director of Housing for Hope, 22 January 2020; Housing for Hope. n.d. "About Us." Accessed 10 January 2020.
×
Source:
Housing for Hope. n.d. "Rosewood Court Apartments." Accessed 10 January 2020; Interview with Stephen Capobres, 22 January 2020.
×
Source:
Interview with Stephen Capobres, 22 January 2020; Correspondence with Stephen Capobres, 22 January 2020.
×
Source:
Correspondence with Stephen Capobres, 31 January 2020.
×
Source:
Interview with Stephen Capobres, 22 January 2020; Housing for Hope. n.d. "Rosewood Court Apartments." Accessed 10 January 2020.
×
Source:
Interview with Stephen Capobres, 22 January 2020; Document provided by Stephen Capobres, 22 January 2020.
×