Housing for Homeless and Special Needs Individuals Aids in Neighborhood Revitalization in Columbus, Ohio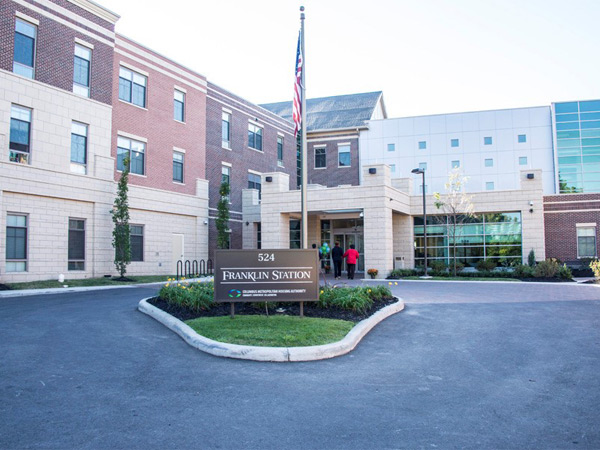 Franklin Station opened in September 2014 to provide 100 affordable housing units and a medical clinic in the Franklinton neighborhood of Columbus, Ohio.
The Columbus Metropolitan Housing Authority in Columbus, Ohio, opened Franklin Station in September 2014 to replace Sunshine Terrace, a deteriorating public housing highrise. The development provides 100 affordable housing units and a medical clinic in the city's Franklinton neighborhood, which is slowly recovering from a series of devastating floods and the stringent floodplain regulations and building requirements that were adopted in 1983 to reduce future flood damage. With those regulations relaxed after a floodwall was constructed, Franklin Station helps the city's renewed effort to revitalize the neighborhood. Franklin Station also helps to rebuild the lives of its tenants — those experiencing homelessness and individuals with special needs — by combining housing with amenities, supportive services, and a community clinic with integrated physical and behavioral health care.
Affordable Units and Supportive Services at Franklin Station
Franklin Station is a three-story mixed-use building that includes 100 housing units, 75 of which are designated as permanent supportive housing for individuals experiencing homelessness. The Columbus Metropolitan Housing Authority and the Community Shelter Board (CSB), both members of the continuum of care for the city of Columbus and Franklin County, agreed to this set-aside to help meet the goals of the continuum of care's Rebuilding Lives Plan. The housing authority also collaborated with the Alcohol, Drug & Mental Health Board of Franklin County (ADAMH) to devote Franklin Station's remaining 25 units to ADAMH clients with mental health and substance abuse issues who are homeless or at risk of homelessness. To ensure that no tenant pays more than 30 percent of his or her income for rent, the housing authority allocated Section 8 project-based vouchers to the development.
The development's amenities include a computer room, community room, library, fitness center, and laundry facilities. The building also offers a food pantry and a bicycle room, and a meditation garden is located onsite. The development provides safety features such as a building access security system and 24-hour staffing provided by Community Properties of Ohio, the property management company. In addition, Franklin Station offers residents recovery services related to alcohol and drug addiction, support groups, crisis intervention, and conflict resolution and mediation. Other support services include financial management support, opportunities for recreation and socialization, and transportation services. According to Bryan Brown, chief operating officer at the housing authority, these services are offered by the YMCA of Central Ohio with assistance provided by other partners, such as CSB and ADAMH.
A federally qualified health center that is available to residents of the development and the larger community occupies 4,000 square feet of Franklin Station's first floor. The center's integrated primary care and treatment services, provided by Southeast, a healthcare nonprofit with facilities in six counties, include physical health care, group and individual counseling for mental health and substance abuse, psychiatric care, and case management services.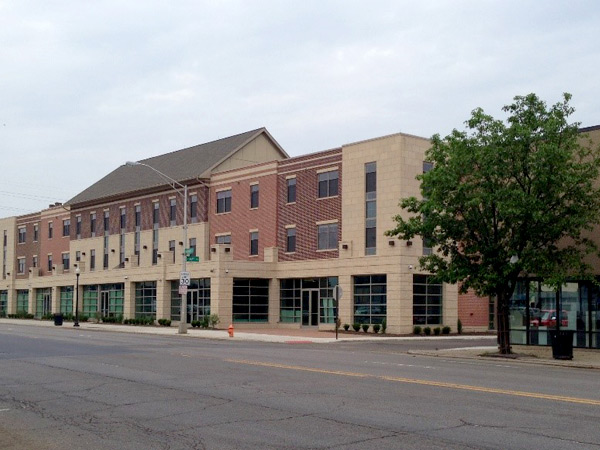 Franklin Station is contributing to the transformation of the Broad Street commercial corridor in Franklinton.
Financing
The cost to develop the residential portion of Franklin Station was $17 million. Funding involved a $7.5 million tax-exempt bond purchased by RED Capital Group and $4.6 million in equity provided by Ohio Equity Fund for Housing Limited Partnership XXII in exchange for 4 percent low-income housing tax credits administered by the Ohio Housing Finance Agency. The project also received a $1 million grant from the Federal Home Loan Bank of Cincinnati's Affordable Housing Program awarded through Nationwide Bank. In addition, the housing authority provided a capital contribution and the property's first mortgage totaling $3.9 million.
The health center was constructed with $1.1 million from the housing authority. The Osteopathic Heritage Foundations and The Columbus Foundation donated funds for customizing the interior space. In addition, ADAMH provided grant funding for equipment costs.
Aiding in Franklinton's Revitalization
Because of the stringent floodplain regulations that were applied to Franklinton in 1983, many property owners abandoned rather than redeveloped their buildings. After the floodplain restrictions were lifted in 2003, when the seven-mile Franklinton Floodwall was erected, the city of Columbus renewed it efforts to foster the neighborhood's redevelopment. In 2011, the mayor listed Franklinton's revitalization as one of his administration's priorities, which led to collaboration among the city, the housing authority, community organizations, residents, and other stakeholders. As part of this effort, the city decided to encourage a creative district in the eastern part of Franklinton. Many organizations have moved to the area, such as 400 West Rich Street artist studios, which opened in a former manufacturing warehouse in 2011, and a learning center and workshop known as the Columbus Idea Foundry, which moved into a former shoe factory in 2013.
To contribute to the city's vision for the area, the housing authority made plans to demolish Sunshine Terrace which was plagued with mechanical failures, plumbing concerns, and building design issues, and many of the 180 units were vacant. The housing authority purchased a nearby property on Broad Street, the neighborhood commercial corridor, to build Franklin Station as a modern replacement of the demolished affordable housing.
Rebuilding Lives and the Community
To ensure that Sunshine Terrace residents would not be displaced during redevelopment, the old public housing remained open during the construction of Franklin Station. Because residents of Franklin Station included 30 former residents of Sunshine Terrace, individuals experiencing homelessness referred by CSB, and ADAMH clients, units at the property leased quickly. Brown notes that the property has a healthy annual turnover rate of 5 to 10 percent, which often indicates that residents have made progress with their treatment and no longer need a high level of supportive services.
Franklin Station is part of the current transformation of Broad Street in Franklinton, according to Brown, who notes that a $65 million multistory building with residential, commercial, and retail spaces is under construction adjacent to Franklin Station. Across Broad Street from Franklin Station, Nationwide Realty Investors has purchased a former car dealership for redevelopment. The housing authority is working on other properties in the creative district and will develop a $53 million project with 235 multifamily residential units and 60,000 square feet of retail, commercial, and live/work space on the site of the former Riverside-Bradley public housing development near the Sunshine Terrace site.
Source:
Interview with Bryan Brown, chief operating officer, Columbus Metropolitan Housing Authority, 14 February 2017; City of Columbus, Department of Development, Planning Division. 2003. "The Franklinton Plan," 3–11. Accessed 13 February 2017; City of Columbus. 2012. "East Franklinton Creative Community District Plan," A6, 1.4–1.9. Accessed 2 March 2017; Ohio Capital Corporation for Housing. 2014. "Franklinton Neighborhood in Columbus Welcomes Franklin Station — New Affordable Elderly and Special Needs Housing Development," press release, 23 September. Accessed 8 February 2017; Community Properties of Ohio Management Services. n.d. "Now Leasing: Franklin Station." Accessed 8 February 2017.
×
Source:
Interview with Bryan Brown, 14 February 2017.
×
Source:
Interview with Bryan Brown, 14 February 2017; Correspondence from Brian Brown, 14 March 2017.
×