Affordable Housing Goes Green in Anchorage, Alaska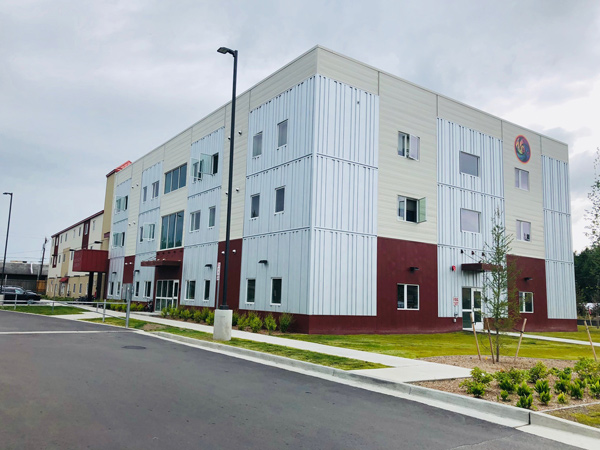 The Muldoon Garden apartment building is attached to developer RurAL CAP's Safe Harbor transitional housing facility (seen here at the far left of the image) and adds 23 units of affordable, energy-efficient housing to individuals and families earning at or below 60 percent AMI. Credit: RurAL CAP
The Muldoon Garden apartment complex, located near the eastern edge of Anchorage, Alaska, is expanding the city's availability of affordable housing while demonstrating how sustainable, environmentally conscious design is both feasible and beneficial. Built by Rural Alaska Community Action Program, Inc. (RurAL CAP), a statewide nonprofit working to enhance life outcomes for low-income Alaskans, Muldoon Garden was completed in late 2017 as permanent affordable housing and features 17 one-bedroom and 6 two-bedroom apartments for households earning at or below 60 percent of the area median income. In particular, the building's energy generation, water conservation strategies, and exclusive use of nontoxic building materials in construction help both residents and the environment. By working closely with the contractors through multiple rounds of value engineering —a design process aimed at maximizing building performance while containing costs — RurAL CAP achieved its environmental aims within budget and on time.
The State and Neighborhood Context
Alaska's unique characteristics have created housing trends that are distinct from those in other parts of the country. At slightly less than 300,000 people, Anchorage is Alaska's most populous city and home to nearly 40 percent of the state's total residents. Economic conditions in Alaska often differ from national trends. The state entered a recession in 2015, and an analysis by the Alaska Department of Labor and Workforce Development showed that a strong national economy often lures Alaskans away in search of opportunity, limiting the state's economic output. Although this migration has loosened the typically tight Anchorage rental market, the relatively high unemployment rate underscores the importance of RurAL CAP's affordable housing and social services work.
RurAL CAP operates 18 affordable properties in Anchorage, including a transitional housing development called Safe Harbor at a site adjacent to Muldoon Garden. Safe Harbor offers intensive case management — including child care, mental health services, financial coaching, and employment services — intended to help households with children experiencing homelessness move into permanent housing within 6 months of entry. The organization's extensive presence in Anchorage has helped connect families with high-quality affordable housing; many tenants at Muldoon Garden come from nearby RurAL CAP properties, including some from Safe Harbor. Finally, the construction of Muldoon Garden, on the former site of a restaurant, had the additional benefit of removing an abandoned and blighted structure from the neighborhood.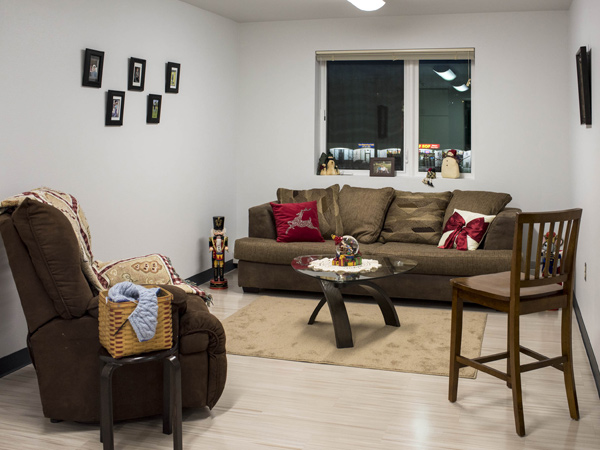 Long, cold winters means that Alaskans spend a great deal of time indoors. Muldoon Gardens utilizes minimally harmful building materials to help ensure a healthy environment for residents. Credit: RurAL CAP
Building for Environmental and Human Health
Sustainability is a particularly acute concern in Anchorage, which, mirroring statewide trends, has seen average temperatures increase at more than twice the rate of the rest of the United States. Muldoon Garden features energy-efficient boilers and generates electricity for residents through rooftop solar panels. In addition, Muldoon Garden incorporates high-performing building materials, such as windows with fiberglass frames that do not expand and contract as much as vinyl and wood, thereby reducing airflow and reducing heating costs. According to Brett Young, project manager at RurAL CAP overseeing Muldoon Garden, designing with an eye toward conservation has meant that even on cold winter days the building's heating system uses less than one-fifth of its capacity to keep residents warm. These savings augment the building's affordability by reducing residents' utility bills.
Because of the state's long, frigid winters, Alaskans can spend a significant amount of time indoors, which makes ensuring a healthy living environment crucial. To this end, RurAL CAP built Muldoon Garden without any materials on the International Living Future Institute's Red List — a catalog of particularly polluting or harmful materials used in the building industry. In addition to reducing harm, certain building materials can help promote well-being among residents. Local woods, organic materials, and a natural color palette foster a sense of home rather than an institutional atmosphere. Experience with past projects also helped RurAL CAP in its decisionmaking. For example, a previous project featuring accessible, roll-in bathroom tubs was found to result in water damage, which can encourage the growth of mold. At Muldoon Garden, tubs compliant with Americans with Disabilities Act requirements and floor drainage in the bathrooms ensure better moisture control.
Taken together, these features demonstrate the connection between the health of an environment and the health of its inhabitants. Built with the help of 4 percent low-income housing tax credits, and development costs of approximately $8 million, Muldoon Garden shows how affordable housing can help advance important environmental objectives.
Source:
Rural Alaska Community Action Program, Inc. n.d. "About Us." Accessed 5 September 2019; International Living Future Institute. n.d. "Muldoon Garden." Accessed 6 August 2019; Interview with Brett Young, project manager at Rural Alaska Community Action Program, Inc., 20 August 2019; Unit Company General Contractors. n.d. "Muldoon Garden." Accessed 5 August 2019; Rural Alaska Community Action Program, Inc. "2017 Annual Report." Accessed 3 September 2019.
×