Guide to Foundation and Support Systems for Manufactured Homes
Release Date:
March 2002 (112 pages)
Posted Date:
August 9, 2006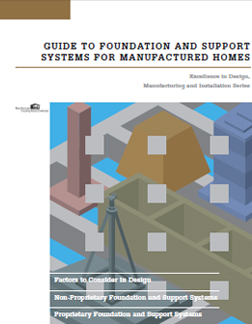 For several decades, manufactured homes built to the preemptive Federal Manufactured Home Construction and Safety Standards have been the nation's foremost source of unsubsidized affordable housing. Until relatively recently, the majority of manufactured homes were economical single section designs, financed with asset-backed loans, sold most often to first-time home buyers and seniors and located in suburban and rural settings. Manufactured homes were also distinguished from their site-built counterparts in the way they were secured to the ground - the majority held in place by pier and anchor systems.
Within the past five years, the manufactured housing industry has experienced an evolution, and the rate of change appears to be accelerating. Sales of multisection homes have well outpaced single section designs, the popularity of land/home financing continues to grow, the buyer demographics are diversifying, and new markets are opening to manufactured homes, particularly in urban infill and higher density areas.
Homes built in compliance with the HUD standards are entering the portfolios of developers who have historically used site-building methods exclusively. The economics of building homes in a factory under a single national code has long been attractive. But only in the last few years has the vision of manufactured homes as a technology for supplying a wider range of affordable housing needs begun to be realized.
The changes in the manufactured housing market, the evolution of the industry itself and the diversification of the potential customers for manufactured homes are ushering in a host of innovations and changes to the industry's core product. No area is more affected by these changes than the methods for supporting and fastening the home to the ground.
This guide serves several functions. First, it helps decision makers in forming a strategy for sorting through foundation and support system alternatives and describes factors that affect the design and construction process. Second, it exposes the manufactured housing industry, buyers of manufactured homes and others interested in HUD-code housing to some of the more popular and practical ways of designing and installing manufactured home foundation or support systems. These designs are springboards for exploring alternative design approaches and solutions. Lastly, through the use of case studies, the guide examines how some Rractitioners are already pursuing new foundation and support system methods, hinting at the wealth and diversity of foundation solutions yet to come.