The Practice of Low Impact Development
Release Date:
July 2003 (131 pages)
Posted Date:
October 25, 2005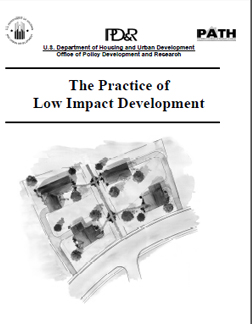 This PATH (Partnership for Advancing Technology in Housing) document focuses on technologies that affect cost impacts and environmental issues associated with the land development process. It provides a brief introduction to low impact development and discusses conventional and alternative techniques and technologies that developers can integrate into their existing land development practices in order to provide built environments that enhance the natural environment. The project complements and builds on the information presented in a 1993 HUD report, Proposed Model Land Development Standards and Accompanying Model State Enabling Legislation, which focused on unnecessary land development practices that add to a home's final cost.