Sydney House Provides Affordable Homeownership Opportunities in the Bronx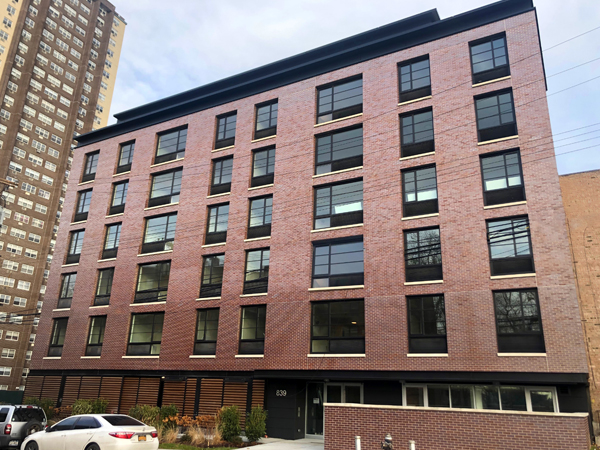 Sydney House is a 56-unit limited equity cooperative affordable to low- and moderate-income households in the Williamsbridge neighborhood of the Bronx. Photo credit: Almat Group and Habitat for Humanity New York City and Westchester County
Sydney House, a seven-story cooperative in the Williamsbridge neighborhood of the Bronx, opened in April 2021. A joint venture between Habitat for Humanity New York City and Westchester County (Habitat NYCWC) — an independent local affiliate of the international nonprofit Habitat for Humanity (HFH) — and the housing developer Almat Group, Sydney House has 56 one-, two-, and three-bedroom condominiums available for sale to qualifying first-time homebuyers. Sydney House was the first housing development to receive financing from the New York City Department of Housing Preservation and Development's Open Door program, a municipal program to fund the construction of ownership units targeted to low- and moderate-income households.
Expanding Homeownership Opportunities
In the mid-2010s, Habitat NYCWC was interested in expanding homeownership opportunities in the Bronx, which has a homeownership rate of less than 20 percent, the lowest among the city's boroughs. Orlando Marín, Habitat NYCWC's vice president of real estate and construction, explained that for-profit developer Almat Group approached Habitat to develop Sydney House. Almat had obtained two pieces of land on Tilden Street in north-central Bronx, each with a long-abandoned single-family house on it, and invited Habitat NYCWC to buy a third, adjacent lot, which was vacant. Habitat purchased the lot in 2016, and the two developers formed a partnership; the construction of Sydney House began in March 2018.
Work on the 0.4-acre site was quickly complicated by the discovery of bedrock — construction crews ultimately had to remove approximately 1,252 tons of rock from the building's footprint to make way for a partial cellar, which caused delays and increased the development's cost to $29 million. Approximately one-third of this cost ($9.4 million) was contributed by the Department of Housing Preservation and Development's new Open Door program, which had launched earlier in 2018 to fund the construction of new ownership units. The program, which contributes funds to ownership projects targeted to households earning between 80 and 130 percent of the area median income, will finance the construction of 1,300 new housing units.
Sydney House received $2.24 million from the state's Affordable Housing Corporation and $2.7 million in developer equity. The partnership also received a loan from JPMorgan Chase & Co. To cover the remaining financing gap, Bronx borough president Rubén Díaz Jr. and District 12 representative Andy King contributed $2.3 million in discretionary funds.
A Limited-Equity Cooperative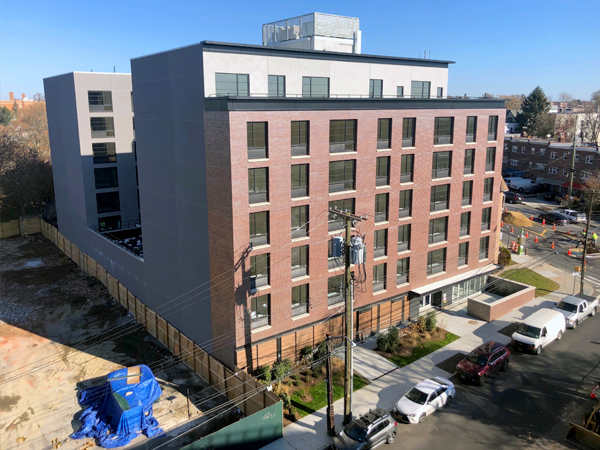 Sydney House, which opened in April 2021, is the largest Habitat for Humanity multifamily development in the world. Photo credit: Almat Group and Habitat for Humanity New York City and Westchester County
Sydney House is a C-shaped building with a façade of white stucco and red brick. The development has 26 one-bedroom, 23 two-bedroom, and 7 three-bedroom units. The one- and two-bedroom units each have single bathrooms, and the three-bedroom units have one-and-a-half baths. Apartments range in size from 650 to 1,250 square feet and sold for between $188,823 and $326,099. Three units were reserved for residents who are mobility impaired and two for residents who are hearing- or visually impaired.
Eligible purchasers were qualifying low- and moderate-income residents who were first-time homebuyers. Due to high demand, prospective buyers entered a lottery, and those who were chosen received a 2 percent fixed-interest HFH mortgage through the State of New York Mortgage Agency. Buyers were also required to provide a 1 percent down payment and complete homebuyer and financial education courses.
The building operates as a limited-equity cooperative: each buyer purchases a share of the building, which entitles them to one unit and commits them to resell that share at a price determined and limited by a formula. This requirement assures affordability for future residents. All Sydney House shares were sold by February 2022. As stipulated by the terms of the Open Door program, if an owner of a Sydney House share were to sell, the buyer would need to meet income restrictions, and the sales price would be calculated at a rate of up to 2 percent appreciation per year, which would serve to ensure affordability.
Residents of Sydney House share several amenities, including a ground-floor community room with a kitchenette, a laundry room, bicycle storage space, and a parking garage partially covered by a green roof. Tenants also can lease garage space for $150 per month. The development features two outdoor spaces: a 2,250-square-foot patio, which abuts the parking garage, and a 2,000-square-foot courtyard along the building's external wall.
The Largest Habitat for Humanity Development in the World
Sydney House is the world's largest HFH multifamily development. As is the case for all HFH developments, buyers were required to participate in a sweat equity program. HFH sweat equity programs typically require buyers to physically help build their home; however, this was not an option for the construction of a midrise, 77,000-square-foot building. Instead, explained Marín, Sydney House's buyers contributed in an outreach and educational capacity: "They help by sharing their experiences as new homeowners. These accounts really help people transition out of the mindset of renters."
Although their contribution differs from HFH's usual sweat equity requirement, the new residents at Sydney House now can be a part of the homeownership journey for others in their community — including prospective residents of a nearby Bronx development. According to Marín, Almat Group and Habitat NYCWC were among the four developers selected by the city to build the Anthony Avenue portion of the Jerome-Anthony RFP, a 40-unit ownership project for low-income households. This project is being built about 5 miles from Sydney House and is expected to close in summer 2023.
Source:
Habitat for Humanity New York and Westchester County. n.d. "Sydney House." Accessed 6 January 2022; Correspondence from Orlando Marín, 3 February 2022; Interview with Orlando Marín, 24 January 2022. ×
Source:
New York City Department of Housing Preservation and Development. 2021. "Jerome-Anthony RFP." Accessed 2 February 2022; Interview with Orlando Marín, 24 January 2022. ×