Case Studies
HUD USER publishes a series of case studies based on federal, state and local strategies that increase affordable housing opportunities, apply sustainable features and practices, and increase access to public transportation. The projects featured in these reports have demonstrated innovation through a multitude of partnerships and initiatives. Each report outlines a project's objectives and the development strategies used to achieve them.
Latest Case Studies Reports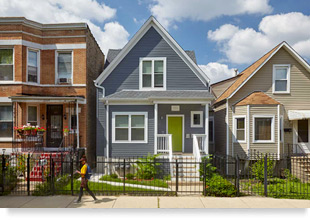 Mission-driven developer IFF (formerly the Illinois Facilities Fund) completed the IFF Access Housing development in Chicago's Humboldt Park and Logan Square neighborhoods in late 2016. Part of the organization's Home First initiative, which develops accessible units for people with disabilities who are transitioning from institutions to community-based housing, Access Housing provides affordable scattered-site housing to serve the needs of people living with physical and mental disabilities.
Learn More>>
Previous Case Studies Reports