Case Studies
HUD USER publishes a series of case studies based on federal, state and local strategies that increase affordable housing opportunities, apply sustainable features and practices, and increase access to public transportation. The projects featured in these reports have demonstrated innovation through a multitude of partnerships and initiatives. Each report outlines a project's objectives and the development strategies used to achieve them.
Latest Case Studies Reports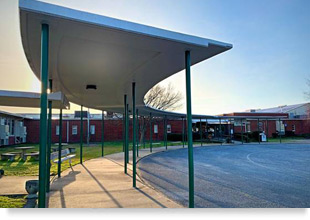 In 2014, the Winder Housing Authority (WHA) and the local government of Winder, Georgia, began work on a plan to convert a vacant school building into a center for community services, the Wimberly Center for Community Development. The seat of Barrow County, which is located about 50 miles northeast of Atlanta, Winder is a city of approximately 17,000 that has long struggled with poverty, unemployment, food insecurity, and other issues.
Learn More>>
Previous Case Studies Reports