Case Studies
HUD USER publishes a series of case studies based on federal, state and local strategies that increase affordable housing opportunities, apply sustainable features and practices, and increase access to public transportation. The projects featured in these reports have demonstrated innovation through a multitude of partnerships and initiatives. Each report outlines a project's objectives and the development strategies used to achieve them.
Latest Case Studies Reports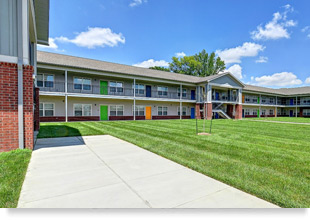 Family Scholar House (FSH) seeks to help two vulnerable populations in Louisville, Kentucky: single-parent families and young adults who have recently aged out of foster care. These populations face unique challenges in completing postsecondary education and achieving the economic empowerment that can come from higher education.
Learn More>>
Previous Case Studies Reports