Affordable Housing Opens in Houston as City Recovers From the Global Pandemic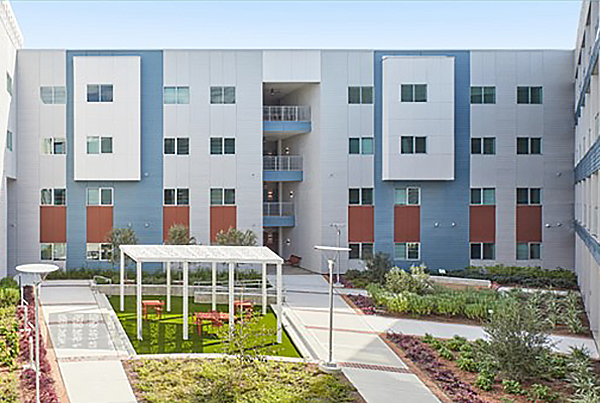 Dale Carnegie is a 170 affordable and permanent housing development in Houston's Sharpstown neighborhood. The four-story building is positioned around a triangular landscaped courtyard. Photo credit: Sean Fleming
Dale Carnegie is a 170-unit permanent supportive housing (PSH) project in Houston's Sharpstown neighborhood. Developed by New Hope Housing, the Housing First development primarily serves people who have experienced or are at risk of experiencing homelessness. The fall 2020 opening came at a time when many locals were still recovering from Hurricane Harvey while also enduring the COVID-19 pandemic. Residents of Dale Carnegie have access to economic, medical, and support services on site. The $30 million development has a Leadership in Energy and Environmental Design Gold-certification.
Development Background
Approximately 10 miles southwest of downtown, Houston's Sharpstown neighborhood is a diverse community with residents from more than 80 countries, including Mexico, Somalia, Afghanistan, and Pakistan. Although the community has many assets, including numerous restaurants and shops, many residents endure suboptimal housing conditions. Most of Sharpstown's housing stock is at least 30 years old, and approximately 30 percent of it is at least 50 years old. Roughly three-quarters of residents are renters, and the median hourly wage in Sharpstown is only 60 percent of the amount required to afford a market-rate apartment in the area. Conditions in the area worsened in 2017 when Sharpstown experienced extensive damage from Hurricane Harvey. The Category 4 hurricane was the second costliest in U.S. history, resulting in $125 billion in costs. Harvey damaged more than 40 percent of Sharpstown's housing units and displaced many residents.
To help address Sharpstown's ongoing housing crisis, New Hope Housing opened Dale Carnegie in October 2020 to help vulnerable Houstonians rebuild their lives in the wake of hurricane destruction and a global pandemic. Founded in 1993, New Hope provides housing and support services to extremely low-income individuals, including seniors, veterans, people recovering from substance abuse, and people experiencing homelessness. Dale Carnegie is New Hope's ninth affordable housing community and its first to open since Hurricane Harvey.
The Apartments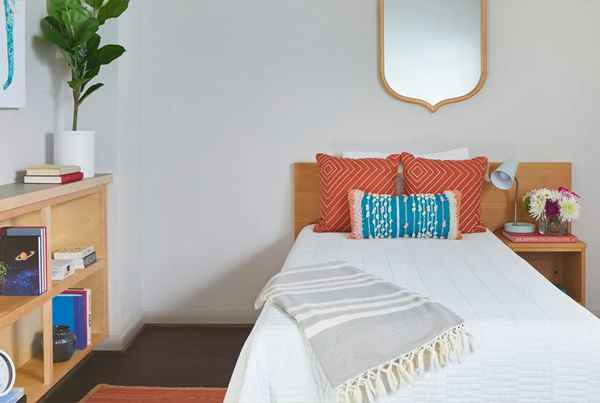 One hundred units are permanent supportive housing units for people transitioning out of homelessness. The other 70 apartments are priced to anyone making up to 60 percent of the area median income. Photo credit: Sean Fleming
Dale Carnegie has 170 single-room occupancy units with private baths. One hundred units supported by project-based vouchers are reserved for people transitioning out of homelessness, and the remainder, priced at approximately $550 per month, are open to anyone earning up to 60 percent of the area median income. All the rooms come furnished with utilities and cable television included at no extra charge.
The four-story buildings, covered by green roofs, are positioned around a triangular landscaped courtyard with seating areas and a grill. Other community spaces include a fully equipped kitchen and dining room, theater room, rooftop terrace, library, meeting space, training room, and computer room, most of which are available 24 hours a day. Laundry machines are available on site. Furthermore, residents are a half-mile away from a large shopping center with a grocery store and multiple restaurants. The site also is near several medical facilities, libraries, banks, and pharmacies and is served by a high-frequency bus route.
Nearly half of the funding for the $30 million development came from low-income housing tax credit (LIHTC) equity. Freddie Mac invested in this LIHTC equity with the help of the National Equity Fund, a leading nonprofit LIHTC syndicator, lender, and equity investor. Additional federal funding came from HOME Investment Partnerships grants. The city of Houston provided $8.5 million, some of which came from local bonds. An additional $5.5 million came from private fundraising.
A Community in Need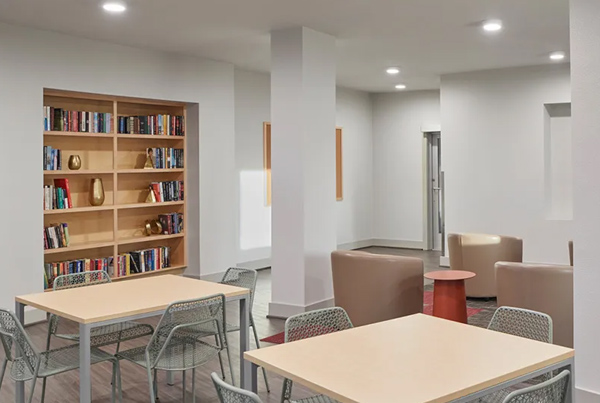 In addition to the courtyard, Dale Carnegie has multiple common areas such as a community kitchen, theater room, library, and computer room. Residents also have access to several onsite support services. Photo credit: Sean Fleming
Residents have access to several onsite support services. Case managers work directly with residents to address their individual needs. Support staff offer health and nutritional counseling as part of a holistic approach to addressing the physical, mental, and emotional needs of residents. Staff also offer financial education and other life skills training classes onsite. Residents can also receive free legal assistance. The front desk is staffed 24 hours a day.
Future Developments
Since Dale Carnegie opened, New Hope has opened another affordable housing development with another on the way. Savoy, which is across the street from Dale Carnegie, will provide 120 affordable apartments when it opens in summer 2023. Approximately 40 percent of this development is being funded through the city's $450 million Harvey Multifamily Program. Launched in 2019, the program is using Community Development Block Grant- Disaster Recovery funds from HUD to build 4,300 affordable and resilient apartments in Houston.