Making Affordable Housing Regulation Work in Montgomery County, Maryland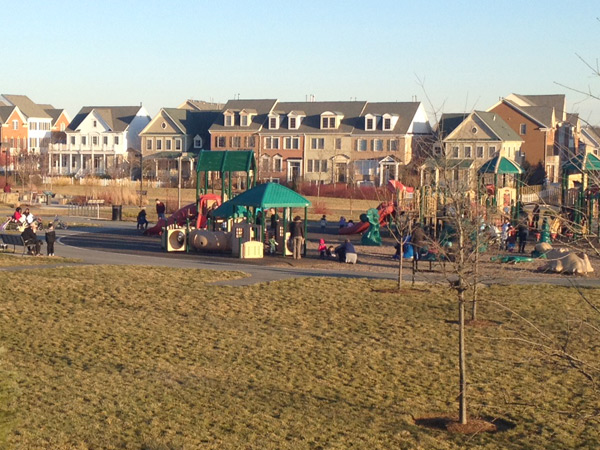 On March 6, 2019, panelists convened to discuss their experiences developing affordable housing and navigating the regulatory framework in Montgomery County, Maryland (pictured).
Policies and regulations play an important role in deciding what kind of housing gets built and where. How these factors interact on the ground depends significantly on local conditions. On March 6, 2019, panelists convened by the Affordable Housing Conference of Montgomery County discussed their experiences developing affordable housing in the area — located in Maryland just north of Washington, DC — and navigating the regulatory framework. Moderated by Steve Smith, senior vice president of SunTrust Community Capital, panelists included Brien O'Toole, deputy director for multifamily rental lending at the Maryland Department of Housing and Community Development; Brian Rennie, director at Bozzuto Construction Company; Robert Goldman, president of Montgomery Housing Partnership; and Casey Anderson, member of the Montgomery County Planning Board and chair of the Maryland-National Capital Park and Planning Commission. Smith orchestrated a discussion of the life cycle of an affordable housing project, focusing on the challenges and successes of affordable housing production in Montgomery County.
A challenge from step one
A problem for developers working on affordable projects emerges early in the process: securing a site. As the county has developed over the past several decades, open green space available for new construction has inevitably dwindled. Furthermore, with the metropolitan region thriving and demand for housing escalating, competition with for-profit developments has increased. According to Goldman, at the start of his career 18 years ago, pursuing one or two sites on which to build a project was possible. Today, he estimates that securing a single property might require pursuing up to a dozen. One strategy his organization uses is to seek county-owned land or parcels that are difficult to develop and therefore might be less attractive or unavailable to for-profit developers.
Regulatory facilitators
Panelists also discussed the interwoven issues of project financing and regulatory compliance. Goldman estimated that financing for a single project can come from 8 to 12 sources — many more than a for-profit development would typically require — and each of these sources has its own set of requirements to navigate and coordinate. This level of complexity can be challenging. O'Toole offered a historical perspective on these regulations, arguing that they are the vehicle, built slowly since the mid-1970s, by which policy pursues the public good. It's these requirements that make capital, communities, and the public sector work productively toward socially desirable ends, he argues, "whether it's improving the energy performance of multifamily housing, or creating units of housing for persons with disabilities, or resettling [the] homeless. It doesn't just come as a dollar. It comes as a dollar with a public purpose that's encased in regulations." Thus, the cost burdens imposed by regulations need to be weighed against the social need that would otherwise go unfulfilled.
Navigating the maze of regulations and requirements opens an additional role for government actors to act as facilitators, aiding developers, for example, in locating available resources. Proactive state and county governments can make a tremendous difference in smoothing the process of getting affordable housing built. Anderson summed up the local political dynamic: "We have a political consensus that affordable housing is a good thing." In fact, O'Toole credits Montgomery County with being a national leader in assembling locally based resources to produce housing, which allows developers to take advantage of additional state money because funding formulas tend to value this type of leverage.
The political consensus reflects and reinforces another aspect of Montgomery County politics: the comparative weakness of "not in my back yard" sentiment (NIMBYism) among residents. Although several panelists agreed that such opposition remains present in the county, couching objections variously in the guise of opposition to the character of future neighbors to concern about building height, levels of NIMBYism in Montgomery County remain low compared with other jurisdictions in which panelists, including moderator Smith, have worked. Goldman pointed to the recent development of what he sees as more favorable attitudes surrounding accessory dwelling units as an example of growing public acceptance of strategies that promote housing affordability.
Costs specific to publicly supported projects
Finally, the panel addressed the question of construction costs. Rennie pointed out that some costs of affordable housing production, such as the cost of materials, were indistinguishable from their market-rate equivalents. However, affordable projects that receive public money can incur costs not faced by privately financed developments. Rennie cites as one example the Davis-Bacon Act, which on large-scale projects can increase wage costs between 8 and 10 percent compared with a similar market-rate building.
Montgomery County illustrates familiar challenges in producing sufficient affordable housing, such as finding suitable sites, following complicated regulations, securing complex financing, and competing over scarce resources. As panelists' experiences demonstrate, the county also shows how those barriers can be overcome or made socially productive with the cooperative encouragement of local officials and a public that is on board with the underlying mission. As O'Toole pointed out, the quality of today's affordable housing is often indistinguishable from market-rate housing, and these projects "don't just confer benefits to the direct occupants; they confer benefits to the broader community."