Community Gardens Can Help Increase Food Security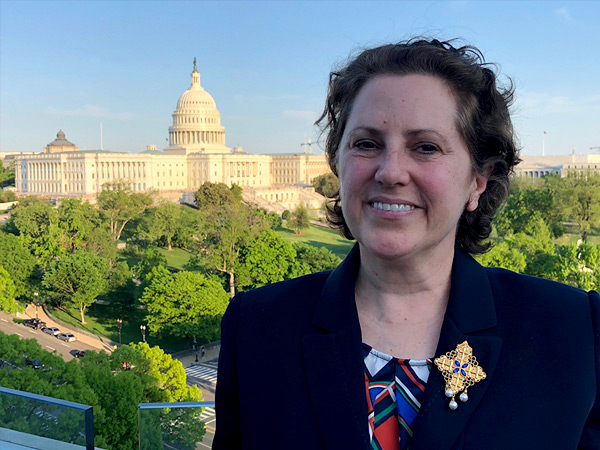 Cynthia Campbell, Director of PD&R's International and Philanthropic Affairs Division.
Right down the street from my home in Alexandria, Virginia, is the Carpenter's Shelter, a new affordable housing and homeless shelter. I have been watching this project with great enthusiasm over the past year, knowing that it will greatly increase my community's capacity to serve those who are homeless. The old facility, a single-story homeless shelter for children and families, was razed to make way for a multistory building with 97 affordable housing units and a shelter that will house up to 60 people experiencing homelessness. The project includes supportive services to assist those seeking permanent housing. The facility is located within easy walking distance of a Metro station and several grocery stores. It features a playground, outdoor terraces, a transit monitor in the lobby to help residents know when to head out to the Metro station, and plenty of room to store bicycles.
The project was recently awarded the 2020 Audrey Nelson Community Development Achievement Award. This award highlights innovative uses of community development block grants and exceptional practices in partnering with local governments and nonprofits. The award is presented by the National Community Development Association.
One of the highlights of the new project will be a 1,600-square-foot food production garden. I love this idea. Food insecurity has grown exponentially during the pandemic. According to the U.S. Department of Agriculture's 2020 report on food security in the United States, an estimated 10.5 percent of U.S. households were food insecure at least some time during the year in 2019, meaning they lacked access to enough food for an active, healthy life for all household members.
The pandemic, unfortunately, has increased this number. Recent research from Feeding America suggests that more than 50 million Americans are experiencing food insecurity, including as many as 17 million children. Most of us have seen reports of long lines at food distribution sites.
Gardens such as the one at the Carpenter's Shelter can help mitigate this nationwide problem. I recently met with staff from the Adrienne Arsht-Rockefeller Resilience Center to learn about their current projects. The team mentioned that they were working in Miami to help provide fruit trees during Farm Share food drives. While food boxes were being loaded into cars, volunteers asked recipients if they were able to plant a fruit tree in their yard. Those who had a yard and could do so received a free tree. What a great concept: an organization serving as a modern-day Johnny Appleseed and reviving a seemingly novel yet very old concept in sustainability. The trees, once planted, could bear fruit within a few years. A young apple tree can bear one to two bushels of fruit a year, and an older tree can bear four to five bushels a year. Each bushel consists of approximately 125 apples, weighing about 50 pounds, which can make up to 15 quarts of applesauce.
Another organization addressing food insecurity is Food Forward in Los Angeles. Food Forward harvests unwanted fruit from backyard trees and delivers them to a local food bank for distribution. A mature orange tree, for example, will produce up to 250 pounds of oranges a year, whereas a younger orange tree can produce up to 150 pounds of fruit. A similar program run by Second Harvest Food Bank in southern Louisiana uses volunteers to harvest surplus fruit and produce on private property. Ample Harvest is a national organization that connects home gardeners with a food bank or pantry near them.
In January 2020, the United Kingdom's Building Better, Building Beautiful Commission released a report, "Living with Beauty: Promoting Health, Well-Being and Sustainable Growth," that recommended planting more trees, including fruit trees, in public spaces and in new housing projects. The report notes, "The government should commit to a radical plan to plant two million street trees within five years, create new community orchards, plant a fruit tree for every home and open and restore canals and waterways." Stating that "there is a need to reconnect children with nature and with the sources of their food," the report recommends that the government "[s]upport a programme of urban orchards within our towns and cities; [e]ncourage, via guidance, local councils to require one fruit tree per new house built; and [e]ncourage housebuilders to plant one fruit tree per house." Perhaps we can learn from our counterparts in the United Kingdom.
Congratulations to my neighborhood homeless shelter for their innovative garden and for their recognition by the National Community Development Association.