HUD Participates in the 11th World Urban Forum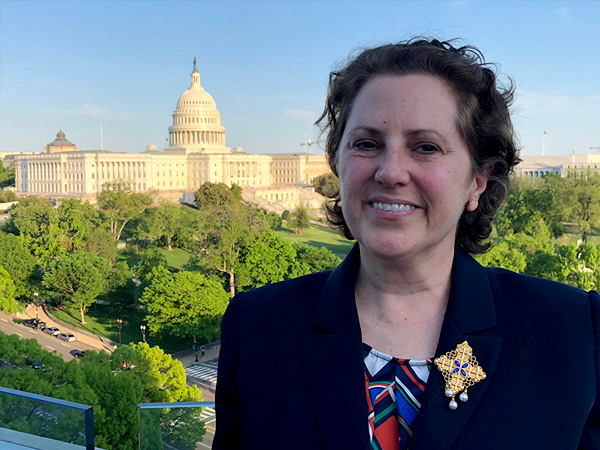 Cynthia Campbell, Director of PD&R's International and Philanthropic Affairs Division.
The United States participated in the recent World Urban Forum held in Katowice, Poland, from June 26 to 30, 2022. More than 17,000 participants representing 155 countries attended the event in person or virtually. HUD sent a small delegation that included Calvin Johnson, deputy assistant secretary for the Office of Research, Evaluation and Monitoring; Cindy Campbell, director of the Office of International and Philanthropic Affairs; and Katie Marinari from the Office of International and Philanthropic Affairs. We attended the conference alongside our colleagues from the U.S. State Department and the U.S. Agency for International Development.
HUD hosted two events at the forum, including "Meeting the Moment: Innovative Redevelopment Programs to Address Affordable Housing," a session highlighting HUD programs to increase affordable housing, including the Choice Neighborhoods program. Johnson moderated the session in person while staff from HUD's Office of Public and Indian Housing briefed the audience virtually. Panelists included Dominique Blom, general deputy assistant secretary for the Office of Public and Indian Housing, and Luci Ann Blackburn, deputy director of Choice Neighborhoods.
The highlight for HUD was a session titled "Fireside Chat with Secretary Fudge: Equity in Housing and Urban Development." Johnson and Campbell hosted the session in a conference room at the convention center while the other panelists participated virtually.
Secretary Fudge opened the session with prerecorded remarks acknowledging the "Black and Brown women who are working collectively to advance racial equity as an approach to governance at the U.S. Department of Housing and Urban Development." Panelists discussed HUD's strategic initiatives to combat systemic inequity perpetuated by past policies and right historical wrongs. The panel explored ways HUD is furthering its mission to create strong, sustainable, inclusive communities and quality affordable homes for all. The session highlighted how the United States addressed housing issues during the COVID-19 pandemic and how it is striving to instill equity in its plans for future pandemics.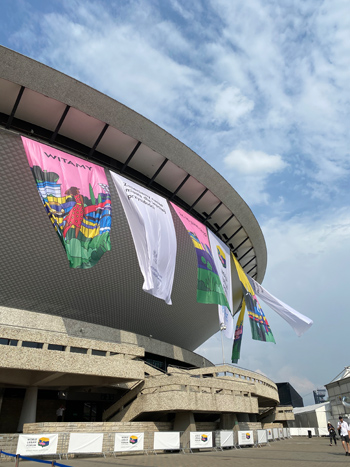 Representatives from HUD's Office of Policy Development & Research participated in the 11th World Urban Forum, held June 26-30 in Katowice, Poland.
Alaina Beverly, assistant vice president for urban affairs at the University of Chicago, moderated the panel. Other panelists included Alanna McCargo, president of Ginnie Mae; Michele Perez, assistant deputy secretary for the Office of Field Policy and Management; Demetria McCain, principal deputy assistant secretary for the Office of Fair Housing and Equal Opportunity; Karlo Ng, director on gender-based violence prevention and equity; Adjoa Asamoah, senior advisor for racial equity, and Jemine Byron, deputy assistant secretary for the Office of Special Needs. The panelists discussed specific projects within their program areas.
Deputy Secretary Adrianne Todman noted the historic nature of this session, whose participants were all women of color. She asked the panelists to "sit in this history and think about where we are now," pointing out that this panel would not have happened a generation ago. This was a powerful and emotional moment at the World Urban Forum — one to celebrate. I urge you to watch this session to learn about HUD history and see it being made.
The forum is also an opportunity to meet our counterparts from other countries. The HUD team on the ground spent the week making connections, holding meetings, and learning more about other countries' work in the urban space. HUD representatives met with ministry officials from South Korea, Germany, the Netherlands, Israel, Ukraine, Botswana, and Poland, among others.
I participated as a panelist on a session hosted by Germany, "Strengthening Integrated Urban Development for the Common Good: The Power of Peer Learning and Multi Level Dialogue." The session focused on the longstanding city-to-city peer exchange project between Germany and the United States. A representative from Ludwigsburg discussed her experience in the peer learning project. Our most recent cohort of U.S. cities participating in the project included Pittsburgh, Baltimore, and Charlotte. The German Ministry also has a longstanding city exchange with Ukraine. Anton Kolomyeytsev, chief architect for the city of Lviv, Ukraine, delivered a powerful message about the importance of rebuilding his devastated city. His statement was a stark reminder that on the other side of the Polish border was an ongoing war. Kolomyeytsev discussed the need to use good urban planning principles as Ukraine approaches rebuilding Lviv. Witnessing Kolomyeytsev's enthusiasm and love for his city was inspiring; even in the face of this horrific, destructive war, he was already thinking about how to make the rebuilt Lviv a better place for its residents. Germany intends to continue its peer-to-peer exchange with Ukraine despite the continued hostilities.
Deputy assistant secretary Kurt Usowski participated in a virtual session hosted by the Organisation for Economic Co-operation and Development titled "Shocks and the City: Adapting Urban Policies to Uncertainty." He presented HUD's outlook on uncertainties, such as water issues induced by climate change in the west and the ongoing COVID-19 pandemic, and U.S. efforts to address these issues.
The World Urban Forum left me uplifted and hopeful. The next biennial
World Urban Forum
will be held in Cairo, Egypt, in early 2024.