Housing and Community Development in Alaska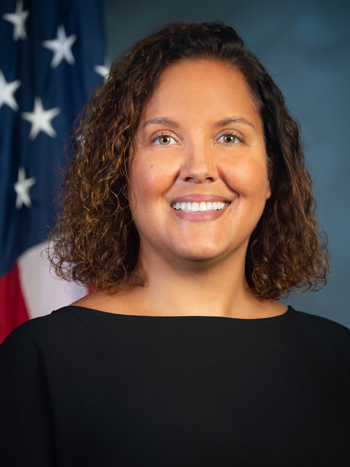 Heidi J. Joseph, Director of the Research Utilization Division for Policy Development and Research.
Before joining the Office of Policy Development and Research (PD&R), I worked as a team member in HUD's Office of Native American Programs (ONAP) based in Washington, DC. While there, I assisted the Association of Alaska Housing Authorities (AAHA) with their technical assistance efforts. During that time, I gained an appreciation of the unique nature of working in Alaska. I quickly learned that Alaskan life is calendared around seasonal happenings such as subsistence activities (fishing, hunting, and berry picking), the short construction season, the Alaska Federation of Natives convention, the Iditarod, and the Bureau of Indian Affairs Tribal Provider's Conference. I learned that planning activities at Tribally-Designated Housing Entities in the North Slope requires a special agility and adaptability because internet access may be limited or missing and travel to the area is an expensive, time-consuming, and often multimodal endeavor. Most important, I learned to shift my perspective to match that of my Alaskan counterparts; where most people saw challenges, I sought opportunity.
In August 2022, I had the opportunity to travel to Alaska for the first time to attend the Alaska Housing Innovations Summit, organized by AAHA and Enterprise Community Partners, and meet with key partners in the Anchorage area.
Alaska Housing Innovations Summit
The summit's goal was to "uplift housing solutions to many of the challenges that prevent the development and preservation of affordable housing for low-income Alaskans, particularly Alaskan Natives and their Communities." The summit's sessions covered a wide range of topics, including mortgage financing options on Alaskan Native lands, rent reporting for credit building, and adapting construction methods to the changing climate.
I found myself most drawn to the sessions that confronted the stark climate reality facing residents of countless Alaska Native villages, whose days are heating up and lands are thawing. The summit speakers had open, honest conversations with attendees about housing solutions in an era of climate change. An observation from Griffin Hagle-Forster, chief executive officer and executive director of the Taġiuġmiullu Nunamiullu Housing Authority, showcased Alaska's new normal: Hagle-Forster said that he recently had seen, for the first time, an advertisement for air conditioning units in Anchorage. With Anchorage experiencing the state's first 90-degree day in recorded history in 2019, air conditioners are becoming a surprising new housing need. (To learn more from Griffin Hagle-Forster and his experiences in the North Slope of Alaska, see PD&R's September 2022 Quarterly Update, in which Griffin and other experts discussed how communities nationwide are mitigating and preventing climate impacts.)
A frequent refrain at the summit and in my offsite meetings was that Alaska is unique. As HUD Deputy Secretary Adrianne Todman exclaimed, "The uniqueness of what you do is humbling, my friends." (Visit Alaska Public Media to learn more about Deputy Secretary Todman's visit to Alaska.) The state showcases that uniqueness in the ways it confronts the challenges of building housing in the region as well as maintaining and creating sustainable communities as the climate shifts. No other communities in the United States have home pilings subsiding into softening permafrost, and, luckily, few American towns outside of Alaska must plan for full-scale population relocations due to climate change. Generations of disinvestment in Native Alaskan communities, which face high levels of overcrowding and substandard housing, further complicates these challenges. As these longstanding issues are compounded by the new challenges that a changing climate brings, Alaska exists in the most unique of spaces.
As many summit attendees and speakers pointed out, however, those exceptional challenges also mean that Alaska is uniquely situated to be an incubator of innovation. Alaska is at the edge of climate change, as evidenced by the melting of the once-permanent permafrost. As Alaskan communities and organizations search for ways to blunt the impact of climate change, their hard-fought lessons learned and best practices will benefit other U.S. communities facing increasingly severe climate impacts. The work done in Alaska will also be applied in other countries confronting similar climate impacts, because a global crisis requires global cooperation and information sharing.
Summit presenters and attendees indicated that we need to be careful in our pursuit of innovation. "Innovation" has been a buzzword knocking around the halls of HUD for as long as I have been here, and it has always been presented as positive — an ideal for which we should strive. However, the nature of innovative technologies is that they are less tested than long-established technologies and therefore possibly more prone to failure, and their repairs come at a steep price and often require a highly specific skillset that may not be available in a community. For communities reachable only by airplane, boat, ferry, or helicopter (or an expensive and tricky combination of these transportation methods), bringing in an outside technician to repair broken technology may not be feasible. Communities need reliable, sustainable technology that they can repair on their own, and that technology may not necessarily be "innovative."
Cook Inlet Housing Authority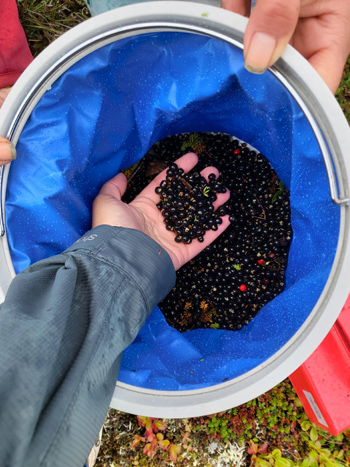 The rhythm of life in many Alaskan communities flows around activities such as berry picking, and a friend of mine took me to Flattop Mountain outside of Anchorage to pick mossberries with a berry picker.
After attending the Alaska Housing Innovations Summit, I had the privilege of visiting with staff from the Cook Inlet Housing Authority (CIHA). AAHA was my key Alaska Native counterpart while I worked at ONAP, and CIHA is one of the 14 regional housing authorities that are members of AAHA. When I visited Alaska in August 2022, I was thrilled to finally get the opportunity to meet with the CIHA team I'd worked with indirectly for years and see firsthand their work in providing housing and support to the community.
I met the CIHA staff at their office in Anchorage's Spenard neighborhood. Spenard has experienced disinvestment for many years, and CIHA has worked hard to ensure that its work and presence uplift the community. Carol Gore, president and chief executive officer of CIHA, said, "Alaska Native people know how to build community. In the village, everyone matters and everyone has value. CIHA uses these village values to build our communities." Instead of considering itself within the context of the larger metropolitan area, CIHA takes a smaller-scale approach, using village values to bring a deeper level of care to the Spenard community and to CIHA spaces, activities, and properties.
Our tour began at The Nave, a building located beside the CIHA offices. Home to various churches starting in the 1950s, the building originally was bought by CIHA for use as its parking lot. However, CIHA soon realized that the building had a more important purpose: as a community space to support individuals, families, and culture. During the few days that I was in Alaska, The Nave seemed to pop up everywhere in my wanderings — the site of a vegan festival on one day, and an art show for one of the artists in residence (who happened to be my friend's mother) on another. The building serves as a community anchor, and its ubiquity in my time in Anchorage shows just how successful it has been in this role.
We then toured Ch'bala Corners, CIHA's newest development. Phase I of Ch'bala Corners includes three buildings with a total of 48 units split among a senior building, an eight-plex, and a multifamily building. The upcoming Phase II of Ch'bala Corners will add townhome apartments to the community. Ch'bala Corners was designed to mirror important aspects of village life. In the village, elders often live with or close to younger family members; by designing the Ch'bala Corners so that the senior and multifamily housing share common spaces, residents can reconstitute this family-unit approach to housing. Chris Kolerok, CIHA's director of public policy and government affairs, described the value of this approach: "When residents in our senior housing see the young families, they smile and their spirits are lifted. This showed us the value of placing senior and family properties decently close together, and we plan to recreate this environment in future developments."
The next stop on our tour was Elizabeth Place, a mixed-use building with 50 residential units plus commercial space. Elizabeth Place was named after Elizabeth Peratrovich, whose actions led to the passage of the nation's first antidiscrimination statute. Born in 1911, Peratrovich moved to Juneau with her husband in 1941. Before their move, they had arranged for a home in Juneau; however, the homeowner rescinded their housing on the spot upon realizing that they were Alaska Natives. Losing their home was just one example of the discrimination Peratrovich and her family faced every day. In 1945, Alaska legislators introduced the Anti-Discrimination Act to guarantee equal rights for Native people in the territory. After numerous senators spoke against the legislation, the public was given the chance to weigh in. Elizabeth spoke to the discrimination that Indians and other Native people faced, and the weight and starkness of her words were a driving factor in the passage of the act on February 9, 1945. Although Peratrovich came from a different area in Alaska and was a member of the Tlingit Tribe, CIHA chose to name the Anchorage development after her to honor her extraordinary impact on the Alaska Native community. Perhaps not coincidentally, Elizabeth Place also houses the Anchorage office of the Central Council of the Tlingit and Haida Indian Tribes of Alaska.
Carol Gore nicely summed up the critical role of Alaska's regional housing authorities: "Without a regional housing authority, there would be no housing in some places. Without housing, there is no community. Without community, there is no economy." CIHA demonstrates the importance of a regional housing authority as an anchor in a community — a place from which development can spring. From its genesis as a provider of rental housing to seniors in the 1980s to its current role in community development, CIHA has both a broad reach and local impact.
I am grateful to be able to travel to Alaska and finally see in person the great work being done by organizations such as AAHA and CIHA and speak to leaders such as Colleen Dushkin, AAHA's executive director. The trip was a welcome reminder of HUD's role in this space and our responsibility to our partners and our customers.
I also offer my profound thanks to the many organizations that shared their time, expertise, and community with me during my stay in Anchorage, including the Alaska Native Tribal Health Consortium, the Alaska Native Heritage Center, AAHA, the Denali Commission, the Cold Climate Housing Research Center, CIHA, and Covenant House Alaska.