RAD Preserves Affordable Housing in Neptune, New Jersey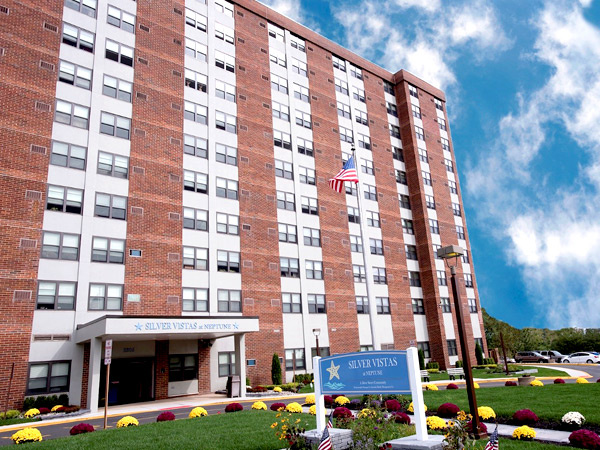 Under the RAD program, Silver Vistas added 84 subsidized units, preserving the long-term affordability in Neptune, New Jersey.
Restructured under the Rental Assistance Demonstration (RAD) program, the newly renovated Silver Vistas development — formerly Sebastian Villa — preserves and adds long-term affordable housing in New Jersey's Neptune Township. Built in 1982, the 171-unit senior housing development originally subsidized 81 units under a Rental Assistance Program (RAP) and 21 additional units under a project-based voucher contract from the New Jersey Department of Community Affairs (NJDCA). In 2016, after decades of minimal property updates and rising concerns about safety, Silver Street Development Corporation acquired Silver Vistas and converted its expiring RAP contract under RAD, adding 63 full Section 8 units. The $32 million project also included approximately $9 million in renovations.
Preserving Affordable Housing Through RAD
Since 1993, Silver Street Development Corporation has included the redevelopment of HUD Section 236 properties with expiring RAP contracts in their mission of preserving, operating, and growing affordable housing. After years of using only low-income housing tax credits (LIHTCs) in their preservation efforts, Silver Street has recently begun occasionally using the RAD program to preserve the affordable housing stock in the east coast and Midwest. Christopher R. Poulin, chief operating officer of Silver Street, added that Silver Street's development strategy targets all aspects of a property, including management, operations, ownership, and overall philosophy. Through active property management and tenant engagement, Silver Street works hard to ensure that its properties are well maintained and continuously improving.
Silver Street officially closed on Silver Vistas in May 2016 and was able to subsidize 144 units through RAD. With the addition of a 15-year extension of NJDCA's preexisting Section 8 Housing Assistance Payments contract for 21 units, Silver Vistas now offers rental assistance to 96 percent of its units, up from only 59 percent of all units before Silver Street's involvement. Income limits are set at 80 percent of the area median income (AMI) for Section 8 units and 60 percent of AMI for LIHTC units, but Poulin notes that most residents fall under the 60 percent threshold. All units have one bedroom and rent for approximately $1,200 per month, although the tenants contribute only 30 percent of their income.
Renovations and Updated Security
In addition to increasing the number of affordable units offered at Silver Vistas, Silver Street also spent about $55,000 per unit on building renovations. These included updates such as new windows, new doors, façade work, new hallway finishes, new elevators, new cabinets, and bathroom upgrades. Silver Street also renovated all common spaces and added a new computer lab. The company modernized the building's energy infrastructure by adding water-saving plumbing fixtures, new energy-efficient appliances, and rooftop solar panels, all of which will help reduce utility costs and make the project eligible for nearly $75,000 in federal energy credits. Outside of the building, a new gazebo and updated landscaping enhance Silver Vistas' exterior aesthetics.
According to Poulin, Silver Vistas also struggled with crime and drugs, and many tenants expressed the need for updated security systems. Silver Street responded to residents' concerns by adding new security doors along with a new camera and intercom system that allows residents to see who is trying to enter the building. The new camera system alone, says Poulin, has deterred unwanted individuals from entering the building.
Poulin noted that throughout the renovations, tenants were not required to relocate. Silver Street's renovation strategy incorporates an orchestrated effort from all trades involved, allowing a single unit to be finished in approximately 4 days. During these 4 days, all necessary renovations are completed with minimal impact on the residents. Silver Street also provides tenants with activities, food vouchers, and places to go while their units are being renovated so that they can be out of the apartment as much as possible. With this schedule, roughly six units are finished per week; although this schedule means that finishing every unit in a large building takes some time, tenants experience only minor disruptions to their daily life.
Financing
Funding for Silver Vistas, says Poulin, was complex because the deal included many investors and other players in addition to several financing structures. Primary funding for the $32 million development came from $15 million in short-term, tax-exempt bonds replaced at the end of construction with a taxable loan from Prudential Financial and Freddie Mac. Boston Financial Investment Management provided an additional $8.5 million in LIHTC equity, and approximately $7 million came from the decoupling of the project's Section 236 interest reduction payment subsidy. Property income and a deferred developer fee rounded out the remaining funding.
Upcoming Projects
Silver Street Development Corporation is always looking for new affordable housing projects to preserve and rehabilitate. Through their dedicated team, holistic approach to building preservation, and strategic use of various financing structures, Silver Street has become one of the nation's top affordable housing developers. A more recent project, Pequot Highlands in Salem, Massachusetts, is estimated to be completed by the end of 2018. The 14-story brick structure suffered from a deteriorating brick façade due to poor construction and a lack of waterproofing. Renovations took more than two years because every brick was replaced with a new energy-efficient, metal-framed exterior. Poulin says the renovations have already reduced the building's energy costs by about 40 percent, and the new exterior frame has given new life to the once-struggling building.
Source:
Interview with Christopher R. Poulin, 14 November 2018; Silver Street Development Corporation. n.d. "Leadership." Accessed 14 November 2018; Silver Street Development Corporation. n.d. "Home Page." Accessed 26 October 2018.
×
Source:
Interview with Christopher R. Poulin, 14 November 2018; Silver Street Development Corporation. n.d. "Pequot Highlands." Accessed 15 November 2018; Silver Street Development Corporation. n.d. "Home Page." Accessed 26 October 2018.
×