Corey Jones Isle Provides Affordable Homeownership Opportunities in Delray Beach, Florida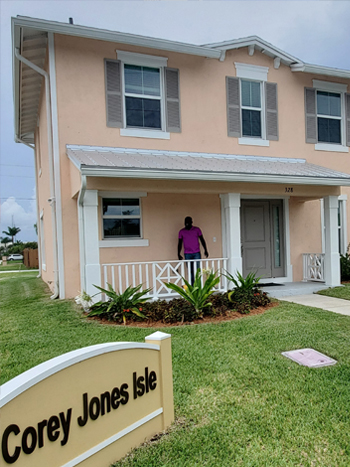 Corey Jones Isle is a development of three- and four-bedroom houses, priced to be affordable to low- and moderate-income first-time buyers in Delray Beach, Florida. Photo credit: Delray Beach Community Land Trust
Located in Palm Beach County, Delray Beach is a small town of approximately 65,000 people on Florida's Atlantic Coast. Although housing prices in Delray Beach are more affordable than in neighboring Boca Raton, less than 10 miles to the south, many low- and moderate-income households remain priced out of the market. In September 2021, the Delray Beach Community Land Trust (DBCLT) opened Corey Jones Isle, an affordable housing development with 10 single-family houses in the Southwest neighborhood of Delray Beach. The project is designed to ensure long-term affordability and homeownership opportunities while also preserving the neighborhood's Caribbean heritage and eliminating blight and vacancy. The development's name honors Corey Jones, a Delray Beach native and longtime employee of the Delray Beach Housing Authority who was fatally shot by a police officer in 2015.
From Disused Commercial Property to Affordable Homeownership Opportunity
The plans for Corey Jones Isle originated with Delray Beach Community Redevelopment Agency (CRA), a public agency founded in 1985 to eliminate blight, promote economic revitalization, and expand affordable housing opportunities in Delray Beach. In the spring of 2019, CRA selected nonprofit DBCLT as the developer for the project following a request for proposals process. The site for Corey Jones Isle was one large vacant property that had been used as a commercial plant nursery in years past and a nearby parcel of land that CRA had purchased from the same private entity. After completing site preparation and utility work, CRA platted the larger property into 9 lots and conveyed all 10 to DBCLT at a nominal cost of $500 per lot. Construction of the houses, which were designed by Pasquale Keritzky Architecture, Inc., began in May 2021.
Construction cost $2.5 million, a sum furnished through a loan provided by CRA, which, in turn, is financed primarily by tax increment revenues. The development was completed in September 2021, and the last of the houses was sold in October 2021.
Honoring an Island Heritage
The 10 houses, 5 single-story homes and 5 two-story homes, are constructed of concrete blocks and accented with partial decorative siding. Nine are grouped together along Southwest 7th Avenue, and one single-story house is located on an adjacent block. Each of the single-story houses has three bedrooms and two bathrooms, and the two-story houses have four bedrooms and two-and-a-half bathrooms. Each house is sited on a 0.15-acre lot, permitting both a front and back yard. All of the houses have back patios, front porches, and attached, single-car garages that open to the rear of the property.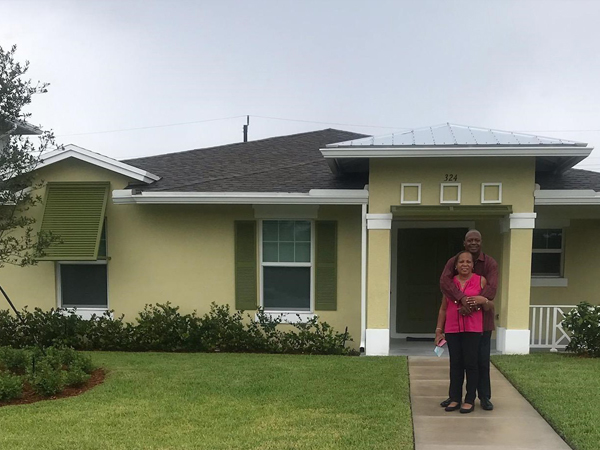 To maintain the character of the Southwest neighborhood, which was originally settled by immigrants from the Caribbean islands, the 10 houses of Corey Jones Isle are built in an island style and painted in colorful pastels. Photo credit: Delray Beach Community Land Trust
To keep the development within the character of the existing Southwest neighborhood, which was originally settled by immigrants from the Bahamas and throughout the Caribbean, the houses were built in a style typical of island construction. Each house is painted in a pastel color and features wide, white columns supporting the porch. Some houses have slatted wooden window shades, decorative siding, and partial metal roofs. "The site plan staggered the houses so that they'd flow within the block," said Evelyn Dobson, chief executive officer of DBCLT, explaining the homes' varying setbacks from the street. "It has a neighbor-friendly vibe" The development is close to a number of amenities, including a bus line, Merritt Park, and a public library. Downtown Delray Beach is less than a mile to the east.
Preserving Affordability
Eligible buyers were first-time homebuyers earning between 80 and 140 percent of the area median income (AMI). The three-bedroom houses were priced at $246,500 and larger four-bedroom houses were priced at $278,700. Buyers were required to provide a 5 percent down payment and complete a first-time homebuyer education course. CRA offered up to $85,000 in mortgage gap assistance for otherwise eligible buyers who could not obtain a mortgage loan sufficient to cover the entire sale price of their chosen house. Dobson explained that although some buyers accepted mortgage gap assistance, none needed the full offered sum. Although there was no residency requirement to purchase a house at Corey Jones Isle, most of the buyers were existing Delray Beach residents. Buyers included young professionals, retired veterans, seniors, and essential service workers such as healthcare workers.
A resale formula was written into the ground lease of each property, ensuring the houses in Corey Jones Isle will remain affordable in perpetuity. Dobson explained that buyers who used mortgage gap assistance to purchase their home must pay it back at the time of sale. In this way, the Corey Jones Isle project not only replaced a defunct commercial property with vibrant, architecturally suitable homes, but it also ensured that low- and moderate-income households will be able to continue to live in Southwest Delray Beach.
Source:
Interview with Evelyn Dobson, chief executive officer, Delray Beach Community Land Trust, 12 January 2022; Delray Beach Community Redevelopment Agency. n.d. "Who We Are." Accessed 7 January 2022; Delray Beach Community Redevelopment Agency. 2018. "Exhibit A – Original Agreement PKA." Accessed 24 January 2022. ×
Source:
Interview with Evelyn Dobson, chief executive officer, Delray Beach Community Land Trust, 12 January 2022; Delray Beach Community Redevelopment Agency. n.d. "Who We Are." Accessed 7 January 2022. ×
Source:
Interview with Evelyn Dobson, chief executive officer, Delray Beach Community Land Trust, 12 January 2022; Correspondence from Evelyn Dobson, 21 January 2022; Delray Beach Community Redevelopment Agency. 2018. "Exhibit A – Original Agreement PKA." Accessed 24 January 2022. ×
Source:
Interview with Evelyn Dobson, 12 January 2022. ×