Expanding Safe Housing for Domestic Violence Survivors in the District of Columbia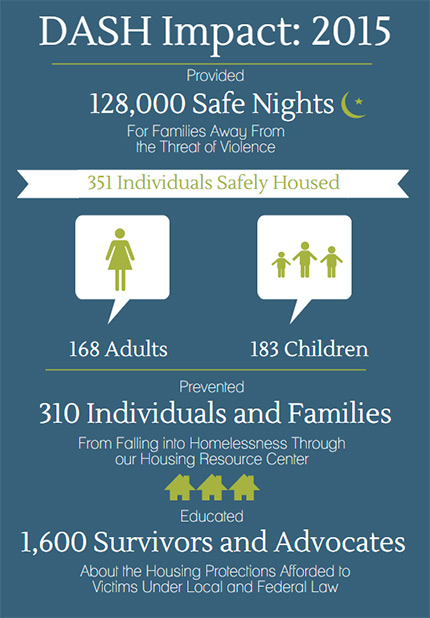 DASH's safe housing programs, including the Housing Resource Center, prevented homelessness and provided housing and critical information to hundreds of individuals and families in 2015. Credit: District Alliance for Safe Housing (DASH)
Domestic violence and homelessness are inextricably linked. Many women must leave their housing to escape a violent partner. Others lose their housing because their partner's actions, including violence, other criminal behavior, destruction of property, and economic sabotage, prevent them from remaining self-sufficient and housed. Federal, state, and local resources exist to serve both domestic violence survivors and the homeless, but these service systems often exist independently of each other. For example, service providers who address homelessness often are not trained in the unique issues involved in assisting domestic violence survivors, such as maintaining confidentiality and safety planning. Domestic violence service providers, on the other hand, are not always familiar with the housing resources and services that are available to survivors and their families. Over the past several years, important progress has been made in bridging the gap between providers of domestic violence services and homelessness services.
District Alliance for Safe Housing
One of the organizations leading the effort to align the systems addressing domestic violence and housing and homelessness is the District Alliance for Safe Housing (DASH) in the District of Columbia, which was founded in 2006. In addition to providing supportive housing at Cornerstone Residence, DASH has established programs that provide assistance to domestic violence survivors using other housing opportunities — the Empowerment Project, Survivor Resilience Fund, and Housing Resource Center — and that build capacity for other housing and service providers. Peg Hacskaylo, DASH's founder and executive director, has advanced a low-barrier, accessible, and service-enriched approach that is similar to Housing First in that it prioritizes housing as key to preventing domestic violence and promoting survivor recovery from emotional and physical trauma. Unlike many other housing and shelter programs, DASH does not screen out survivors with substance abuse problems, untreated mental illness, or adolescent sons; nor does DASH require participation in programs and other services as a condition for housing.
Creating and Expanding Access to Safe and Stable Housing
The Cornerstone Residence is a 43-unit development that provides housing for survivors and their families who are facing an immediate crisis. Developed by DASH and opened in 2010, Cornerstone provides emergency and transitional housing for up to two years. With operating funds from the District of Columbia's Office of Victim Services and Justice Grants, Cornerstone provides survivors with an apartment and onsite staff advocates who work with residents on safety and wellness planning, parenting, and résumé preparation. Advocates also connect residents with mainstream benefits programs and other community-based supports.
In addition to the housing at Cornerstone, DASH assists survivors whose poor credit or rental histories make securing housing difficult. The Empowerment Project provides rental assistance for up to two years in private apartments so residents can assume responsibility for their apartments after the transitional period of rental assistance is over. According to Hacskaylo, the extended assistance period is attractive to landlords and has proven to be important for survivors in the District's increasingly tight housing market. Also important to the Empowerment Project's success are the supportive services that DASH provides. In addition to helping residents achieve financial independence, DASH staff also make home visits and provide intensive case management, as well as help residents access mainstream benefits programs.
DASH launched its most recent program, the Survivor Resilience Fund, in 2014 in response to survivors who came to the organization facing a small emergency that could lead to homelessness. These survivors needed only a little financial assistance to obtain or retain permanent housing: to cover unpaid rent, moving expenses, lock changes, and transportation and childcare costs. For survivors in this situation, the fund is the difference between making ends meet and homelessness. DASH considers the average investment of $2,000 per person through the Survivor Resilience Fund to be a cost-effective approach compared with the cost of housing residents through its own housing programs or in homeless shelters.
DASH's Housing Resource Center serves as the first step toward housing stability for many survivors in the Washington, D.C. area, connecting survivors to housing programs, legal tools, and other available resources. Through referrals to its own housing programs as well as to existing housing programs throughout the region, the Housing Resource Center is expanding housing opportunities for survivors. In 2015, the resource center prevented 310 individuals and families from becoming homeless and provided information about legal protection for domestic violence victims to 1,600 survivors and their advocates.
Domestic Violence and Housing Technical Assistance Consortium
In addition to providing direct housing and support services to victims of domestic violence, DASH has been a leader in providing technical assistance to housing and service providers in the Washington, D.C. area. DASH's assistance includes personnel training and organizational development that expands a provider's capacity to serve domestic violence victims. Through this capacity building, DASH ensures that housing and homeless organizations recognize survivors' particular needs for safety and support services, as well as their rights and legal protections.
DASH will be bringing lessons from its successful program to organizations across the country as part of the federal Domestic Violence and Housing Technical Consortium. With a $900,000 grant from the U.S. Department of Justice, DASH is joining three other organizations from across the country (the National Network to End Domestic Violence, the National Resource Center for Domestic Violence, and Training and Development Associates/Collaborative Solutions) to support collaborations and partnerships among domestic violence and homeless service providers across the country. The consortium will provide national training, technical assistance, and resource development on domestic violence and housing. The federal partnership includes HUD's Office of Special Needs Assistance Programs, the U.S. Department of Justice's Office on Violence Against Women and Office for Victims of Crime, and the U.S. Department of Health and Human Services' Family Violence Prevention and Services Program.