International Affairs
Cindy Campbell, Director for International and Philanthropic Affairs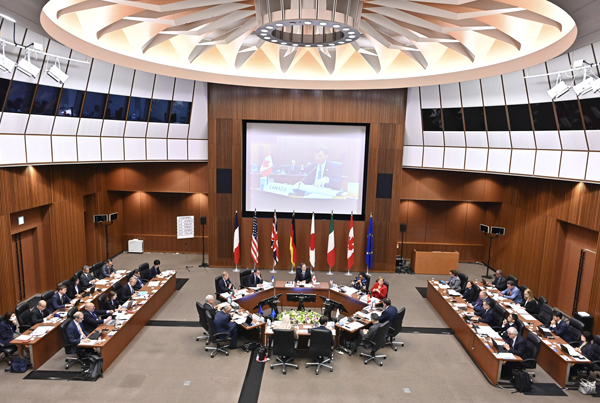 Opening session of the G7 Sustainable Urban Minister's Meeting. Photo credit: G7 Official Photographer
Every domestic agency in the federal government has an international affairs office, including HUD. The International and Philanthropic Affairs Division (IPAD) traces its origins to 1969, when Dale Barnes joined HUD as its deputy director for international affairs. Barnes, like me, served in the U.S. Navy; after leaving the Navy in 1960, he joined the Atomic Energy Commission before coming to work for HUD. We were able to find one reference to the founding of IPAD in a May 1971 article in HUD Challenge magazine. The article suggests that many aspects of the office's mission have remained the same since 1971.
The article notes that the "United States has much to gain if some of the solutions to urbanization problems which have worked in other nations of the world can be adapted for use at home." This philosophy still guides IPAD's work today. Each IPAD team is assigned a region of the world and is tasked with gathering research and best practices from other nations to share with the larger team at HUD. IPAD produces a monthly report for PD&R highlighting research from other countries. When we find a promising best practice, we reach out to our ministerial counterparts in that country and request a brief for HUD staff. Recently, we hosted a delegation from Japan's Ministry of Land, Infrastructure, Transport and Tourism and the Urban Renaissance Agency to learn how the city of Itoigawa recovered from a devastating fire in December 2016. The delegation described the innovative reconstruction techniques used to quickly rebuild the devastated area. This information will guide the United States as we help Maui recover from the devastating wildfires earlier this year. This brief is just one of many that we have received from other countries over the past few years.
In his article, Barnes notes that his team was also engaged in working with the U.S. State Department. IPAD is HUD's primary conduit for the State Department, and we work closely with its Bureau of International Organization Affairs on several projects. We also provide a senior HUD representative to the Organisation for Economic Co-operation and Development (OECD).
IPAD provides annual input for the United States' National Urban Policy at OECD as well as the OECD Affordable Housing Database and Social Expenditure Database. Our subject-matter experts review OECD documents. HUD's engagement with OECD centers on the Regional Development Policy Committee's Working Party on Urban Policy. A HUD representative currently serves as the vice chair for this working party, and we send two HUD delegates to biannual meetings held in Paris.
We also support several United Nations entities, including the UN-Habitat. UN-Habitat is the arm of the United Nations that focuses on urban issues. Our robust engagement with UN-Habitat has been coordinated through the United States Mission to the United Nations based in Nairobi, Kenya. UN-Habitat is engaged in numerous projects worldwide, mostly in the Global South. UN-Habitat also hosts the biennial World Urban Forum, which HUD has attended since the inaugural forum in 2001. At the most recent meeting in Katowice, Poland, in June 2022, HUD sent a small delegation, hosted sessions, and participated in numerous bilateral meetings and exchanges. Every other year, UN-Habitat hosts an assembly in Nairobi. HUD sent a small delegation representing the United States to the most recent assembly in June 2023.
HUD also participates in the annual High-Level Political Forum on Sustainable Development (HLPF), held every July at the United Nations headquarters in New York. HLPF is the United Nations' central platform for followup and review of the 2030 Agenda for Sustainable Development and the Sustainable Development Goals (SDGs). The 2-week event provides a forum for member states, representatives from civil society, and other stakeholders to meet and review progress on specific SDGs. HUD is responsible for SDG-11, "Make cities and human settlements inclusive, safe, resilient and sustainable." HUD sent a delegation to HLPF in July 2023. 
We also provide a delegate to the United Nations Economic Commission for Europe Committee on Urban Development, Housing and Land Management. The committee focuses on the social dimension of sustainable housing to address housing affordability, social housing, and low-cost housing. This committee's work is based on key United Nations policy documents on housing and urban development, including the Geneva UN Charter on Sustainable Housing. We also support other UN entities, such as the United Nations Economic and Social Commission for Asia and the Pacific and the United Nations Environment Programme. The HUD team always stands ready to support the U.S. State Department when it needs experts on housing and urban development. 
As I read Barnes' article, I noted a clear continuity of mission through the decades that followed. One of the highlights is that HUD hosts foreign visitors. We continue to host many international visitors each year. During my 7-year tenure at HUD, IPAD has hosted delegations and provided virtual exchanges to well over 20 countries. Our virtual exchange program was particularly robust during the pandemic years of 2020 to 2022. Our delegations visit various HUD-funded sites throughout the country. This year, we hosted a delegation from the United Kingdom to visit Chicago's Choice Neighborhoods project. Representatives from other nations often will ask us to show them our nation's best practice sites in housing, particularly rehabilitations and renovations of older housing projects. We are always happy to showcase our successful projects.
Mr. Barnes notes that as of 1971, his office had formal relationships with "Japan, Sweden and Germany and informal cooperative programs with France, Canada and the United Kingdom." As of 2023, we have formal memorandums of cooperation with Japan, Germany, Israel, and Korea and informal cooperation with the United Kingdom, Sweden, Canada, France, Italy, and Australia, among others. During the late 1990s, we had a memorandum of cooperation with Russia, which has long since lapsed.
One of the most important new developments in international cooperation is the creation of the G7 Sustainable Urban Ministers meeting, held under the umbrella of the annual G7 Summit. The first meeting was held in Potsdam, Germany, on September 13 and 14, 2022. The next meeting was held in Takamatsu, Japan, on July 7–9, 2023. All G7 countries were represented at the meeting, and HUD Secretary Marcia Fudge attended both events. 
One area that I found particularly interesting was that in the 1970s and perhaps onward, IPAD ran an urban planning international training program in partnership with the U.S. Agency for International Development (USAID). In his article, Barnes noted that his office trained 1,200 people per year, although he noted that in 1970, 1,900 people from 43 countries participated in the training program. His office also trained Peace Corps volunteers. It is unclear when this engagement was fully transferred. USAID now has its own robust team of urban professionals engaged in projects and direct assistance worldwide. Although we no longer support USAID with training, our office continues to work closely with USAID's Sustainable Urbanization team, and we attend the World Urban Forum and other international meetings as the "urban team" from the United States.
The world has changed considerably over the past 50 years, but the IPAD's mission has remained constant. We continue to share knowledge, explore best practices, and try our best to help solve the nation's most difficult housing and urban issues.