Addressing Equity in the Revitalization of Legacy Cities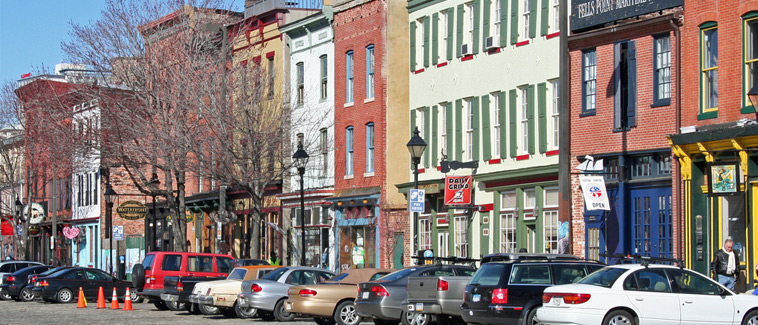 Assets such as existing urban infrastructure and historic charm aid in the regeneration of legacy cities.Image credit: Paul York, Creative Commons.
Older industrial cities that have experienced significant job and population losses may have assets, or legacies, that make regeneration and revitalization possible. Legacy cities such as Baltimore and Cincinnati are in the midst of such an economic and population revival. Existing infrastructure, public transportation networks, and historic charm are all assets that can enable legacy cities to thrive. Admittedly, growth often occurs unevenly; while downtown areas thrive, surrounding neighborhoods decline. City residents are unable to access a city's jobs, leading to an imbalance between jobs and housing. Recent research has focused on addressing these issues and promoting equity in revitalization efforts.
An Uneven Recovery
Adaption to new economic trends has been slower in legacy cities compared with other cities such as Boston and Washington, D.C. A report focused on revitalization in legacy cities released by the Lincoln Institute of Land Policy, Regenerating America's Legacy Cities, notes that although these cities have many assets and opportunities, several factors prevent robust revitalization. These factors include high rates of poverty and unemployment among residents and widespread vacancy, abandonment, and underutilization of land.
Legacy cities have significantly higher rates of poverty and lower levels of educational attainment than do other cities. Legacy cities also have high unemployment rates. Alan Mallach, senior fellow at the Center for Community Progress and coauthor of Regenerating America's Legacy Cities, notes that unemployment in legacy cities is not primarily attributable to a lack of jobs. Mallach points out that the number of jobs far exceeds the city resident workforce. Residents, however, often make up only a fraction of these city employees. Newly-created jobs are often filled by commuters or in-migrants. Many legacy cities are experiencing an in-migration of highly educated and generally affluent young adults. These new residents often cluster in neighborhoods with easy access to jobs and services, such as downtown areas and communities near universities and medical centers. Revitalization is concentrated in these areas while other parts of the city remain in distress. Areas without access to jobs or other desired amenities are retaining lower-income residents and losing middle-class residents, further reducing opportunities for investment. This spatial sorting is creating distinct higher- and lower-income communities, with corresponding levels of investment, within revitalizing legacy cities.
The Importance of Land
According to Teresa Lynch, principal at Mass Economics, land is key to current growth patterns we see in cities. The average amount of space needed per person is decreasing for office jobs that employ college graduates but increasing for many jobs not requiring a college degree, such as manufacturing, construction, and warehousing and distribution. Office jobs that cater to higher-income workers are therefore making more productive use of available space within cities.
Vacant, abandoned, and underutilized areas pose a problem for legacy cities. Many communities in legacy cities lack a healthy real estate market; the supply of vacant and abandoned properties far exceeds the demand for property. Although vacant land is readily available, legacy cities often have insufficient developable land. Property owners in legacy cities may find that developing their land is more expensive than leaving it vacant. The high rates of land contamination from previous industrial use often found in these cities are another disincentive for redevelopment, as remediation efforts are expensive and there are few sources of public funds available for cleanup assistance. Certain local practices and policies such as insufficient regulatory oversight and a reliance on income taxes rather than property taxes, may also fail to incentivize redevelopment of abandoned and vacant property. In addition, parcels of abandoned, vacant, and underutilized land may not be large enough to support marketable redevelopment without aggregation.
Strategies To Increase Equity
Mallach stresses that both people- and place-based strategies are necessary to support inclusive revitalization efforts. For example, to correct the imbalance between jobs and housing, cities can partner with anchor institutions to create programs that increase resident capacity and connect residents to jobs through education, training, and skills development.
Cities also need to employ strategies to address vacant land. Various public entities within legacy cities such as housing authorities, school systems, and city agencies often own parcels of vacant or underutilized land. Lynch points out that cities can reduce the number of contiguous vacant and underutilized properties and assemble land at a scale for redevelopment by aggregating parcels owned by these entities into larger, more marketable properties. For privately owned vacant and abandoned properties, cities can explore the use of policies that create incentives for reinvestment — for example, setting tax rates higher for unoccupied land than for buildings.
Although the revitalization of legacy cities has the potential to create equity issues, cities need to continue pursuing economic development efforts. According to Mallach, "[A] revitalizing city, even a city revitalizing in an unequal fashion, is creating assets that can be redistributed later. A city that isn't revitalizing doesn't have any assets to redistribute."
These challenges and opportunities for fostering inclusive revitalization in legacy cities were discussed by Mallach, Lynch, and others in a meeting at the 2015 New Partners for Smart Growth conference, entitled "Regenerating Legacy Cities: Creating Opportunity, Fostering Inclusion."