DISCLAIMER: The information presented on this page are those of the author and do not reflect the views or policies of the U.S. Department of Housing and Urban Development or the U.S. Government. Inclusion of these reports on the HUD USER web site does not mean an endorsement of these institutions or their viewpoints.
Habitat for Humanity's 2012 Shelter Report
In the past five years, more than 14.1 million people have lost their homes due to natural disasters. Urban areas, where more than half of the world's population now lives, are particularly hit hard by disasters, and rebuilding efforts must better address the unique requirements of denser and more economically diverse populations. Scientists expect an increasing number of disasters in coming years, and as more and more people move to cities, especially in developing nations, there is an increased urgency for strong urban planning.
In light of these statistics, Habitat for Humanity released its 2012 Shelter Report entitled, "Building Hope: Housing Cities after a Disaster." The report highlights the urgent need for urban disaster planning and outlines how planning for permanence during rebuilding creates a more solid path to recovery. Habitat brings more than 10 years of experience and involvement in disaster response to share lessons and provide recommendations.
One theme stressed in the report is the importance of community involvement and ownership in the rebuilding process. An example from Habitat for Humanity Haiti illustrates the point. In Simon Pelé, an earthquake-affected neighborhood in Port-au-Prince, Habitat for Humanity Haiti has supported a community-based enumeration (survey) process that is helping the community take stock of its resources, prioritize its needs and develop plans of action to address them. This allowed the community to take ownership of the rebuilding process and to demonstrate its commitment to work in partnership with government and NGOs. Although the project is still at an early stage, community teams have mapped and numbered 4,000 buildings and surveyed 6,000 households in Simon-Pelé. Feedback has been extremely positive, and the survey helped identify safe water as a priority for the community. Two community water points are now under construction.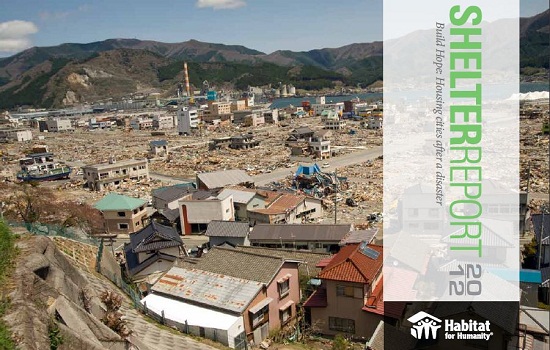 Photo credit: Mikel Flamm/Habitat for Humanity International
The Shelter Report also sheds light on several key factors necessary for providing adequate shelter after a disaster, including land tenure and rubble removal. Land titles are often unclear after a disaster, and many developing countries have a high percentage of property that lacks clear, documented ownership. Disasters in urban areas produce much more rubble and debris than those in rural areas. Debris removal is often overlooked and does not appeal to donors in the same way as other reconstruction efforts. It isn't one of the 11 issues addressed by the Inter-Agency Standing Committee's cluster system of NGOs. After the Haitian earthquake, the U.S. government funded programs to remove rubble, but few other donors participated. Clearing land and removing debris before rebuilding is an enormous challenge, particularly when access roads for construction equipment are blocked. Effective debris removal requires a government-led strategy that is customized to the particular situation and requires coordination among the many humanitarian responders to ensure efficiency and scalability of efforts.
Overall, the report issues several principles that should guide disaster response work in urban settings in the international context. These principles suggest reconstruction should be based on a neighborhood or settlement approach and that disaster risk reduction should always be incorporated in reconstruction program design. The report includes three recommendations: look beyond the emergency stage, promote communication across sectors, and tackle land tenure issues. Top funding priorities for donors are also addressed and cover the need for debris removal, professional capacity, and housing expertise in disaster response.
You can read this and other Shelter Reports by Habitat for Humanity International here,
http://www.habitat.org/gov/take_action/shelter_report_2012.aspx.
For more information, please contact Daniel Petrie, at Dpetrie@habitat.org.